Man, this must be headline news all over the country. – Surely, this horrific story of a 25 year-old man murdering a neighbor's 5 year-old boy in cold blood as the boy's 7 and 8 year-old sisters looked on is the hourly lead subject of every panel discussion on CNN, Fox News and MSNBC, right?
Well, right? Oh, wait, I forgot that we are in America, where nothing that doesn't fit the prevailing narrative dictated by the DNC and front groups for George Soros gets reported. So we have to go to a media outlet based in London, England to find any detailed coverage of it.
From a piece at the Daily Mail:
North Carolina police have charged a neighbor with the murder of a five-year-old boy who was riding a bike in his own yard when he was shot at point blank range on Sunday evening.

Darius Sessoms, 25, was taken into custody by Wilson police around 24 hours after he allegedly approached Cannon Hinnant in front of the young boy's father's house at 5:30pm and shot him in the head.

Hinnant's seven-year-old and eight-year-old sisters witnessed the killing, their mother told WRAL.

Sessoms lived next door to the family, and the killing is not believed to be random. Neighbors claim he had dinner with Hinnant's father Austin on Friday and had been over at the house earlier on Sunday.

The motive for the killing is still under investigation, but a GoFundMe established by a family member says that the young boy rode into Sessoms' yard.

Darius Sessoms, 25, was charged on Monday with the murder of five-year-old Cannon Hinnant in North Carolina

[End]
The little boy who was killed, Cannon Hinnant, was white.
You can be certain that if the racial profiles of the killer and victim were reversed, we would not have to look to foreign news outlets for coverage of the murder. In fact, we would be looking at wall-to-wall, 24-hour coverage of the riots led by Democrat-sponsored domestic terrorists groups taking place in every communist Democrat-run city in America.
America's news media is gutter-trash.
The New York Post got its cover right today: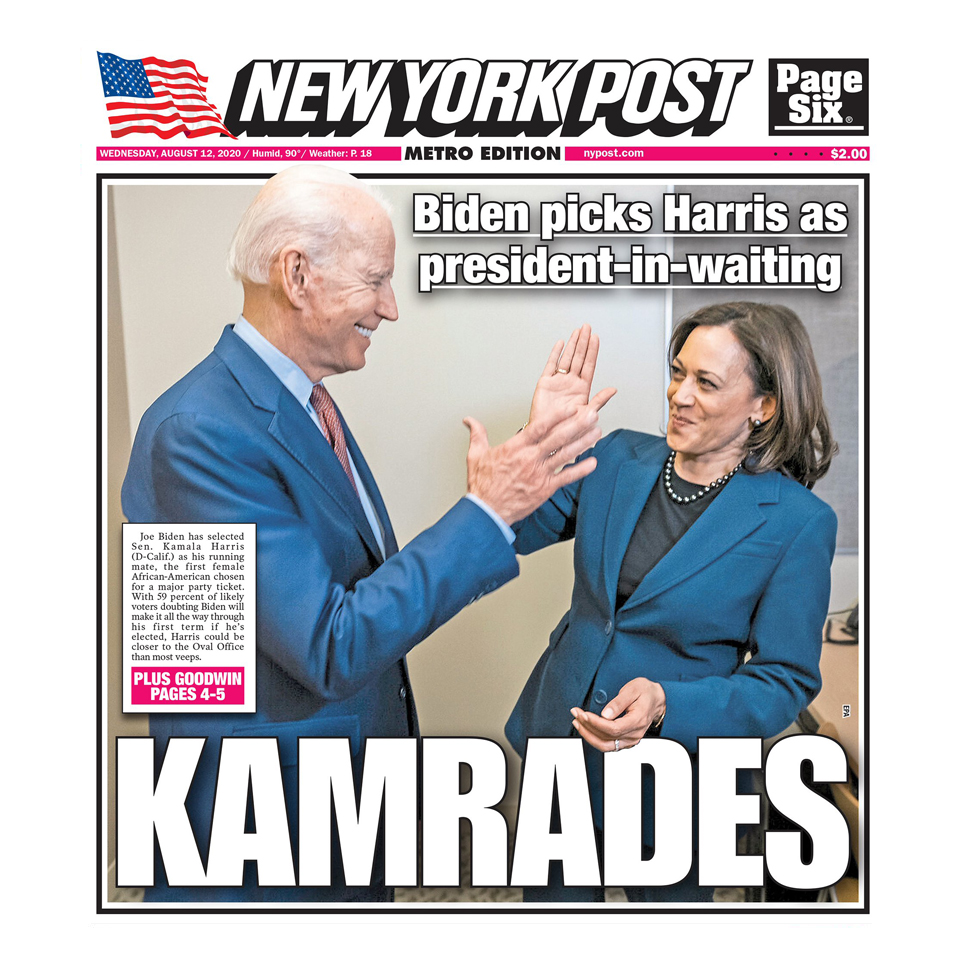 It is the communist Democrat Party these days, after all.
It's appropriate to note at this time that President Donald Trump's support for prison/sentencing reform makes this video of Tulsi Gabbard's brilliant takedown of Kamala Harris and her record perfectly fair game for Trump campaign ads:
Mike Pence could have the best debate of his life against Kamala Harris and he still wouldn't do as well as Tulsi Gabbard did pic.twitter.com/v3ZhqJFJVA

— Peter J. Hasson (@peterjhasson) August 11, 2020
Biden's co-sponsorship of the 1994 Clinton crime bill makes this comparison perfectly appropriate as well:
Can you imagine the late night chats between Kamala and Biden bragging about who's incarcerated more minorities?

— Burgess Owens (@BurgessOwens) August 12, 2020
Man, this video about Biden's long history of public racist statements is brutal…and 100% true:
.@JoeBiden has a racism problem.

WATCH! pic.twitter.com/ik0HzKSSWs

— Boris Epshteyn (@BorisEP) August 12, 2020
But of course the mainstream, corrupt media coverage of yesterday's announcement is predictably fawning and celebratory of Biden's "wisdom" in making a pick that his staff and the DNC in fact made for him. So the communist Democrat ticket will get a little boost in the polls over the next few days, and another boost next week as the Democrat activists in the media slobber all over every word that is said.
But that boost will be very short-lived, an illusion that will rapidly peel away under the light of truth and the reality of the real records of the two corrupt and venal individuals who make up the ticket.
Not that the Biden handlers had much choice here: Once the candidate had idiotically painted himself into this "woman of color" requirement for a running mate, his options were extremely limited and ultimately whittled down to a decision between Harris and Susan Rice, who has the personal appeal of an over-ripe cantaloupe. All of the other potential choices essentially disqualified themselves, either by an utter lack of qualifications (Stacey Abrams) or by a history of supporting communist dictators that was too transparent for even many Democrats to stomach (Karen Bass).
The one name that appeared on the Biden VEEP list early on that disappeared from it without any real public discussion was that of Florida Congresswoman Val Demings. If the Biden handlers wanted to choose a "law and order" candidate to fill out the ticket, well, Demings was the Chief of Police in Orlando for a decade, and compiled a very respectable record in that role. You didn't have to agree with anything she said during the impeachment hearings last year to recognize that Demings is tough, composed and an impressive presence on a national stage. She is also really adept at parroting the daily narrative.
But hey, these are communist Democrats, so maybe having a record that is actually respectable became a disqualifier for her. Sounds about right.
All in all, the choice of Harris seems like a real missed opportunity for the Biden handlers. As I pointed out yesterday, she adds nothing of any substance to the campaign, does not help Biden in a single state, and comes in loaded down with an enormous amount of personal baggage.
Cool.
Meanwhile, in Chicago… – The head Black Lives Matters organizer in Chi-town actually equated the looting of high-end stores on Chicago's Magic Mile, as well as the local Target and Nike outlets, to "reparations" on Tuesday.
I swear I do not make this stuff up:
"I don't care if somebody decides to loot a Gucci or a Macy's or a Nike because that makes sure that that person eats. That makes sure that that person has clothes," Atkins said, according to NBC Chicago.

"That's reparations. That is reparations. Anything they want to take, take it because these businesses have insurance. They're going to get their money back. My people aren't getting anything."

[End]
Yes, truly, nothing says "social justice" like a new handbag from Gucci. And besides, businesses have insurance, and insurance is free, right?
Holy crap.
In Portland, the rioting will continue at least until the next local elections… – What is the point of policing the riots and making arrests when the local DA who refuses to prosecute the criminals?
New DA for Multnomah County (which includes Portland), @DAMikeSchmidt, announced at a presser today his office will not prosecute felony riot, escape, harassment, interfering w/an officer, criminal trespass & more. Charges of assault of officer will be subject to "high scrutiny."

— Andy Ngô (@MrAndyNgo) August 12, 2020
This statement by the communist Democrat DA is simply a green light for the rioters to continue to do anything they want without worrying about consequences. Again, if you live in Portland and have the means to move somewhere, anywhere else (well, except to any other big city run by communist Democrats, that is), now is the time to do so, because things are only going to keep going downhill from here.
More coverage of last night's 76th straight day of riots by real journalist Andy Ngo:
Another large group of #antifa militants make their way to the Penumbra Kelly police building in SE Portland. This is day 76 of daily violent protests. Video by @TheHannahRay. #PortlandRiots pic.twitter.com/CxJ05k5Vsp

— Andy Ngô (@MrAndyNgo) August 12, 2020
Parents take their young children to radical street protest in SE Portland. #BlackLivesMatter pic.twitter.com/47qpoqenrP

— Andy Ngô (@MrAndyNgo) August 12, 2020
Some person is laying motionless on the ground at the antifa gathering outside the SE Portland police building. Reporter @TheHannahRay says he fell out of a truck and hit his head. Rioters were upset ambulance took few minutes to arrive. #antifa pic.twitter.com/A6R1zMU3CM

— Andy Ngô (@MrAndyNgo) August 12, 2020
And then there's this:
"While Portland was ravaged by more than 70 violent days of riots, vandalism, and arson, The Washington Post published an Antifa fashion spread." #PortlandRiots https://t.co/zPmeKqOFRM

— Andy Ngô (@MrAndyNgo) August 12, 2020
You just can't make this stuff up, folks. Our news media is rank, smelly gutter trash.
That is all.
Today's news moves at a faster pace than ever. Whatfinger is my go-to source for keeping up with all the latest events in real time.