The boat rallies continue, and they keep growing larger. – The Wuhan Virus restrictions against large publi gatherings – except, of course, for Democrat Party-sponsored rioters – have produced a new national phenomenon:  The Boat Rally.
Actually, the correct description of these events is the "Trump Boat Rally" since there have been no similar rallies for Joe Biden or any Democrat, which, come to think of it, is just like the massive in-person rallies that were exclusively a Trump phenomenon. They've become a great way for Trump supporters to show their love and support for the President without violating any of the unconstitutional edicts handed down by their governors, with at least one such rally taking place somewhere in the nation each weekend.
On Saturday, it was St. Augustine, Florida's turn:
The media doesn't want you to know this, but THOUSANDS of Trump supporters rallied in Saint Augustine today for a boat parade to support @realDonaldTrump! His support for 2020 is HUGE!https://t.co/zzqrIfRYUu pic.twitter.com/yvJd0RaG8R

— Kaitlin Bennett (@KaitMarieox) August 2, 2020
Cool.
Here's the front page on Sunday's New York Post: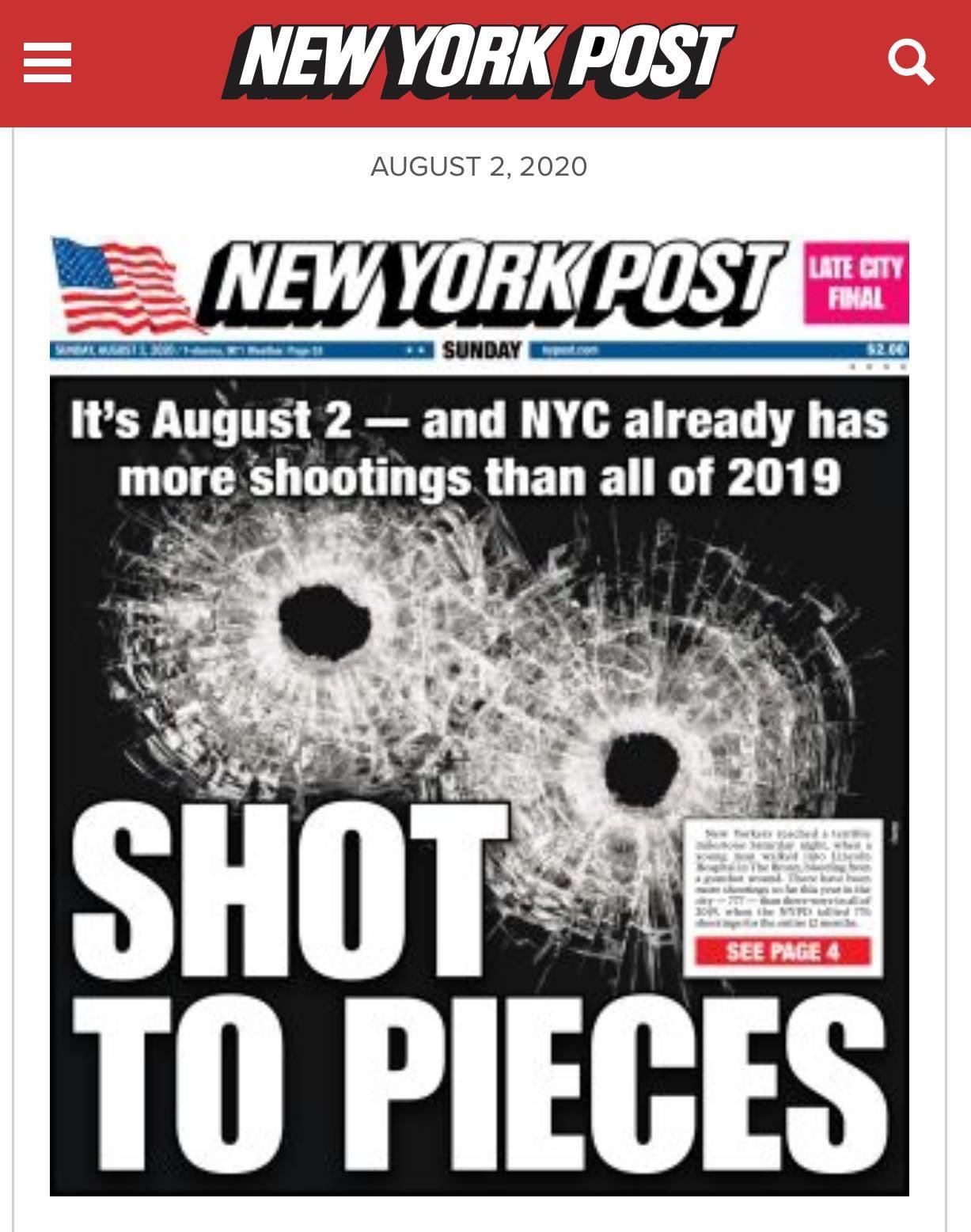 This sad fact is brought to you directly by the policies of communist Democrat Mayor Bill De Blasio. There is literally no one else to blame. And New Yorkers brought this on themselves by electing the jackass in 2014 and then – after having seen for four long years what an evil despot he truly is – re-electing him again in 2018.
The Big Apple is dying before our eyes because that's what the voters asked for. You could never make this stuff up, folks.
Things aren't much better in Minneapolis. – With communist Democrat Mayor Jacob Frey and his fellow communist Democrats on the city council slashing the police budget and inhibiting the department's ability to effectively deal with criminals, violent crime and robberies are shooting through the roof in Minneapolis. In response to this reality, the Minneapolis city government sent out the following advice to citizens on Saturday:
That's right: The citizens of Minneapolis can no longer have any expectation of police protection. They simply must learn to behave like frightened targets of roving bands of thugs whenever they go out in public and be prepared to turn over their cash, wallets and car keys whenever they're assaulted and pray the criminal doesn't kill them anyway.
This is how communist Democrats expect us all to live today. This truly is their goal, and they aren't even bothering to try to hide it anymore.
It's just status quo Lori Lightfoot style in Chicago. – It was just another weekend with dozens of shootings and deaths on the streets of Chicago, with almost all of the victims being African American. But these are black lives that don't matter to Black Lives Matter or communist Democrat Mayor Lori Lightfoot, whose polices led directly to a whopping 139% increase in shootings during July.
One of the victims this weekend sadly included a 9 year-old child. From a report by WGN:
CHICAGO — A Near North Side community is calling on city leaders for help in the wake of a 9-year-old's murder on Friday, leaving a neighborhood traumatized and crying out for mental health support services Sunday.

Community leaders returned to the spot where 9-year-old Janari Ricks was gunned down to say enough is enough. Standing next to balloons, candles and teddy bears commemorating Ricks' heartbreakingly short life, they called for shooters to turn themselves in and both community and government members to take on gun violence.

"We are adamant about getting this young man captured and seized for the senseless act he committed and we are asking him again, turn yourself in; if you turn yourself in you can make this a whole lot easier," said Raymond Richard, Brothers Standing Together. "You know what you did, you know who you are, and we are gonna pray that you do the right thing."

One of the main messages from community activists like Andrew Holmes Sunday: stop protecting shooters.

"These are our babies that are falling," Holmes said. "Carbon monoxide is a silent killer, COVID-19 you can't see it neither, but the shooter you see him."

[End]
Yes, you can see the shooters. It's just that Lori Lightfoot refuses to let the police do anything effective to stop them. Chicago has had nothing but Democrat mayors since 1931. This madness will only continue to escalate so long as the voters' madness on election days continues.
Meanwhile, in Portland… – While you listen to the talking heads at CNN and MSNBC tell you that all is well and peaceful in Portland, Oregon now that the federal law enforcement presence has been diminished, here is what really took place in that city under siege by Democrat-sponsored domestic terrorists last night, courtesy of Andy Ngo:
Rioters have started a fire in downtown Portland. They're burning a recycle bin, bench and tree. #PortlandRiots #antifa #BlackLivesMatter pic.twitter.com/XXrWjWwrLS

— Andy Ngô (@MrAndyNgo) August 3, 2020
Rioter sucker punches a man while other fires are being started in the street. #PortlandRiots #antifa pic.twitter.com/t3FzaAWtO8

— Andy Ngô (@MrAndyNgo) August 3, 2020
Last night, black bloc rioters tried to burn down the Portland federal courthouse again even though federal officers stayed inside. They started a fire on the garage. There were no arrests. Photo by @livesmattershow. #PortlandRiots #antifa pic.twitter.com/jUS44dy5b0

— Andy Ngô (@MrAndyNgo) August 3, 2020
But there was one bit of good news:
One of the BLM protesters filmed allegedly throwing a bomb at the Portland federal courthouse was outed by his Trump-loving grandmother. Read my exclusive report & interview about the arrest of felony arson suspect Gabriel Agard-Berryhill: https://t.co/fittqp6uef #PortlandRiots pic.twitter.com/QNp4GZWJoX

— Andy Ngô (@MrAndyNgo) August 1, 2020
From Mr. Ngo's piece in the New York Post:
Shortly after midnight on Tuesday morning, videos captured the moment a makeshift bomb was thrown at the Portland federal courthouse during another night of violent protest. A Trump-loving, 69-year-old woman soon stepped forward to out the suspect publicly — as her own grandson.

Karla Fox says she recognized the alleged bomber as her daughter's son, 18-year-old Gabriel "Rico" Agard-Berryhill.

In the hours after the IED attack, social-media users analyzed videos showing a slim male, wearing a distinctive olive vest with the word "ICONS" printed on it, throwing something over the fence at the Mark O. Hatfield Courthouse. Seconds later, a large explosion erupts, covering the front door in flames. The man picks up something off the ground and sprints off-camera. Police said the concussion could be "heard and felt more than a block away."

Fox instantly identified her grandson because she gave him the vest.

"I bought the vest for him after he found one online after getting hit with rubber bullets the night before at the protest," Fox told The Post. (She even left a positive review on clothing site Hibbett: "I got this for my grandson who's a protester downtown, he uses it every night and says it does the job.") She posted a photo of him posing in the $26 non-bulletproof apparel.

[End]
Fantastic. God bless Karla Fox and the millions of law-abiding Americans just like her all over the country.
That is all.
Today's news moves at a faster pace than ever. Whatfinger is my go-to source for keeping up with all the latest events in real time.