Adios, Jeff! – While Tommy Tuberville is certainly not the most reliable conservative thinker in the world – especially on illegal immigration issues – I have to admit to being in a celebratory mood last night as I read about the election results in the great state of Alabama. There, Tuberville shellacked former Senator and do-nothing Attorney General Jeff Sessions by a whopping 24% of the vote.
Sessions, who was a fine U.S. Senator from Alabama for many years, did this to himself when he sand-bagged President Donald Trump by recusing himself from anything having to do with Russia the day after accepting the AG job under the dubious rationale that he had held one meeting with the Russian ambassador to the U.S. while he was still a sitting senator.  Sessions then sat back and did nothing while Rod Rosenstein and Robert Mueller's band of leftist thugs ran roughshod over the constitution for two solid years before the President finally, blessedly, fired him.
Thus, while Sessions might – might – have become a more solidly reliable conservative vote than Tuberville, it is still quite pleasing to see him suffer such an ignominious defeat at the hands of Alabama voters.
Sessions defended his recusal decision in his concession speech last night, saying that "I leave office with my integrity intact," and that he "saved the President's bacon" by doing it.
Good riddance.
Adios, Nick Cannon! – At least from ViaComCBS, which terminated its relationship with this mysteriously popular entertainer who has aspired to be the Black Ryan Secrest. Cannon formerly hosted "America's Got Talent," and currently serves as the host of Fox Television's "The Masked Singer."
After Cannon was revealed to have made heinously repugnant anti-Semitic comments on his YouTube podcast about Jews, ViaComCBS released him yesterday, and issued this statement: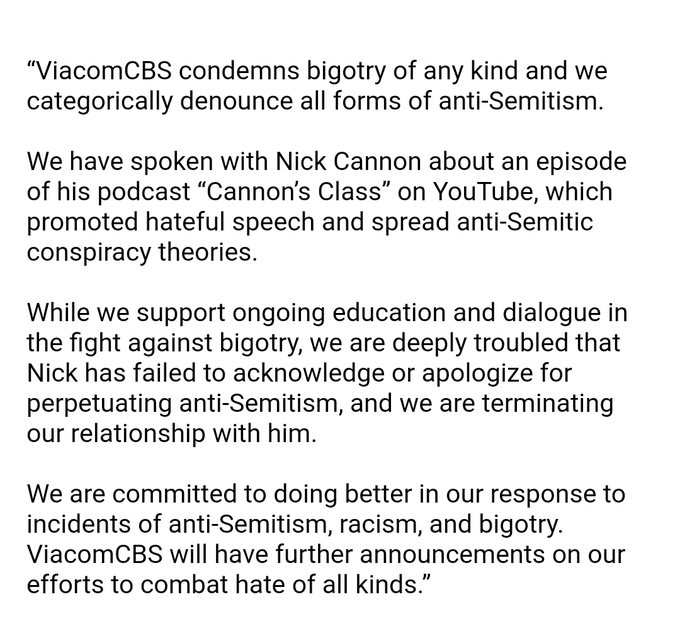 That's great and well-deserved. Too bad the Democrat Party refuses to do the same kind of thing with its blatant anti-Semitic members of congress like Ilhan Omar, Ayanna Pressley and Alexandria Ocasio-Cortez. But that would require intellectual honesty and integrity, attributes no longer possessed by the Democrat Party.
But back to Mr. Cannon: Everyone needs to carefully read what he actually said and understand he was not making despicably bigoted and racist remarks only about Jews. In the course of his comments, he characterized every white person on earth as sub-human and "closer to animals."
Here are actual quotes from his rant:
"When you have a person who has the lack of pigment, the lack of melanin that they know they will be annihilated, therefore they know that however they got the power, they have a lack of compassion, melanin comes with compassion."

"Melanin comes with soul, that we call it soul, we soul brothers and sisters, that's the melanin that connects us so the people that don't have it, are, and I'm going to say this carefully, are a little less and where the term actually comes from, and I'm going to bring it back around to Minister Farrakhan, where they may not have the compassion."

"When they were sent to the Mountains of Caucasus, they didn't have the power of the sun. The sun started to deteriorate them. So, they're acting out of fear, they're acting out of low self-esteem, they're acting out of deficiency, so therefore the only way they can act is evil."

"They have to rob, steal, rape, kill and fight in order to survive. So these people who didn't have what we have, and when I say 'we,' I speak of the melinated people, they had to be savages, they had to be barbaric because they're in these Nordic mountains, they're in these rough torrential environments, so they're acting as animals, so they're the ones closer to animals, they're the ones that are actually the true savages."

[End]
Note that ViacomCBS limits its condemnation of Cannon's inclusively racist remarks about all white people to his attacks on those of the Jewish faith. Apparently, Cannon would have been perfectly okay had he just gone after generic white folks.
Note also that Fox, Cannon's other current employer in his role on the highly-rated "Masked Singer," remains studiously mute on the matter.
Cannon engaged here in rancid, racist hate speech, pure and simple, just as Louis Farrakhan does in every speech he delivers. I had fully expected both of these media giants to simply ignore this incident, but now that ViacomCBS has at least partially stepped up to the plate, it's hard to see how Fox can remain hidden away in a corner of the dugout. But hey, you should never ever underestimate the mendacity and lack of integrity of a big media operation, so don't hold your breath.
News you will definitely not see reported on CNN or in the New York Times. – Dozens of Florida testing sites and hospitals were revealed yesterday to have been dramatically over-reporting their positive COVID-19 testing rates. Independent journalists – not working for any  major media outlet, obviously – became suspicious when the state's reported number of "cases" spiked over the weekend, and found that more than 50 testing sites were reporting at 100% or near-100% positive rates, a statistical impossibility.
Journalists scouring the reams of daily data for discrepancies have apparently happened upon bombshell they had been hoping for: Orlando Health has just confirmed that some of the data it shared over the weekend were wrong, after journalists reported more than 50 labs showing 100% positivity rate, or roughly around there. One local Fox affiliate looked into the numbers and contacted a few of the labs to confirm that their internal data matched the public data released by the state.

As it turned out, some of these discrepancies were pretty extreme: Orlando Health, one of the organizations contacted by Fox, confirmed that it's positivity rate was actually 9.8%, not the 98% that had been reported to the state.

[End]
You're being lied to about this virus, folks. Systematically and massively lied to and brainwashed by the money-grubbing medical community and the corrupt news media. Somewhere in hell, Joseph Goebbels is smiling with pride at this continuation of his heritage.
That is all.
Today's news moves at a faster pace than ever. Whatfinger is my go-to source for keeping up with all the latest events in real time.