The only "justice" available in St. Louis is the kind paid for by George Soros. – The St. Louis couple who brandished a pistol and rifle to protect their homes from a group of about 300 aggressive BLM Marxists who had broken down the gate to invade their community had their home invaded again on Friday. This time the invasion – and confiscation of their guns – was conducted by police acting on the orders of Obama-funded city prosecutor Kimberly Gardner:
So, a group of potentially violent rioters can destroy the legally-placed entrance to a gated community and invade private property (the streets in the neighborhood are owned by the HOA) and this "circuit attorney" will do nothing. But anyone who brandishes a permitted firearm as a means of protecting their own home will be subject to search and seizure and potential prosecution.
This is absolutely outrageous, and another instance where we see the U.S. Department of Justice doing nothing to intervene. William Barr, where are you?
The only real justice being executed in the United States right now appears to be whatever comes from the President's desk. – Corrupt Marxist Minnesota Governor Tim Walz found that out the hard way late Friday evening, as his despicable request for a federal government bailout to repair the riot damage done to Minneapolis was outright denied by the Trump Administration.
From a story at the Minneapolis Star Tribune:
The federal government has denied Gov. Tim Walz's request for aid to help rebuild and repair Twin Cities structures that were damaged in the unrest following George Floyd's death.

Walz asked President Donald Trump to declare a "major disaster" for the state of Minnesota in his request to the Federal Emergency Management Agency (FEMA) on July 2. More than 1,500 buildings were damaged by fires, looting and vandalism in the days of unrest that followed Floyd's May 25 death in Minneapolis police custody, racking up more than $500 million in damages, according to Walz.

The governor's spokesman, Teddy Tschann, confirmed late Friday that the request for federal aid was denied.

"The Governor is disappointed that the federal government declined his request for financial support," Tschann said in a statement. "As we navigate one of the most difficult periods in our state's history, we look for support from our federal government to help us through."

[End]
Oh, darn. Oh, heck. Oh, that nasty old Donald Trump.
Thank God for Donald Trump and his clear-eyed view of this world. These riots were Democrat Party riots. BLM and Antifa, the two domestic terrorist groups that organized and managed the riots, are nothing but Democrat Party armed support groups, just as the Ku Klux Klan was for more than a century in this country. These Democrat Party riots were enabled and urged on by Democrat mayors and Democrat governors and simply do not in any way merit the intervention of the U.S. taxpayer to help to pay for the damage they caused.
This Trump ruling was a big middle finger to Gov. Walz, and it sends a very important signal to the Democrat Party and its armed terrorists: You break it, you buy it.
It is the only proper signal to send.
News you won't see reported on CNN or MSNBC. – A Washington state judge approved a petition effort to recall despicable Democrat/Marxist Mayor Jenny Durkan, the feckless nitwit who facilitated the June riots in her city that led to the illegal establishment of the infamous CHAZ/CHOP area.
From a story at the Washington Times:
A King County Superior Court judge has approved a petition for an election to recall Seattle Mayor Jenny Durkan.

The Seattle Times reports the ruling Friday on charges filed by a group of five people last month comes after weeks of local protests against racism and police brutality – sparked by the killing of George Floyd in Minneapolis.

Once any recall petition is approved, signatures are needed to qualify for a special election ballot. The petitioners must, within 180 days, collect valid signatures from a number of voters equal to 25% of the votes cast in the last election. In this case, signatures from more than 50,000 Seattle voters would be needed.

The Durkan petitioners' recall effort accuses the mayor of "endanger(ing) the peace and safety of the community" by allowing police to "leak false information about fabricated crimes and threats to the media" and issuing a citywide curfew without sufficient notice to the public. The petitioners also accused Durkan of restricting certain property rights in downtown Seattle and Capitol Hill, the neighborhood where many of the protests took place.

In a response Saturday, Durkan's chief of staff, Stephanie Formas, said the mayor "consistently has acted to protect the City's public health and safety and to respect the constitutional rights to peaceful protesters."

[End]
The statement by Durkan's chief of staff is an outright lie. Durkan willingly facilitated the actions of the rioters every step of the way, including ordering her police to stand down as the domestic terrorists seized control of the 3rd precinct police building and a city hall annex. She only relented and allowed the police to do their jobs after the rioters broke into her own gated community and vandalized her home.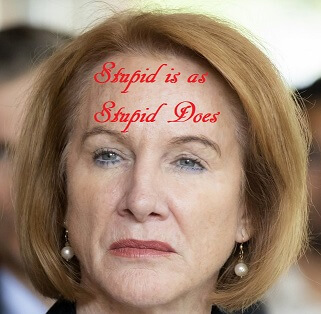 No Mayor in U.S. history – with the possible exceptions of Bill de Blasio and Lori Lightfoot – has more richly deserved to be booted out of office than Durkan. If this recall effort fails, then any thinking person still living in Seattle with the means to do so should flee the area, because all hope for avoiding an inevitable descent into utter chaos will be lost.
Good luck and Godspeed.
That is all.
Today's news moves at a faster pace than ever. Whatfinger is my go-to source for keeping up with all the latest events in real time.