The beatings will continue until morale improves. – California Governor Gavin Newsom re-implemented lockdown orders yesterday in 19 of the state's most populous counties, as reported by Fox News:
California Gov. Gavin Newsom announced a new round of lockdown measures Wednesday, ordering 19 counties to close all indoor operations for several business sectors, including restaurants, as the state grapples with a resurgence of coronavirus cases.

In addition to bars being forced to shut down temporarily, restaurants, wineries, movie theaters, family entertainment venues, zoos, museums and cardrooms must halt operations in selected communities, Newsom said Wednesday.

Businesses can continue to operate if they can move operations outdoors.

"This doesn't mean restaurants are shut down," Newsom, a Democrat, said at a briefing. "It means that we're trying to take the activities, as many activities as we can — these mixed activities, these concentrated activities — and move them outdoors, which is a way of mitigating the spread of this virus."

The list of affected counties ran up and down the state: Contra Costa, Fresno, Glenn, Imperial, Kern, Kings, Los Angeles, Merced, Orange, Riverside, Sacramento, San Bernardino, San Joaquin, Santa Barbara, Santa Clara, Solano, Stanislaus, Tulare and Ventura counties.

[End]
So, thousands more businesses hampered beyond profitability or lost completely, tens of thousands more Californians back to the unemployment roles, all in a re-try of a strategy that has already been proven to be utterly ineffective.
And that's not all:
Beaches in Los Angeles County, along with piers and bicycle paths, will close beginning Friday through Monday in an effort to prevent a repeat of Memorial Day weekend when large crowds gathered in close proximity and largely ignored safety measures.

All parking facilities at state beaches in Southern California and the Bay Area will also be closed for the upcoming weekend. The closures reverse the reopening process that began weeks ago after months of unprecedented lockdowns.

The state first began to "toggle back" reopenings over the weekend when it ordered bar closures in seven counties that are seeing increases in infections.

Ahead of the holiday weekend, the governor has voiced concerns about people gathering with friends and family, which he said could lead to complacency and more virus transmissions. He is also urging municipalities to rethink firework displays.

[End]
Ok, so no gathering with friends and family? But what about all those riots and protests and demonstrations by the Antifa/BLM domestic terrorist arm of the Democrat Party?
Oh, hey, those are fine:
LAPD just posted this photo of people protesting tonight. People are messaging me, asking how this is allowed, with no social distancing, when hours ago Governor @GavinNewsom said we shouldn't even see our family for a July 4th gathering this weekend, unless we live with them. pic.twitter.com/ONq78nCok7

— Christina Pascucci (@ChristinaKTLA) July 2, 2020
Well of course they are. Allowing this dichotomy of government action to continue to go on is inhumanly depraved. People can't go to church, can't attend movies, can't hug their grandparents, can't let their children play in a park or on a beach without the Democrat governor or mayor sending in the police. But let 5,000 potential rioters pack themselves tightly into a public space for a few hours to chant obscene slogans advocating de-funding and murdering police officers, and the governors and mayors can't be bothered to lift a finger.
You just could never make this stuff up, folks, not in a million bazillion years.
Meanwhile, in Texas, a different kind of protest action rose up. – Taking a cue from the leftists at Antifa/BLM, a Kilgore bar owner organized what he calls the "Bar Lives Matter" protest against the orders of Texas Governor Greg Abbott on Wednesday: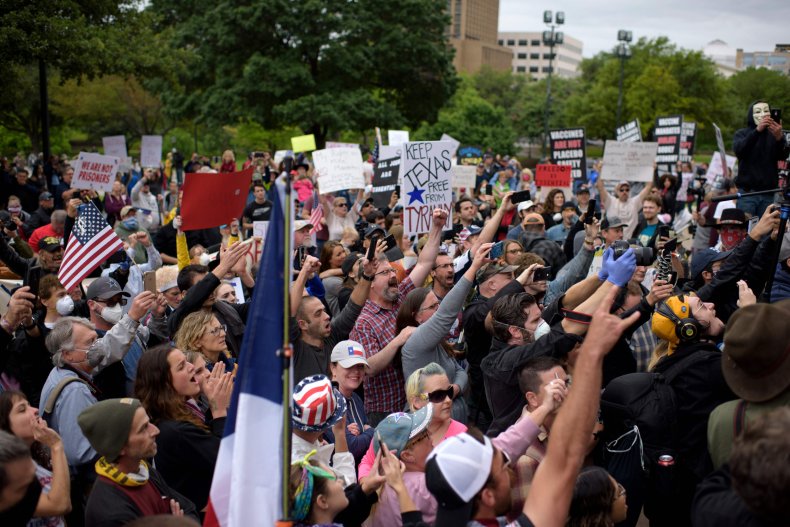 From a story at the New York Post:
Bar owners in Texas staged a protest in reaction to the state's order to shut them down for a second time due to the coronavirus, reports said.

Tee Allen Parker, owner of the Machine Shed Bar and Grille, named Tuesday's event "Bar Lives Matter" in an apparent reference to the Black Lives Matter movement against police brutality.

Parker, whose establishment is in Kilgore, Texas, roughly two hours south of Dallas, is already suing Texas Gov. Greg Abbot over the bar closures — which he claims are devastating his livelihood and forcing many of his peers into bankruptcy, according to CBS Austin.

"This one individual is picking and choosing winners and losers," Jared Woodfill, an attorney for Parker, told the outlet. "Gov. Abbott has chosen to sentence bar owners to bankruptcy."

As a part of its most recent coronavirus order, Texas did not close down or limit capacity at other businesses — like hair salons, tattoo parlors, and nail studios. The order did require restaurants to operate at 50 percent capacity.

"You can't tell me that my tiny little bar is the problem. He's the problem," Parker previously told the Washington Post. "He's targeting us, and it's discrimination."

[End]
I have been an off-and-on fan of Gov. Abbott, but it is very hard to argue with Parker's statement that the Governor and his "Strike Force" of advisors, not the bars, are the real problem. Just like Newsom, Gov. Abbott has done next-to-nothing to crack down on the massive demonstrations and protest actions that include no social distancing and very little mask-wearing that happened in Texas's major cities during June. Similarly, Abbott continues to do next-to-nothing to educate the Texas public about the massive fraud the state's hospitals are committing in their reporting of new "cases" in their craven efforts to grab as much federal money as possible.
To single out bars amid all of the other establishments at which Texans congregate closely in groups is obviously discriminatory and very likely violates both the U.S. and Texas constitutions. From April through June, it was easy to pound solely on Democrat governors for their depravity in the face of this viral gift from China, but Abbott and Arizona's Mike Ducey are making it very difficult to continue drawing that distinction.
Better temper that optimism over a Wuhan Virus "vaccine." – Stocks all over the world rose overnight and the U.S. markets are poised for a big opening today due to optimistic news regarding the development of several COVID-19 vaccines.
From a Reuters story:
NEW YORK, July 1 (Reuters) – U.S. stocks moved higher on Wednesday as rising hopes of a safe and effective COVID-19 vaccine eased concerns another round of lockdowns was likely following a record surge in coronavirus cases in the United States.

Pfizer Inc's shares rose nearly 5% after the drugmaker said a COVID-19 vaccine being developed with German biotech firm BioNTech showed promise and was found to be well-tolerated in early-stage human trials.

The gains made Pfizer shares one of the top boosts to both the S&P 500 and Dow Industrials while U.S.-listed shares of BioNTech gained more than 8%, helping improve the mood on Wall Street after the United States registered 47,000 new coronavirus cases on Tuesday, the biggest one-day spike since the start of the pandemic.

Investors were also encouraged by some upbeat economic data as coronavirus-induced lockdowns have eased. A report on Wednesday showed a slump in global manufacturing had ebbed in June, with U.S. figures hitting their highest level in more than a year.

[End]
That all sounds great, right? Trouble is, the day before we saw this announcement largely ignored by our corrupt news media:
The FDA plans to require that any Covid-19 vaccine be at least 50% more effective than a placebo to gain approval https://t.co/xzfMGNYFuw

— The Wall Street Journal (@WSJ) June 30, 2020
Do you understand what that's telling you? It's telling you that the FDA is planning to refer to any medical treatment that produces 50% better results than a damn sugar pill as a "vaccine." What exactly is 50% better than zero?
So, if you still labor under the illusion that Anthony Fauci and Bill Gates are going to ride to the rescue this coming winter with a miracle cure for the Wuhan Virus, you are in for one enormous disappointment.
That's not going to happen.
Our country must do the same thing with COVID-19 that we have done with every previous flu strain: Learn to live with it. Protect the most vulnerable, practice common sense safety measures and effectively treat those who become ill. All of this other stuff and fear porn flying around in the public domain thanks mainly to Fauci, our main current national menace, is just so much nonsense designed frighten you into submission.
We are in a very dangerous place at the moment. Be careful out there.
That is all.
Today's news moves at a faster pace than ever. Whatfinger.com is my go-to source for keeping up with all the latest events in real time.