Meet the new Russia hoax, same as the old Russia hoax. – The Russia Collusion hoax was based entirely on a fraudulent dossier and lies told to reporters by anonymous sources. Well, and also by reporters just making crap up out of whole cloth in many instances, but that goes without saying. The Democrats and their corrupt media toadies managed to deceive the American public for three solid years and tilt the 2018 elections using that hoax, so it's only natural they would repeat that same model in the runup to the 2020 elections.
Meet the new Russia hoax, this one claiming that President Trump was briefed on a plan by those evil Russians to bribe Afghanistan militants to murder U.S. and coalition forces in that sh*thole country (don't even try to prove me wrong on that assessment), and that the President did nothing to stop them. The New York Times got the ball rolling on that doozy late last week with yet another fake report based on nothing but anonymous sources who may or may not even exist. You're just supposed to trust that the New York Times, which has filed hundreds of completely false reports about President Trump since 2015, is finally telling you the truth this time, because of their journalistic "ethics" or something.
Even more, you're supposed to believe the Times because other corrupt media outlets like the Wall Street Journal and Washington post "independently verified" the story – i.e., they talked to the same anonymous sources, who may well have been the reporter from the Times itself. Because that's what these corrupt political operatives masquerading as journalists do.
As with this past week's Bubba Wallace/NASCAR noose story, if you didn't realize within about 10 seconds that both stories are clear hoaxes, then you just haven't been paying enough attention to what's been happening in our country for the past four years. But most Americans are too dense to figure it out, so the President and many of his people had to waste their time issuing outright denials of this false reporting on Saturday.
As reported by the Washington Examiner, former Director of National Intelligence Ric Grenell ended up in a back and forth on Twitter with despicable hack Ted Lieu:
Rep. Ted Lieu, a California Democrat, tweeted at Grenell daring him to confirm whether he did not tell Trump and Pence about a Russian military intelligence unit offering financial rewards to Taliban militants to kill U.S. troops or McEnany was lying.
"I never heard this," Grenell shot back. "And it's disgusting how you continue to politicize intelligence. You clearly don't understand how raw intel gets verified. Leaks of partial information to reporters from anonymous sources is dangerous because people like you manipulate it for political gain."
Lieu followed up by asking: "If you are telling the truth, why doesn't White House deny bounty story instead of saying you didn't brief @POTUS?"
Grenell replied: "All anonymous sources. And these same reporters gave us the Russian collusion hoax you still hold on to."
Yep.
Current DNI John Ratcliffe issued this unambiguous statement on the matter:
"The White House statement addressing this issue earlier today, which denied such a briefing occurred, was accurate. The New York Times reporting, and all other subsequent news reports about such an alleged briefing are inaccurate." (2/2)

— Office of the DNI (@ODNIgov) June 28, 2020
Ok. Next!
The President of the United States tweeted this:
…Nobody's been tougher on Russia than the Trump Administration. With Corrupt Joe Biden & Obama, Russia had a field day, taking over important parts of Ukraine – Where's Hunter? Probably just another phony Times hit job, just like their failed Russia Hoax. Who is their "source"?

— Donald J. Trump (@realDonaldTrump) June 28, 2020
All true. Next!
Even Vladimir Putin and Russia accurately referred to the New York Times as "fake news":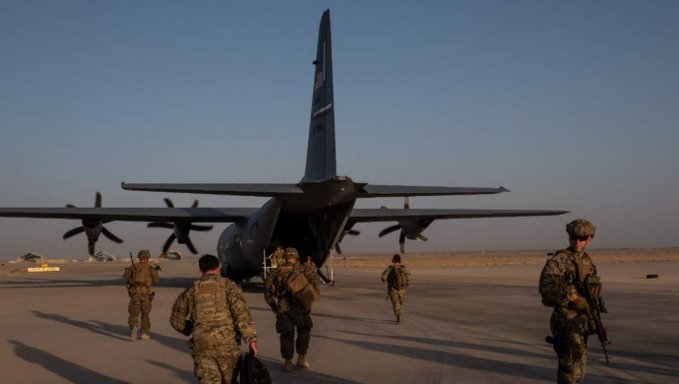 Russia denies allegation that it offered bounties to militants in Afghanistan for killing American troops
According to The New York Times, American intelligence officials reported that a Russian assassination unit secretly offered bounties to Taliban-linked militants for killing American troops in Afghanistan. Russia responded by calling it an attempt to "invent new fake stories."
[End]
So, you are left with either believing "news" outlets who have repeatedly lied to you and worked hand in glove with the Democrat Party to spread a series of outright hoaxes to the American public over the last four years, or believing the President, DNI Ratcliffe and Ric Grenell, who spent his entire time as DNI debunking the media's previous Russia Hoax by declassifying documents and bring transparency in government.
This is not hard, folks.
That is all.
Today's news moves at a faster pace than ever. Whatfinger.com is my go-to source for keeping up with all the latest events in real time.