And thus the CHAZ/CHOP dies not with a bang, but with a whimper. – Seattle's CHAZ/CHOP zone that has been supported and nurtured by Mayor Jenny Durkin and other depraved Democrat officials in the city and state governments appears to have run out of steam. The juvenile delinquent leaders of that Marxist armed insurrection on U.S. soil issued this unintentionally hilarious statement filled with Marxist jargon last night: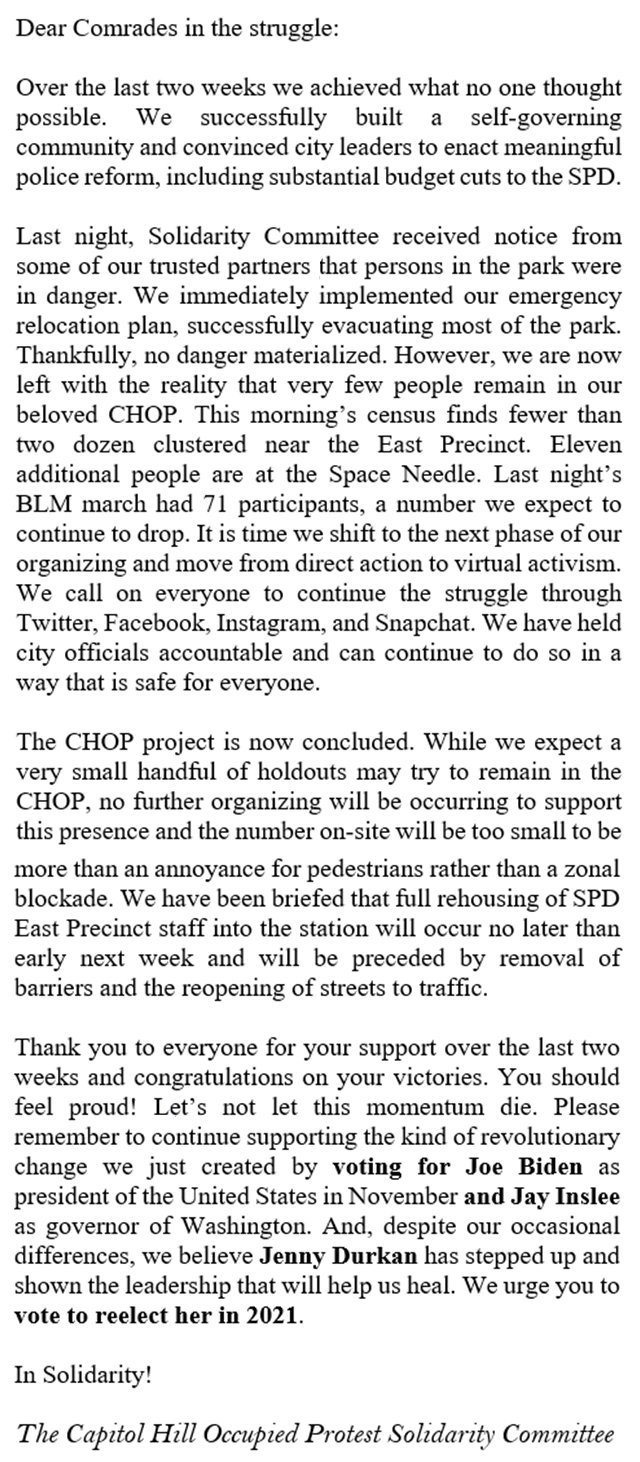 Note the endorsements at the end for Mayor Durkin, Washington Governor Jay Inslee,  and Creepy Uncle Quid Pro Farty China Joe Biden. You support any of these Democrat politicians at your own personal peril. The Democrat Party is the real virus infecting America today.
And now it is time for the lawsuits! – Man, nobody could've seen this coming, right?
DEVELOPING: More than a dozen businesses inside CHOP zone, on Seattle's Capitol Hill, file 56-page class action lawsuit against the City of Seattle. They're seeking unspecified damages, to be determined at trial. pic.twitter.com/RPlsW3DuNv

— Preston Phillips (@PrestonTVNews) June 25, 2020
Hard to imagine why these business owners are upset. I mean, look at the courteous treatment the CHAZ/CHOP sub-humans gave to this particular local business owner trapped inside their zone:
I honestly can't fathom why ?? pic.twitter.com/a3dpk416vF

— Chad of the CHAZ (@RealSaleemJuma) June 25, 2020
Again, you support any Democrat politician at your own personal peril and the peril of your country's survival. Stop doing it.
Meanwhile, this great American has had quite enough of the BLM/Antifa CHOP terrorists:
Seattle man has had enough of the CHAZ/CHOP. pic.twitter.com/wOf1nG9xyo

— Ian Miles Cheong (@stillgray) June 25, 2020
Democrats don't really want police reform. – Just in case you thought the Democrats were serious about federal police reforms, well, think again. Yesterday they killed the only chance of that happening this year.
From a report by USA Today:
Senate Democrats on Wednesday blocked a police reform package they argue does not go far enough in implementing changes needed in the aftermath of George Floyd's death.

The measure failed 55-45, delivering a blow to the momentum on Capitol Hill to enact changes and likely lowering the chances that Congress will move on policing legislation before the November elections.

"I don't know what it's gonna take to wake up," Sen. Tim Scott,of South Carolina, the sole Black Republican in the Senate, said during an impassioned speech. "We'll move on. People will forget about it. You know what's gonna happen? Something bad – and we'll be right back here talking about what should have been done, what could have been done, why we must act now."

[End]
Senator Scott, who has had to deal with the most repugnant racist attacks on his character from Nancy Pelosi, Chuck Schumer and Dick Durbin as this bill's sponsor, is of course correct. Congress will move on and that's exactly what the Democrats want to happen on this issue: Nothing.
The reason why is simple: Because they would not be able to take credit for it. With Democrats, everything is a political calculation, nothing more. If you vote for them, you do so at your own peril. Stop doing it.
If you still hold a favorable opinion of Black Lives Matter, you might want to actually pay attention here for once. – I have been telling you since the start of these riots that there is no real difference between the goals of Antifa and those of Black Lives Matter. They are both domestic terror groups created to be the armed forces of the Democrat Party, both are funded by George Soros front organizations, and both are led by Marxist/anarchist radicals whose goal is the destruction of the United States as a constitutional Republic.
For all intents and purposes, they are one and the same. Hawk Newsome, who says he is the "leader" of BLM in New York, just laid every bit of that reality out for you last night on Fox News with host Martha MacCallum.
You don't have to believe me, just believe his own words, as reported by DailyWire:
MacCallum began the interview by noting Newsome's apparent support for using violence to achieve political goals. "Obviously people watch what you say in that video, that you now want to shove legislation down people's throats now that you have everyone's attention, and you also have said that violence is sometimes necessary in these situations," said MacCallum. "What exactly is it that you hope to achieve through violence?"

"Wow, it's interesting that you would pose that question like that because this country is built upon violence," said Newsome. "What was the American Revolution? What's our … diplomacy across the globe? We go in and blow up countries and we replaced their leaders with leaders who would like. So for any American to accuse us of being violent, it's extremely hypocritical."

Newsome went on to frame his support of using violence as promoting "self-defense," stating, "it seems to be the hypocrisy of America that when black people start talking about arming themselves and defending themselves, the talk is violent, but when white people grab assault rifles and go to our nation state capitals, it's all good."

…

"The only reason I posed that first question to you the way that I did it, I watched you talking on a bunch of different interviews today and you said, 'burn it down,'" MacCallum said. "You said it, 'burn it down, it's time.' So that makes me think that you want to 'burn it down.'"

"If this country doesn't give us what we want then we will burn down the system and replace it," Newsome responded.

[End]
Do you get it now? Or are Mr. Newsome and a group of his fellow terrorists going to have to arrive at your front door and demand you sign over ownership of it before you figure it out? This is not complicated, folks.
About that Emancipation Memorial… – Newsome's fellow BLM thugs promised on Tuesday to show up at the Emancipation Memorial in Washington DC's Lincoln Park tonight at 7:00 ET to attempt to destroy it. You can be sure President Trump will not allow that planned event to take place.
Meanwhile, take a break from being filled with despicable lies about this monument by CNN and the rest of the depraved national news media, and watch as one great American explains why a group of freed slaves funded that project in the first place:
"That man is not kneeling on two knees with his head bowed. He is in the act of getting up."

Listen to this beautiful soul.pic.twitter.com/jfOoO8PfWS

— Jason Howerton (@jason_howerton) June 24, 2020
God bless this beautiful lady for standing up to the mob.
That is all.
Today's news moves at a faster pace than ever. Whatfinger.com is my go-to source for keeping up with all the latest events in real time.