All it takes for evil to prevail is for good men and women to sit silently by and do nothing. – Anyone who thought that the American Taliban's – aka, Antifa/BlackLivesMatter – efforts to tear down monuments and erase U.S. history would be limited to heroes of the Confederacy was living in a fantasy world.
Over the past few weeks, they came for Christopher Columbus, and good men and women did nothing to stop them.
Then they came for Thomas Jefferson, and good men and women did nothing.
Next they came for George Washington, and good men and women did nothing.
Now, they have come for Teddy Roosevelt, and good men and women are nowhere to be found to defend him. The target over the weekend is the magnificent statue of the progressive Republican President who is responsible for tens of millions of acres of National Parks and National Monuments as well as the nation's anti-trust laws, which has sat in front of New York's Museum of Natural History since 1940.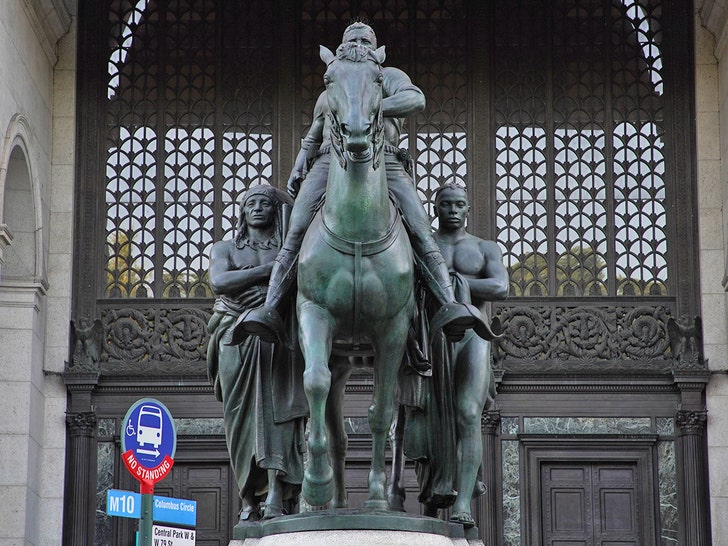 Activists have for years claimed that the images of the Native American and African American walking astride Roosevelt's horse are somehow demeaning, although both are rendered as proud, noble and strong. Both the museum and the city have resisted removing the statue for many years due to public opposition to the move, but over the past few weeks, the impulse to engage in virtue signaling obviously just became too strong.
So, Roosevelt is gone, and in a week few will even remember this happened.
What will they go after next? This is entirely predictable: The major monuments in Washington, DC, the U.S. Constitution, your guns and your churches. If you doubt me, just sit back and do nothing and watch.
Oh, and in case you missed it, the founder of Black Lives Matter admits she is a "trained Marxist":
BLM co-founder confirms what anyone who's read their work knows: they're proudly marxists. pic.twitter.com/vvUk5jTp7j

— Rita Panahi (@RitaPanahi) June 18, 2020
Because of course she is. You will never see this reported on CNN or MSNBC.
Defund the police? Here's what you get. – Speaking of New York City, Marxist Mayor Bill De Blasio's policies of releasing hundreds of felons from Rikers Island and defunding his police department have led to a very predictable outcome: The Big Apple is starting to look a lot like Baltimore and Chicago.
As reported by the New York Post:
The New York City Police Department is investigating more than a dozen shootings that took place in 24 hours.

Authorities say at least 19 people have been injured during shootings Saturday across the city's boroughs.

…

The violence comes as the city sees a spike in shootings following the New York City Police Department disbanding the plainclothes unit last Monday.

There were 28 shooting incidents with 38 victims from last Monday to Friday, compared to only 12 during the same week last year, according to the New York Post.

[End]
Actions have consequences. New Yorkers elected this evil buffoon not once, but twice, so they get what they deserve. But it is sad to see this once-great city descending back into the pits of hell from which Rudy Giuliani rescued it just 20 years ago.
The "good news" for New Yorkers is that they still have a ways to go to catch up with Chicago. – The bad news is that De Blasio will keep doubling down on evil policies until his city is #1.
Over the father's day weekend, 101 Chicago residents were shot, and at least 14 have died at last count, although the bodies are still being counted, so that number could still rise.
From a report in the Chicago Sun-Times:
Chicago saw its highest number of shootings victims in a single weekend this year with 101 people shot across the city from Friday evening to Monday morning, 14 of them fatally. Five of those killed were minors.

The latest child fatality happened early Monday in Austin on the West Side.

Two boys, 15 and 16, were walking in an alley at 12:18 a.m. in the 4700 block of West Superior Street when someone fired at them, possibly from a gray sedan, according to Chicago police. The 15-year-old was shot in his leg, chest and abdomen. He was taken to Stroger Hospital and pronounced dead. The other boy, 16, was hit in the ankle and taken to Stroger Hospital in fair condition.

A 13-year-old girl was killed and two other teens were wounded Saturday night in Austin on the West Side.

The girl was inside a home about 8:30 p.m. in the 1000 block of North LeClaire Avenue when the shots were fired, and she was struck in the neck, police said. She was taken to Stroger Hospital, where she was pronounced dead.

The Cook County medical examiner's office identified her as Amaria J. Jones.

Two boys, 15 and 16, were sitting on a porch when one of them noticed a red laser pointing at him and heard gunfire, police said. The younger boy was struck in the back and the older boy was struck in the leg. They were taken to Mount Sinai Hospital in good condition.

A 3-year-old boy was fatally wounded about two hours earlier when someone opened fire at his father while they were driving in Austin.

The toddler, identified as Mekay James, was struck in the back about 6:25 p.m. when someone in a blue Honda pulled behind the black SUV the boy's 27-year-old father was driving in the 600 block of North Central Avenue and fired several rounds, authorities said.

A police source said the father was believed to be the intended target of the shooting.

[End]
It's a war zone, folks, and the city is saddled with an abject lunatic – Lori Lightfoot – in charge. America's great cities – all run by Democrat political machines for decades – are dying.
The "Summer of Love" continues in Seattle. – Yet another shooting took place in the so-called CHOP zone in Seattle last night:
Shooting in #chop #chaz again tonight. pic.twitter.com/uroJ1wYKg8

— cacti (@SCCacti) June 22, 2020
So, two nights, two shootings, one dead, two in critical condition in a local hospital. It's like a three square-block version of De Blasio's pit of hell.
But still, the mayor and governor do nothing.
Democrats: Can't live with them, would love to live without them.
That is all.
Today's news moves at a faster pace than ever. Whatfinger.com is my go-to source for keeping up with all the latest events in real time.