280-character Book Reviews, By Donald J. Trump. – The President of the United States posted this free book review on his Twitter account overnight.:
Wacko John Bolton's "exceedingly tedious"(New York Times) book is made up of lies & fake stories. Said all good about me, in print, until the day I fired him. A disgruntled boring fool who only wanted to go to war. Never had a clue, was ostracized & happily dumped. What a dope!

— Donald J. Trump (@realDonaldTrump) June 18, 2020
Ok, then, I think I'll forego this one and read the new Michael Connelly novel instead. Thanks.
The National Security Council that Bolton himself formerly led also weighed in on the book with this statement last night:
NSC has determined that the manuscript in its present form contains certain passages—some up to several paragraphs in length—that contain classified national security information. In fact, the NSC has determined that information in the manuscript is classified at the Confidential, Secret, and Top Secret levels. Accordingly, the publication and release of The Room Where it Happened would cause irreparable harm, because the disclosure of instances of classified information in the manuscript reasonably could be expected to cause serious damage, or exceptionally grave damage, to the national security of the United States.
Oh.
In case you missed it, the LA Times reported yesterday that the Department of Justice is apparently contemplating the filing of criminal charges against Bolton given that he decided to go ahead with the book's publication without completing the required vetting process involving the NSC, the DOJ and the Pentagon. Those "high-level discussions" apparently go all the way up to Attorney General Barr himself.
Should DOJ move forward with such charges for revealing classified intelligence, millions of Americans will wonder why similar charges have yet to be pursued against Democrats like Hillary Clinton, Huma Abedin, James Comey and Andrew McCabe, among many others. Still, filing against someone, anyone would be welcome progress.
Well, hey, this should make Barr's decision even easier. – For its own part, the book's publisher, Simon and Schuster – which appears to be the go-to publisher for Deep State hacks like Bolton – says the genie is already out of the bottle here in terms of halting the book's publication: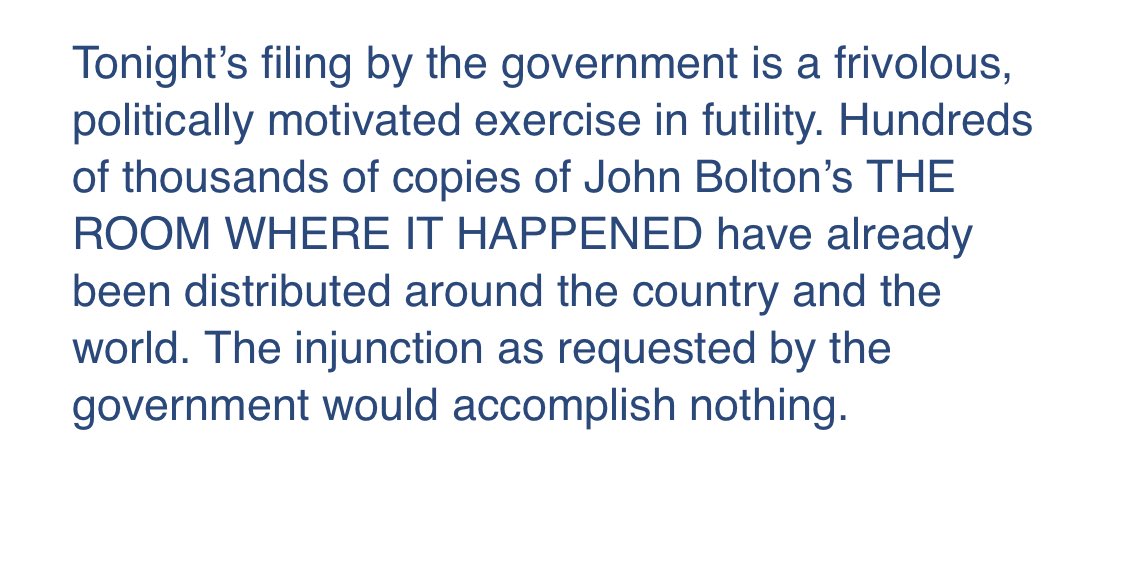 Ok, so, criminal charges it is, then. Or at least, it should be. We'll see.
As you watch the hyperbolic fake news coverage of Bolton's book, remember this John Bolton clip from 2010:
John Bolton in 2010: "If I had to say something I knew was false … I would do it." pic.twitter.com/kXbBzFEADv

— Trump War Room – Text TRUMP to 88022 & get the APP (@TrumpWarRoom) January 31, 2020
Because Republican Black lives don't matter to Black Lives Matter. – Check this out…
Senator Tim Scott Slams Dick Durbin For Calling His Police Reform Bill 'A Token' https://t.co/00wTOhAHqe

— Daily Caller (@DailyCaller) June 18, 2020
That's the kind of racist crap you have to deal with if you are a Black person who holds to conservative values. Durbin later claimed his remark was a mere slip of the tongue and offered a Clintonian non-apology apology, but nobody really believes that. Durbin is a guy who never utters a public word that hasn't been vetted with a focus group. But hey, he's a Democrat, so being an overt racist is ok.
CORONAPANIC UPDATE: Thus far in Texas, 2088 residents have had their deaths attributed to COVID-19, which we all know is a highly inflated number. By comparison, during the 2019-2020 Season for the common flu and pneumonia, Texas has recorded 8,157 deaths due to those respiratory illnesses according to the state's Department of Health and Human Services.
That's 8,157 deaths for which no one screams we must wear a mask or stay at home, vs. 2,088 deaths about which everyone screams.
We are officially insane.
This concludes your CORONAPANIC UPDATE for today.
Hey, look, Old Faithful just erupted in Las Vegas:
@VitalVegas @LasVegasLocally
New waterpark in Henderson next to Costco is now open. pic.twitter.com/irZHsKwPfy

— ƒ(x) (@f__of__x) June 17, 2020
Anyone who has ever visited Vegas knows that it is just a matter of time before someone puts up a neon sign that reads "Old Vegas Faithful," and starts collecting resort fees, parking fees and COVID-19 surcharges. Then they'll start taking bets on how long the man-made geyser lasts, with the House taking 6% of the proceeds as its cut. If this were 1980 again, a third of the house collections would then be skimmed and sent back to the Kansas City and Chicago mobs, with another small share going to Harry Reid and the other members of the Nevada Gaming Control Board.
But hey, it's not 1980 anymore.
Quick, somebody tell me the difference between today's Democrats and their BLM/Antifa mobs and the Taliban, because I'm not seeing one. – The war on history and monuments to history continues in California, where the Democrat-dominated state assembly just voted to remove a statue of Christopher Columbus from the state capitol building.
From a report at Breitbart:
A statement that was signed by  Senate President Pro Tempore Toni Atkins (D), Assembly Speaker Anthony Rendon (D), and Assembly Rules Committee Chairman Ken Cooley (D) read:

Christopher Columbus is a deeply polarizing historical figure given the deadly impact his arrival in this hemisphere had on indigenous populations. The continued presence of this statue in California's Capitol, where it has been since 1883, is completely out of place today," It is unclear when the statue will be removed from the state building.

The decision comes as left-wing activist groups, including Black Lives Matter, and Democrat lawmakers have called for historical statues to be taken down in the wake of the death of George Floyd, a black man who died while in police custody in Minneapolis.

On Tuesday, a statue of Christopher Columbus was removed from a St. Louis, Missouri, park — Tower Grove Park — after commissioners who manage it voted in favor of the move.

The day prior, after a bust of Christopher Columbus was taken down in Detroit, Michigan, and placed in storage. On Friday, officials in Wilmington, Delaware — the town in which former Vice President Joe Biden resides — removed statues of both Columbus and Caesar Rodney.

[End]
How much longer before the book burnings begin? Asking for a friend?
That is all.
Today's news moves at a faster pace than ever. Whatfinger.com is my go-to source for keeping up with all the latest events in real time.