Today's Campaign Update (Because the Campaign Never Ends)
Fun fact appropriate for this moment in our nation's history. –  In addition to creating the Ku Klux Klan in the wake of the Civil War and Antifa in the wake of the 2016 election of Donald Trump, the Democrat Party is also responsible for conducting the longest filibuster in our nation's history. It lasted 75 full days as the nation – especially African Americans – cried out for real, meaningful social change.
The subject of that 75 day long Democrat filibuster? The Civil Rights Act of 1964.
Oh.
Here is one way the current fight for change in local policing is being trivialized. – Some football players at The University of Texas are circulating a petition to make several changes on the UT campus, including changing the names of some buildings that frankly should have been changed a long time ago and removing some statues from the campus that some find offensive.
Here's the list of demands in the petition: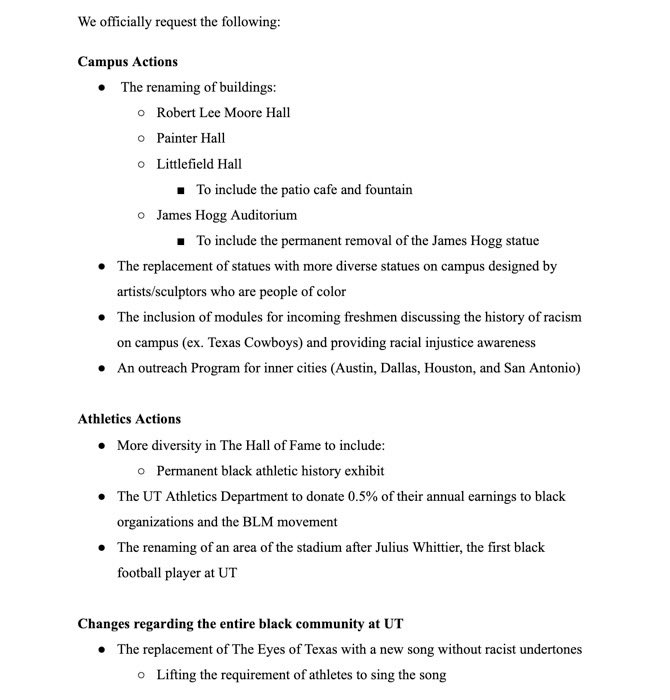 One building on campus, for example, is named for Theophilus Painter, a former UT president. In 1946, Painter denied admission to Heman Sweatt to the UT school of law, where he would have become the law school's first black student. Mr. Sweatt was fully qualified but for the fact that he was African American. Sweatt, represented by Thurgood Marshall, filed suit in a case that went all the way to the U.S. Supreme Court, where UT lost. The case later became the basis for the 1954 Brown v. the Board of Education decision that led to the desegregation of America's schools. Marshall, of course, later became the first black justice on the U.S. Supreme Court.
So, changing the name of Painter Hall seems like a really fine idea.
But it's the last element of a pretty long petition that is getting most of the attention. That demand would ban the singing of the traditional school song "The Eyes of Texas," a song that has no racial connotations whatsoever. The reason the football players and others want to ban the song? It was once sung by students in black face participating in an on-campus minstrel show in 1903.
"The Eyes of Texas" is a song that has been sung by every UT fan, player, student and teacher in attendance at every athletic event for more than a century now. If the leaders at UT accede to this particular wish, they might as well abolish the athletics program.
Some demands are appropriate; some are not. Placing this particular item in the petition – which of course was drafted for the players by radical activists – is done simply to inflame emotions and only ends up trivializing the entire thing and demonstrates clearly that this is not a sincere demand for justice but an effort by leftists to inflame and divide. But we already knew that, didn't we?
Ok, fine. Time to bring out the water cannons, then. – I kid you not, a federal judge in Washington state ruled yesterday that Seattle police cannot use tear gas or other similar means of crowd control when they finally, at long last move to clear the armed insurrection taking place in the Capitol Hill Autonomous Zone (CHAZ) occupied by Antifa. Judge Jones is an appointee not of Barack Obama, as one would expect, but of George W. Bush. So, the Bush family strikes again.
Blame the voters. – If you want to know why Seattle was the first city hit with this kind of action from Antifa, I give you City Council member Kshama Sawant, a Democrat who describes herself on her Twitter profile as "Seattle City Councilmember ~ Socialist ~ Member of Socialist Alternative and AFT 1789."
Ok, then. City councils in big cities all over the country are chock-full of Soros-funded radicals just like Ms. Sawant.
"What's happening is this incredible movement… [it's] incredibly inspiring to the vast majority of American people. But it is also threatening to the right-wing and the reactionary agenda of Donald Trump."
-Seattle City Council member Kshama Sawant on Trump threatening protests pic.twitter.com/MzeVxB3FsZ

— CNN Newsroom (@CNNnewsroom) June 12, 2020
Councilwoman Sawant is the person who actually gave Antifa the keys to Seattle's City Hall, which is part of the CHAZ. This anti-American lunatic was elected by the majority of of voters in her council precinct.  So hey, the people of Seattle are getting what they asked for, whether they knew they were asking for it or not. If they're too stupid to take this as an object lesson and elect someone else next time, then they deserve no support from the rest of the country.
This won't mollify the media, but it's a smart move. – Late last night, President Trump issued the following set of tweets:
We had previously scheduled our #MAGA Rally in Tulsa, Oklahoma, for June 19th – a big deal. Unfortunately, however, this would fall on the Juneteenth Holiday. Many of my African American friends and supporters have reached out to suggest that we consider changing the date out…

— Donald J. Trump (@realDonaldTrump) June 13, 2020
…We have already had ticket requests in excess of 200,000 people. I look forward to seeing everyone in Oklahoma!

— Donald J. Trump (@realDonaldTrump) June 13, 2020
It's really kind of amazing to me that someone in the Trump Campaign thought scheduling this kickoff rally on Juneteenth was a smart idea in the first place, given the current national situation. It's very likely that no one made the connection, which is an indication that the President has a big hole in his operation and needs to fill it with someone who understands the Black community.
I find it interesting that the President refers to Juneteenth as the "Juneteenth Holiday" in that first tweet. It would be a stroke of absolute political genius for the President to issue an executive order this weekend proclaiming Juneteenth, which celebrates the day that Union general Gordon Granger read orders in Galveston, Texas, that all previously enslaved people in Texas were free, to be a national holiday, and which challenges congress to memorialize the proclamation into federal law.
I can't help wondering if that is what he has in mind. We'll see.
*UPDATE* – Here is why Juneteenth, an event that took place in Texas, has always had national significance in the Black culture.
Because Texas was a far western outpost for the confederacy and little fighting took place here, there was virtually no union army presence in the state until the war was over to enforce the Emancipation Proclamation Lincoln issued in 1863. So, although the practice of keeping slaves was much more rare in Texas than in the other Southern states, Texas was basically the final holdout of slave owners who refused to set their slaves free. The significance of Granger's statement is that he read it as he landed in Galveston with a garrison of Union soldiers whose job it was to ensure all slaves in the state were in fact freed.
Thus, the national significance of Juneteenth.
That is all.
Today's news moves at a faster pace than ever. Whatfinger.com is my go-to source for keeping up with all the latest events in real time.