Today's Campaign Update (Because the Campaign Never Ends)
Hey, what happened to all those pervasive, ubiquitous messages from March, April and May, telling us ten thousand times every day to wash our hands and stay at home? It was a hell of a brainwashing campaign carried out by our national news media and governments at all levels, and now it has basically vanished.
Dr. Anthony Fauci has gone from being the national grandfather figure who hands out constantly-shifting and always-wrong advice on your TV screen every day to some old guy cooped up on his basement who gets an interview with some daytime hack on MSNBC or CNN once or twice a week. He told us yesterday he was very concerned about a coming new outbreak of COVID-19 due to the lack of social distancing being practiced by the looters and burners and rioters in the nation's big, Democrat-run cities, but no one was listening, which frankly is not a bad thing.
Mind you, he told us that while the very same statistical modeling idiots who projected 2 million Americans would die of this virus were now saying that, hey, all the staying at home and social distancing and washing our hands had no effect on the spread of the virus whatsoever. But you weren't supposed to hear that.
Deborah Birx, the owner of every scarf in North America, seems to have completely disappeared. It's like she never existed. Fame is a fickle thing – it comes and goes at the whim of the latest Democrat/corrupt news media narrative. She's yesterday's narrative, just like the Creepy Porn Lawyer.
The campaign to brainwash America about the Wuhan Virus has basically run its course along with the virus itself, and has now been replaced by a brainwashing campaign to convince us that we should all run out to the nearest riot and take a knee, just like Joe Biden did in that black church on Sunday. You remember Joe Biden, don't you? Yeah, he's that guy who told a clearly-black radio talk show host that "you ain't black!"
That was barely a week ago and we've already forgotten. The brainwashing campaign demands it. Today, the narrative is that Joe Biden, the guy who's already had 16,089 days in public office to address "institutional racism" in America and done nothing about it, is suddenly going to solve the whole problem in his first 100 days in office if you'll just elect this shuffling, elderly man who doesn't know where he is most of the time to hold the highest office in the land.
Yeah, that'll work out fine.
In Los Angeles yesterday, the National Guard there took a knee before the rioters, which means the rioters are now in charge of Los Angeles, which is presumably how Mayor Eric Garcetti wanted it anyway.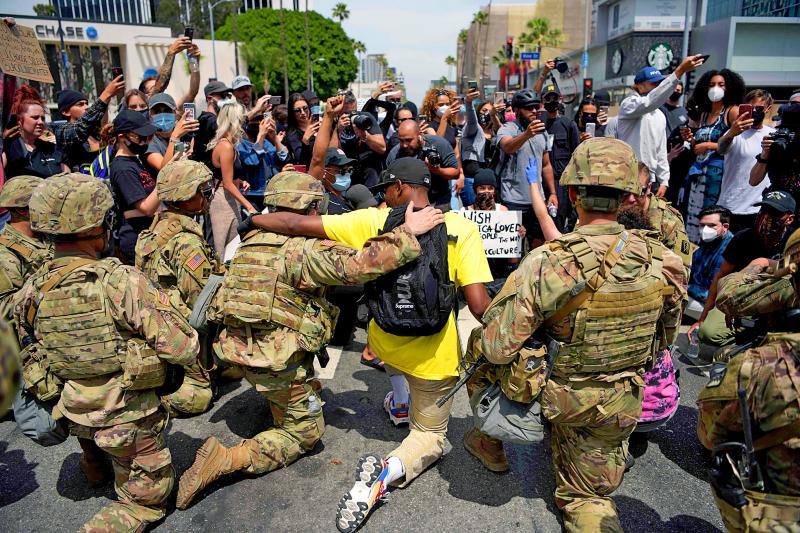 On Twitter last night, every reporter for the New York Times threw a fit because the Times' own op/ed page ran a piece written by a Republican U.S. Senator, Tom Cotton of Arkansas, who advocates that the President should call in the military to help restore order in the cities run by Democrat mayors who refuse to let the police do their jobs. This is the same New York Times, mind you, that ran an op/ed piece by Adolph Hitler in June, 1941, even as Hitler was loading millions of Jews onto cattle cars and send them off to their deaths. None of the paper's reporters, then or now, were horrified by that.
The title of Hitler's op/ed – The Art of Propaganda – was obviously taken to heart by the New York Times editors and apparently remains the subject of Chapter 1 in the Times' editorial handbook.
Your newspaper published *ADOLF HITLER* during World War II while he was carrying out the Holocaust. https://t.co/vEn4X4uNgW pic.twitter.com/lJqg5B8IQA

— Ryan Saavedra (@RealSaavedra) June 4, 2020
In February of this year, the Times ran an op/ed by the leader of the Taliban, a Muslim sect in Afghanistan that kills homosexuals and treats women like we treat rats. In 2013, it ran an op/ed by Vladimir Putin, who is supposed to be the devil incarnate today, according to the current dogma.
But it was the op/ed by a Republican Senator that set the Times staff off into a spasmodic group case of the vapors.
These media/government brainwashing campaigns are nothing new, of course. Hell, they've been carrying out a similar campaign related to "climate change" for the last 20 years, creating a global leftist religious cult in the process. They ran a massive campaign in 2008 designed to convince America that it was in fact obligated to elect Barack Obama because he was black. It worked, helped along by a traitorous Republican who intentionally tanked his own campaign. It worked again in 2012 thanks largely to the same dynamic.
For four long years, corrupt media outlets like the New York Times coordinated with the Democrats and many swampy Republicans like Paul Ryan and John McCain on a campaign to convince you that the "Russia Collusion" fantasy was in fact a real thing. It wasn't, as Rod Rosenstein formally admitted multiple times under oath before the Senate Judiciary Committee yesterday; but hey, they're still at it anyway.
For six months last fall and winter, the entirety of our news media actively conspired with Adam Schiff, Nancy Pelosi, Gerrold Nadler and the entire DC Swamp to brainwash you into believing that you should support the impeachment of President Trump over a phone call in which nothing improper was discussed. They knew if they could cause a massive shift in public opinion they might be able to convince enough GOP senators to give up the ghost and get it done.
That one failed, other than to get half a vote from the same traitor who threw the 2012 election.
Then came the Wuhan Virus campaign to stay at home and wash your hands and wear your masks and never get within 6 feet of anybody, and now that's all gone away because you're supposed to love and respect a bunch of domestic terrorist rioters who aren't practicing any of that.
Oh, and at the same time, you still can't legally get a haircut in Michigan or hold a funeral or wedding with more than 10 attendees in California, Oregon, New York and Illinois. And if you do those things, Mayors like Lori Lightfoot, who refuse to allow their police to try to control the riots, will send in the cops to shut your funeral home or church or barber shop down.
Welcome to America in the 21st century, where journalism is dead, the fascists call themselves "Democrats," and the brainwashing never ends.
That is all.
Today's news moves at a faster pace than ever. Whatfinger.com is my go-to source for keeping up with all the latest events in real time.