The Mid-Day Campaign Update
Two days too late, news broke late this morning that Minnesota officials finally decided to arrest Derek Chauvin, the dirty cop who killed George Floyd earlier this week. Had the arrest been made on Wednesday, many Minneapolis/St. Paul businesses that have been burned in the meantime might still be open for business.
Meanwhile, we've had all sorts of stuff come up this morning to talk about:
Floyd and Chauvin actually worked security together at a night club for several years, according to multiple media reports quoting the club's owner;
The Minneapolis Police Department admits that Chauvin had had no fewer than EIGHTEEN prior complaints filed against him during the course of his career. Only two of those complaints resulted in any disciplinary action;
Another officer who stood around at the scene without trying to restrain Chauvin as he killed Floyd, Tou Thao, has had six complaints filed against him. Thao was also the subject of an excessive force lawsuit that the City settled out of court in 2017:
The lawsuit was brought by Lamar Ferguson, who claimed in the suit that Thao and another officer subjected him to "cruel and unusual" punishment when they arrested him in October 2014. According to the lawsuit, the officers used "unreasonable force," including "punches, kicks and knees to the face and body while Ferguson was defenseless and handcuffed." As a result, Ferguson suffered broken teeth, bruising and trauma, the lawsuit says. The city would go on to pay Ferguson and his attorney $25,000 to settle the lawsuit on December 11, 2017.
Meanwhile, as all hell was continuing to rain down around him, feckless Minnesota Governor Tim Walz was trying to change the subject:
Minnesota Gov. Tim Waltz takes responsibility for the arrest this morning of CNN reporter @OmarJimenez:

"I have spent my time as governor highlighting the need to be as transparent as possible and have the press here. I failed you last night in that." pic.twitter.com/Fyux1ZXflZ

— Daily Caller (@DailyCaller) May 29, 2020
Yes, because the arrest of a reporter who had spent several minutes arguing with police in an emergency situation while blocking their sight lines is what we want state officials to be focused on here.
But hey, that pales in comparison to pathetic radical leftist Mayor Jacob Frey, whose focus was on whether or not protesters were wearing their masks and practicing social distancing:
Minneapolis Mayor to Rioters: Please Practice Social Distancing, Wear Masks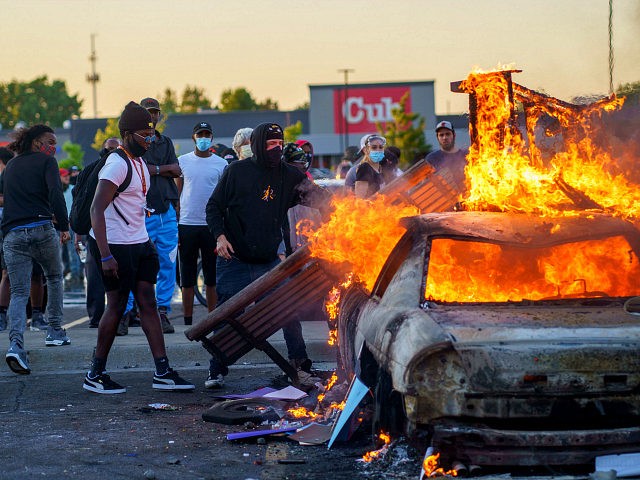 You seriously cannot make this stuff up, folks.
The fact that Chauvin and Floyd worked at the same establishment over the course of several years indicates that we have much more to learn about what motivated Chauvin in this situation. Something else that we do not yet know about is at play here.
But, if it is left up to Minnesota officials to discover what that is, we will probably never find out about it.
Elections have consequences, and what we see happening in Minnesota this week is the direct consequence of decades of Minnesota voters electing Democrats to high office.
Stop doing that, Minnesotans.
UPDATE: County Attorney Mike Freeman just told the press that the four-day span from the time of the killing to the time of Chauvin's arrest was the fastest his office has ever moved to arrest a police officer. That fact, in and of itself, is an indication of a huge problem. Because anyone else who had done what Chauvin did would have been arrested on the spot and charged with murder. But if, as Freeman now contends, his office has to jump through four days of hoops before taking action while the damn city burns, that is a real, true problem that must be fixed.
That is all.
Today's news moves at a faster pace than ever. Whatfinger.com is my go-to source for keeping up with all the latest events in real time.