The Mid-Day Campaign Update
The only appropriate response to this request is "Hell, no." – Generalissimo Gretchen Whitmer, the aspiring banana republic dictator who currently serves as Michigan's brutish Governor, made a startling request of President Trump earlier today. In a letter e-mailed to the President, Herr Gretchen has the utter gall to request an extension under U.S. Title 32 to extend her use of the state's National Guard at federal expense through … wait for it… JULY 31.
I kid you not: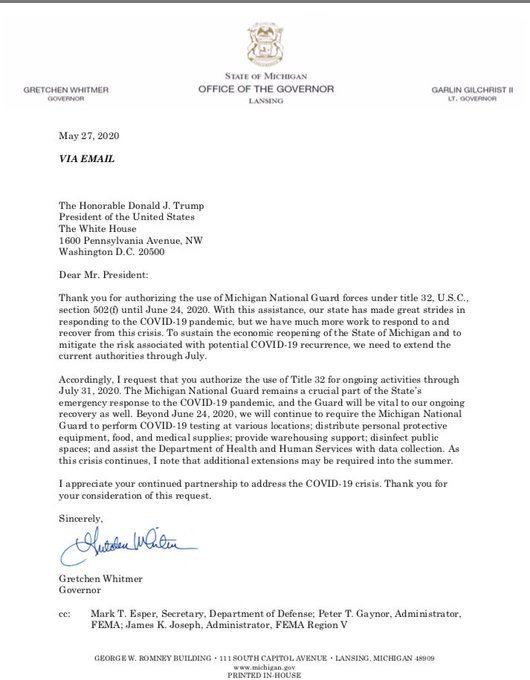 The power-mad Whitmer already has this authority in place through June 24, 12 days after her current lockdown order is set to expire. So, what does this tell you about her plans for further extending that order, despite the fact that there exists today not one shred of data or science to underpin it?
The truth is that there was never any real justification for Whitmer to have this Title 32 authority in the first place, and there is damn sure no reason whatsoever why she really needs it for another two months and three days.
It is long past time for President Trump to start asserting his authority to roll back the excesses of fascist Democrat Governors like Whitmer. A firm, swift and unambiguous denial of this brazen request would be a great way to start.
So long, Ric – please come back soon. – The Great One, Mark Levin, conducted a wide-ranging 19-minute interview with outgoing Acting DNI/Ambassador to Germany Ric Grenell on Wednesday. During the course of that interview, Grenell had some very revealing things to say about the way he was un-welcomed by the DC Swamp into the DNI job, and how the corrupt news media treated him throughout that assignment.
Here are some outtakes from the interview:
On how he was distrusted by members of congressional oversight committees and other deep state politicians, as well as the news media: "An outsider coming in with fresh eyes is like the enemy because you're going to look at things differently."

"Look what they did when I came in and was appointed. They immediately said this is an outsider who has no experience. And I heard that over and over, Mark, from most every news outlet. No experience, no experience. That's not true. I have different experiences. I've been a consumer of intelligence since 2001, longer than a lot of the people who are in charge of overseeing intelligence from Congress. But that didn't matter to them because I didn't grow up in the system."

On whether knowledge about Obamagate went all the way into the White House: "There is no possible way that it wasn't known inside the White House and that multiple layers of people knew about this."

On congressional manipulation of the Intelligence Community: "It was the political people and the politicians who were ignoring the problems and the career people were clamoring for reform. An overwhelming majority [of career officials] hate the leaks, they hate the manipulation coming from Congress, they hate how oversight is done through a letter, and then you don't talk to anybody about it, and the briefings are 'gotcha' briefings. That's not good."
It's a really good interview and well worth a listen.
From the day he was appointed to become the U.S. Ambassador to Germany, Mr. Grenell has been one of the most loyal and impactful members of the entire Trump Administration. As of yesterday, he is now officially out of government service, which is a terrible loss for the country in this time of great stress and peril.
President Trump should do everything in his power to convince him to serve in another high position because, as Abraham Lincoln famously said about Ulysses S. Grant:
"I need this man. He fights."
That is all.
Today's news moves at a faster pace than ever. Whatfinger.com is my go-to source for keeping up with all the latest events in real time.