Today's Campaign Update, Part II
If the label says "Biden," it was definitely influenced by China. – John Solomon at JustTheNews.com is reporting that The National Legal and Policy Center has asked the U.S. Department of Education to investigate its findings that the University of Pennsylvania (Penn) has over the past several years accepted more than $22 million in anonymous China-originated donations to its Biden Center and failed to properly disclose the contributions.
The complaint, filed by the National Legal and Policy Center, says that over the past three years, the university has accepted around $22 million in anonymous funding from Chinese sources. That's out of a total of more than $70 million from Chinese donors during that time, the NLPC said.

Those significant funds, including the anonymous amounts, rolled in after the Biden Center was announced in early 2017 and launched in February 2018. The center is located in downtown Washington, D.C.

Federal records show that the University of Pennsylvania has received significant donations from China since the opening of the center. One 2018 donation alone totals $14.5 million; it is listed as "anonymous" in federal records.

The NLPC alleges the university may have violated federal law in accepting those anonymous monetary donations. The Higher Education Act mandates schools report the national origins of any donations above $250,000 although not necessarily the individual names of donors themselves.

[End]
This serves as just one more reminder that Biden, his son and his brother have long been in the pockets of Chinese interests. The stark reality facing our country today is that, should Biden manage to win the election in November, all of the gains President Donald Trump has made through the sheer force of his will in terms of U.S./China relations and trade policy will be immediately reversed the day after Biden assumes office.
If you like the fact that virtually all U.S. antibiotics and PPE are sourced through China at some point along their supply chains and want it to stay that way, vote for Biden. Because that would be a fait accompli should he win. There are trillions of dollars at stake, and Creepy Uncle Quid Pro China Joe wants to ensure his family continues to get its fair share.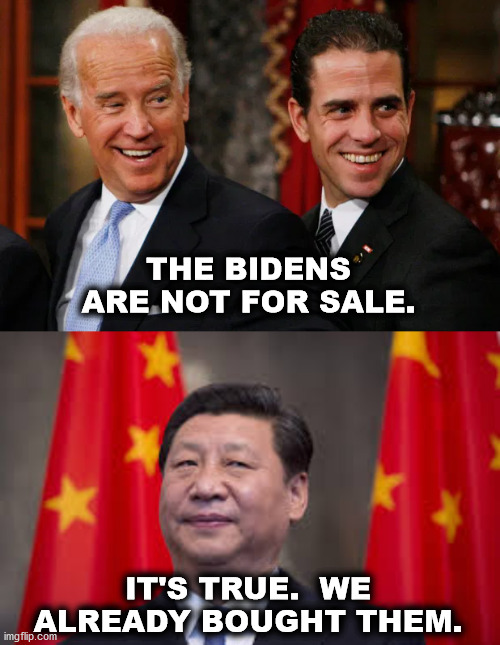 The stench of panic pandering is strong in this one. – How would you like to be Symone Sanders, the African American hack who serves as racist Joe Biden's press spokesperson?
Sanders has spent the last few days desperately trying to clean up the pile of doggie-do the nation's Unfrozen Caveman Presumptive Nominee left on the floor on Saturday, when he told a clearly-Black radio host "you ain't black" if he has a hard time decided whether to vote for Biden or President Trump this November.
Appearing on MSNBC's "Politics DC" show hosted by venerable old race-baiter Al Sharpton on Sunday, Ms. Sanders blurted out this bit of obvious panic pandering, as reported at Breitbart News:
"Vice President Biden has committed to making sure that we are underscoring not just the civil rights division and the Department of Justice, the civil rights division across his administration," Sanders told MSNBC "PoliticsNation" host Al Sharpton. "He is committed to putting judges on the bench that reflect the community, taking a hard look, and making sure that they are African-American judges on the bench, qualified judges on the bench. He has committed to putting a black woman on the Supreme Court."
So now, in addition to having the standard Democrat Party litmus test of having to be pro-abortion on demand and even after birth, Sanders says Biden will add the litmus tests of being a woman and African American to his list of pre-qualifications when considering his first nominee to the Supreme Court. This kind of rank discrimination is so despicable and anti-American that it is hard to put into words. It takes panic pandering to an entirely new level.
But this is Joe Biden, and this is what you can expect if you vote for him in November.
Think carefully before going into that voting booth, folks.
That is all.
Today's news moves at a faster pace than ever. Whatfinger.com is my go-to source for keeping up with all the latest events in real time.