Today's Campaign Update (Because the Campaign Never Ends)
If this surprises you, you haven't been paying attention. – Federal Judge Emmet Sullivan, under fire for his bizarre conduct of the case involving the framing of General Mike Flynn, will not be filing his own response to the DC Circuit Court of Appeals' order for him to explain himself by Friday. Instead, the Washington Post reports that he has taken the extraordinary step of hiring "a high-profile lawyer" to do that for him:
Wilkinson, known for her top-notch legal skills and get-results style, is expected to file a notice with the court in the coming week about representing the judge. She declined to comment when reached Friday evening. Sullivan also declined to comment through his office.
[End]
Don't you just love the phrasing? "high-profile"; "top-notch legal skills"; "get-results style;" the pathetic Post reporter must have just done a cut-and-paste from Wilkinson's marketing flyer, which no doubt was stapled to the handy talking points memo that came in from the DNC.
So, what does this tell us? It tells us that Judge Sullivan is worried, very worried. The order from the DC Circuit demanded a response personally from him, not some "high-profile lawyer" with a "get-results style." It also tells us that the judge who refused to allow the DOJ's motion to dismiss the case is not confident that he is capable of explaining his own actions. Amazing.
The Post story indicates that Wilkinson plans to file a notice to the court that she will be doing the responding on the judge's behalf, something the Circuit Court has no obligation to allow. This will be another very interesting week in the Soviet-style show trial of General Flynn.
"None of the men are wearing masks." – President Donald Trump (I never tire of typing those three glorious words) drove the corrupt news media nuts once again on Saturday, simply by playing his first round of golf since early March. The automatonic ghouls at CNN and MSNBC tut-tutted about it all day long, obsessing over the fact that, while spending four hours in the wide open spaces, neither the President nor any of his playing partners and entourage were – gasp! – wearing masks.
Oh, the humanity!
Not even Anthony Fauci is confused enough to pretend that wearing a mask would serve any productive purpose in that setting, and you can be certain that none of the TV talking heads, cooped-up in their enclosed studios with cameramen and production staff, were wearing masks while doing all the tut-tutting and tsk-tsking.
These are the worst people in our society. They truly are.
Yore attenshun good citizens! Tha Honorabull Rayaph Coonman Northam is a-gonna go visit tha beach and mingle with tha peoples down theyah! – Meanwhile, detestable Democrat Virginia Governor Ralph Northam was doing this: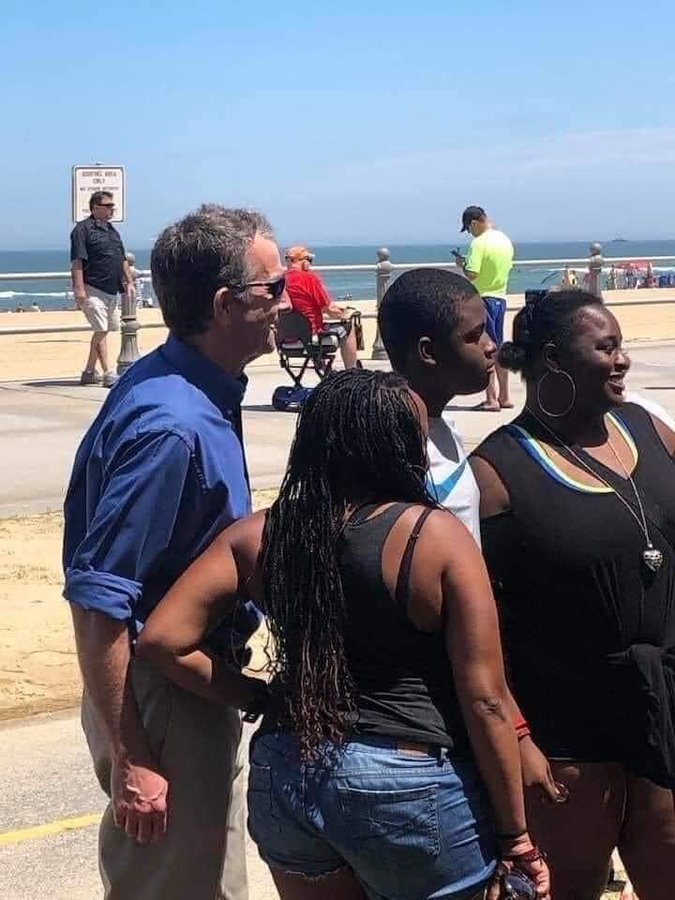 No one at CNN or MSNBC had a word to say about it. Funny how that works.
Living in a Democrat state is hazardous to your health. – No really, it is. Reuters compiled data showing that residents in "blue" areas of the country are three times more likely to die of the Wuhan Virus than residents living in the "red" areas:
So, come on to Texas and Florida, folks, but when you get here, don't vote for Democrats.
Speaking of dangerous Democrat governors… – Andrew Cuomo, in his frenzy to misdirect blame for his state's thousands of nursing home deaths anywhere but in his direction, is now claiming that he issued his order forcing hospitals to send infected elderly patients back to nursing homes based on guidance from the Trump Administration:
Gov Cuomo blames Trump administration for forcing him to send 4,300 coronavirus hospital patients to nursing homes where 5,800 New York residents died

New York Governor Andrew Cuomo has argued that he was simply following White House guidance on sending hospital patients to nursing homes 
'Don't criticize the state for following the president's policy,' Cuomo said 
It was revealed Thursday that 4,300 recovering coronavirus patients were sent to New York's already vulnerable nursing homes
There have been more than 5,800 nursing and adult care facility deaths in New York 
This is a completely false claim. No guidance from the federal government or anyone else justified Cuomo's unconscionable, ghoulish order.
But here are tools supplied by the federal government to New York that Governor Cuomo could have used to avoid sending those infected patients to those nursing homes, where they infected thousands more residents who might otherwise have avoided the virus:
A 1,000 bed Navy hospital ship that saw a grand total of 84 patients before leaving New York Harbor;
A 2,900 bed field hospital at the Jacob Javits Center that Cuomo and Bill de Blasio barely used;
A 500 bed field hospital in Brooklyn that also sat barely used.
Let's be crystal clear: Andrew Cuomo and Andrew Cuomo alone is responsible for the needless deaths of thousands of nursing home residents in New York. Period.
That is all.
Today's news moves at a faster pace than ever. Whatfinger.com is my go-to source for keeping up with all the latest events in real time.