Today's Campaign Update (Because the Campaign Never Ends)
But what will he do to force the issue? – On Friday afternoon, President Donald Trump (I never tire of typing those three glorious words) declared the nation's churches, synagogues, temples, mosques and other houses of worship to be "essential" and demanded that the 50 state governors act to open them "right now, this weekend."
The President's demand was accompanied by a simultaneous release of CDC guidelines for the opening of places of worship, which formerly enjoyed the absolute protection of the First Amendment to the Constitution, but now apparently are only allowed to operate at the whims of governors, 24 of whom are Democrats who are hostile to individual freedoms generally. Somehow in all of the panicked decision-making committed in response to this Chinese plague, places of worship were given lower priority than liquor stores, pot shops and abortion clinics by federal health "experts."
Hey, next time we have a pandemic, maybe the president at that time will think to have a constitutional "expert" on his response task force, too.
Now, you can be absolutely certain that not a single one of those 24 Democrat governors will voluntarily reopen their churches anytime in the near future, or make any special effort to comply with the President's wishes. You can also be certain that many of the Republicans will also slow-play this CDC guidance. Given that it is not at all clear what power the President would have to hurry them along or usurp their authority in our federal system, Mr. Trump will apparently be left to rely on his Department of Justice to start suing governors who refuse to comply.
And we all know what a slow process…oh, wait…
Well, that was fast. – And just like clockwork, the DOJ filed a challenge to the religious freedom restrictions being enforced in Illinois by toadish Governor J.B. Pritzker. From a report at NPR:
The Trump administration is supporting a lawsuit challenging the Illinois governor's stay-at-home order. The legal maneuver marks the first time the U.S. Department of Justice has weighed in on state level COVID-19 policies that are unrelated to religious matters.

The department on Friday filed a statement of interest in the case against Democratic Gov. J.B. Pritzker, saying the protective coronavirus measures in place exceed the limits of his office.

"In response to the COVID-19 pandemic, the Governor of Illinois has, over the past two months, sought to rely on authority under the Illinois Emergency Management Agency Act to impose sweeping limitations on nearly all aspects of life for citizens of Illinois, significantly impairing in some instances their ability to maintain their economic livelihoods," the department said in a statement.

The government is siding with Republican state Rep. Darren Bailey who filed the initial suit in state court earlier this month. He argued that Pritzker's executive order violates a 30-day limit on the governor's emergency powers put in place by the state legislature.

[End]
Cool. Now do Michigan.
Speaking of Michigan, Generalissimo Gretchen Whitmer has done it again. – The aspiring banana republic dictator extended her science-devoid stay-at-home order on Friday through June 12, in the process creating an entirely new rationale for keeping her state on lockdown: "If we're going to lower the chance of a second wave and continue to protect our neighbors and loved ones from the spread of this virus, we must continue to do our part by staying safer at home."
Oh. So, now Democrats have a new narrative: The stay-at-home strategy wasn't about "flattening the curve," as they all assured us was the case back in March; now, it has morphed into preventing an imaginary "second wave" of the Wuhan Virus that no one knows will ever come. And even if we knew such a second wave was coming, there literally no scientific or data-driven basis for thinking that staying at home in June would protect anyone in October or December or whenever the Democrat talking point memo imagines the "second wave" is coming.
Herr Gretchen is no longer governing her state – she's just campaigning to be Joe Biden's running mate, and believes that keeping the boot on the necks of Michiganders helps her in that cause. This is a very, very dangerous woman, folks.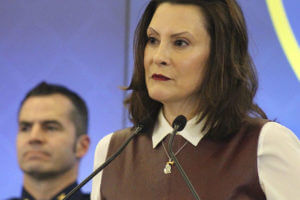 In response to the Generalissimo's dictatorial reign of power, hundreds of Michigan citizens gathered on the steps of the capitol building in Lansing on Friday to…cut hair. I kid you not. Led by 77 year-old barber Karl Manke, the group actually set up barber's chairs and had Manke and other hair stylists clean people up right on the capitol steps: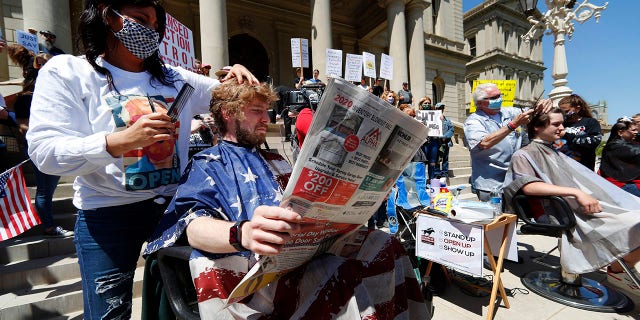 Hilarious. These are Americans. This is what America looks like, Herr Gretchen.
Somebody needs to lock this guy in a closet and throw away the key. – After spending the last 3 months as the leading advocate for these interminable stay-at-home orders and frequently telling TV audiences that we may need to keep doing this for 12 to 18 months or whenever we have a miracle vaccine to shoot into everyone's veins, Dr. Anthony Fauci actually had this to say on Friday:
Fauci: US "can't stay locked down."

"I don't want people to think that any of us feel that staying locked down for a prolonged period of time is the way to go."https://t.co/B23Dqo7sR0

— Washington Examiner (@dcexaminer) May 22, 2020
You seriously could never make this stuff up. Never in a million, trillion years.
This is what leadership looks like. – While Dr. Fauci and the Democrat governors were focused on their mission to destroy the country on Friday, the best and most effective Governor in the land did this:
And @GovRonDeSantis again follows the science and leads the nation:https://t.co/GChcGmnWzd

— Alex Berenson (@AlexBerenson) May 22, 2020
Can anyone doubt that Gov. DeSantis will also be among the first to lift all restrictions on church attendance?
Ron DeSantis is the Anti-Whitmer.
Let freedom ring.
Have a great Saturday, if you can.
That is all.
Today's news moves at a faster pace than ever. Whatfinger.com is my go-to source for keeping up with all the latest events in real time.