Today's Campaign Update (Because the Campaign Never Ends)
Tired of all this WINNING yet? – The DC Circuit Court of Appeals, in an extremely rare action, ordered corrupt Federal Judge Emmet Sullivan to personally respond to the Court to explain his refusal to grant the DOJ's motion to dismiss the case against General Mike Flynn, which was filed on May 7: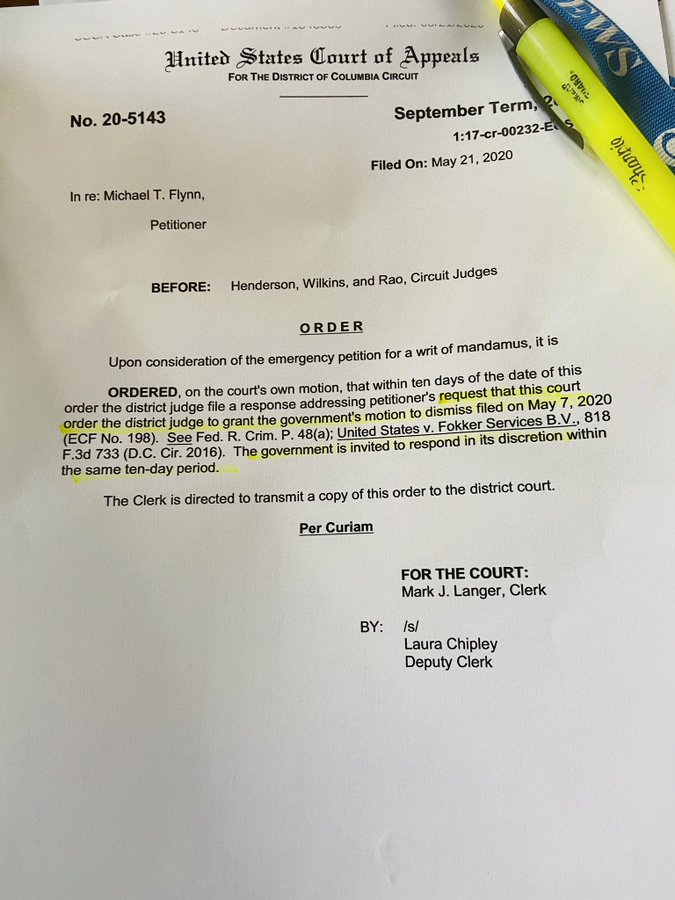 As appellate lawyer John M. Reeves (reeveslawstl) explained in a great thread on Twitter, writs of mandamus like the one Sidney Powell filed on Tuesday are most often rejected outright by a court of appeals. But, when not rejected outright, district judges are generally allowed to respond through  an amicus curae, an outside attorney appointed by the circuit court who would file a response on his behalf. In fact, that is exactly what the appellate court did in the U.S. v. Fokker case cited in this order.
The 3-judge appellate court panel could have also merely "requested" Judge Sullivan to respond; instead, it requires him to file his response within 10 days. This is an extraordinary demand by an appellate court of a district judge who has been on the bench for more than a quarter of a century and who, prior to his gross mismanagement of the Flynn case, had established a firm reputation for adhering to the law.
The 3-judge panel consists of Judge Karen Henderson, a George HW Bush appointee; Judge Robert Wilkins, an Obama appointee; and Judge Neomi Rao, an appointee of Donald Trump. We can be confident that Judge Rao will do the right thing, and that Judge Wilkins will parrot whatever opinion is written for him by a bunch of Lawfare lawyers. Thus, the entire matter will hinge on the judgment of Judge Henderson, who, if the order issued yesterday is any indication, is already highly concerned about Sullivan's conduct.
And speaking of WINNING… – Staunton, Virginia, is a town that has trended Democrat for more than a decade, one that voted for Barack Hussein Obama His Own Self twice, and went for the Fainting Felon over Donald Trump in the 2016 election. GOP voter turnout has been depressed in recent election cycles, as Republicans have become discouraged, assuming the handwriting was on the wall.
But this week, everything changed. Three city council seats, all held by Democrats for years, were up, and the Republicans, in what one reporter called an outcome that was "stunning beyond words," took all three seats from Democrats, riding a wave of record turnout. Thus, as the corrupt news media continues to crank out its fake polls – Fox just released another laugher yesterday – pretending to show Biden and the Democrats with substantial leads, the results of elections on the ground keep painting a very different picture.
And even more WINNING! – As we reported yesterday evening, Texas Congressman John Ratcliffe was confirmed by the full Senate yesterday on a party-line, 49-44 vote, to become the full-time Director of National Intelligence.
The courageous Grenell will now resume his job as full-time U.S. Ambassador to Germany. Every American should wish him Godspeed and be thankful for his outstanding work as Acting DNI. He has truly made a difference for the nation.
And hey, President Trump: If you want to make every leftist head in America explode simultaneously, how about firing Christopher Wray and making Mr. Grenell the Acting Director of the utterly corrupt Federal Bureau of Investigation? Wouldn't that be fun?
Yeah, it really would.
Will this WINNING never end? – Generalissimo Gretchen Whitmer, the aspiring banana republic dictator currently serving as Governor of Michigan, suffered another setback on Thursday when a county judge who, unlike her, has actually read the U.S. Constitution rejected her efforts to deny 77 year-old barber Karl Manke his right to cut hair.
From U.S. News and World Report:
The state health department failed to show that Karl Manke's shop was a specific threat to public health, Shiawassee County Judge Matthew Stewart said.

Manke reopened his shop in Owosso on May 4, drawing customers from across the state who were inspired by his plea for freedom from a government shutdown. Gov. Gretchen Whitmer said barber shops and hair salons are risky places because of the contagious virus.

Manke, 77, has received at least two tickets for violating Whitmer's orders, and his barber license was suspended last week. Nonetheless, he said he's still cutting hair — "Oh, heavens yes" — including the hair of a squirming 2-year-old Thursday.

"Listen, I've been in this business for 59 years. She wants to come cut my hands off, that's another story," Manke said in an interview, referring to the governor.
America needs more 77 year-old men like Karl Manke, and more judges like Matthew Stewart.
Biden team vetting more potential VP candidates. – Don't look now, but Creepy Uncle Quid Pro China Joe Biden's handlers, after starting the vetting process with Generalissimo Gretchen and Stacey Abrams, are also moving to vet more serious people, starting with Minnesota Senator Amy Klobuchar.
Say what you will about Sen. Klobuchar, but she, unlike the Generalissimo, is actually someone who has qualifications to be president, which is something any Biden running mate would end up becoming within a few weeks after Inauguration Day due to Biden's obvious, advancing mental decline.
The Biden handlers also leaked on Thursday the fact that they are also vetting Florida Congresswoman Val Demings. Unlike the loooooser, unaccomplished Ms. Abrams, Cong. Demings is an accomplished, serious person with 35 years in law enforcement. She rose from being a patrol officer to ultimately serve as Orlando's Chief of Police for 10 years prior to being elected to congress in 2016. Yes, she's a leftist, but at least she is someone who has had experience leading in a crisis.
While a Biden presidency would be an unmitigated disaster for the country in any event, it is somewhat reassuring that his handlers are at least beginning to consider some fairly serious people as his running mate. Don't get me wrong: They're all terrible people. But a Whitmer/Abrams level of terrible is a little more dangerous to everyone than Klobuchar/Demings level of terrible would be.
CORNAPANIC LUNACY, Part I – The things we are doing in response to the virus are simply insane, as illustrated by this photo of a beach in La Grande Mont, France:
A woman sunbathes at a beach with roped-off zones for social distancing in La Grande Motte as France eases lockdown measures.

? Clement Mahoudeau / AFP – Getty Images pic.twitter.com/2AjwX95DzA

— NBC News (@NBCNews) May 21, 2020
CORNAPANIC LUNACY, Part II – Horse racing is about to restart in Texas, but few will be there to see it. At Lone Star Park in Grand Prairie – which is in Democrat-controlled Dallas County – the bar and sports book, both entirely indoor facilities, will be allowed to admit fans and bettors up to 25% of capacity.
But the grandstand, which is outdoors in the warm sunlight and fresh air, will be kept empty. This despite several recent studies that indicate that warmth and sunlight help to kill the Wuhan Virus.
You just could never in a million years make this stuff up, folks.
That is all.
Today's news moves at a faster pace than ever. Whatfinger.com is my go-to source for keeping up with all the latest events in real time.