The Evening Campaign Update
The Coronapanic is dying away, whether Democrats want it to or not. There's really nothing they can do to stop it at this point – Americans have had enough of the fear porn.
You can see it happening all over America: On the crowded beaches of Virginia, Florida and Texas; in increasingly busy shopping centers, restaurants and hair salons; in the rising demands by preachers, priests and rabbis for restoration of 1st amendment religious freedoms; in the neighborhood block parties being conducted in communities around the nation; at the freedom rallies in dozens of state capitals.
Most Americans were willing to go along with the initial stay-at-home strategy to "flatten the curve," but, as the shutdowns have been extended, the devastating real-world impacts to their friends, neighbors and their own economic futures have become clear. At the same time, the lack of any real underlying science or data supporting the increasingly authoritarian edicts coming from Democrat officials has grown glaringly obvious. Now, millions of Americans have had enough. Their numbers grow with every passing day.
As reported by CNBC's Carl Quintanilla on Twitter today, J.P. Morgan analysts have now conclusively demonstrated that the Democrat emperors have no clothes, as repellent as that may sound. In what Quintanilla calls a "devastating" study, JPM analysts released a study that shows that fears of rising Wuhan Viris infections as states and countries reopen their economies are failing to be borne out. In fact, the exact opposite is happening: the rates of infections and hospitalizations are actually dropping as businesses reopen and people go back to work.
JPMorgan has a devastating piece arguing that infection rates have declined — not increased — in states where lockdowns have ended, "even after allowing for an appropriate measurement lag." (Kolonavic)

(1/x) pic.twitter.com/E6TJ3Qsa2b

— Carl Quintanilla (@carlquintanilla) May 20, 2020
In a subsequent tweet, Quintanilla notes that the same phenomenon is taking place in other countries that JPM's analysts studied: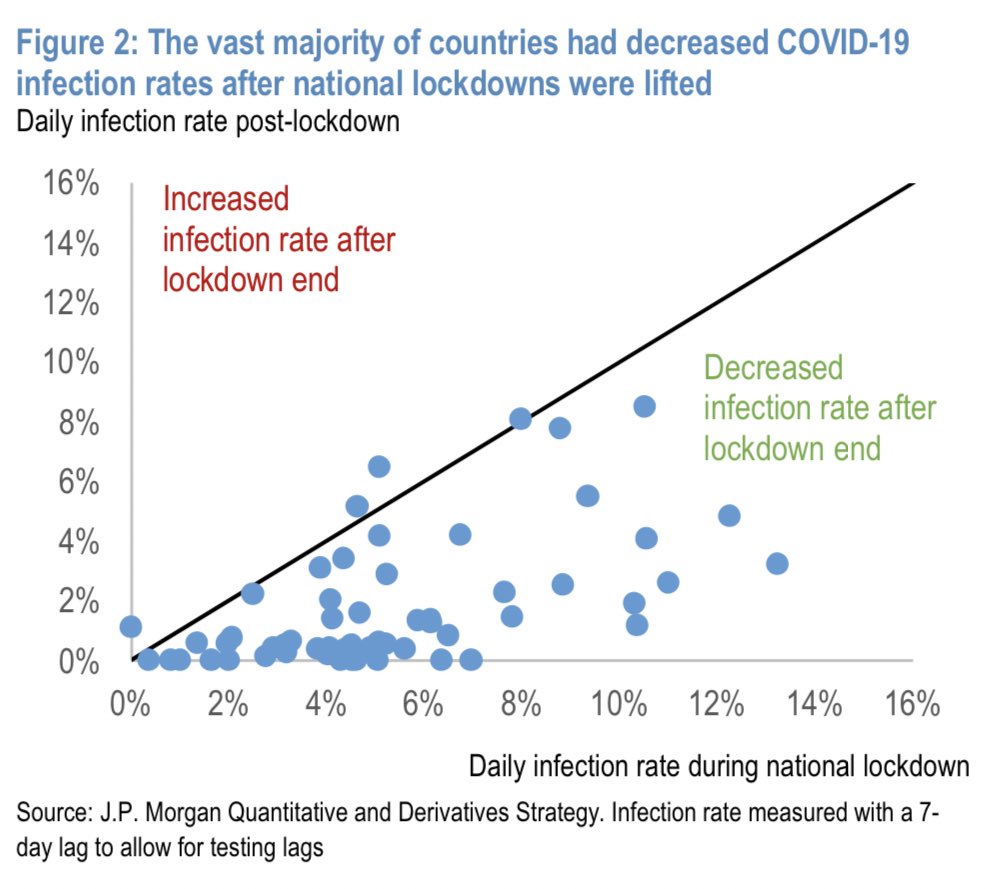 This data rips to shreds Democrat/media arguments that their governors, mayors and other local officials are issuing their anti-constitutional edicts based on anything resembling "science."
Another piece of data circulating today demonstrates very clearly that, based on catastrophically flawed statistical models and the bad advice of medical "experts," we shut the U.S. economy down over what was at its heart a nursing home problem.
Syndicated columnist Phil Kerpen (@Kerpen on Twitter) has been doing fantastic research into the published government data to try to figure out what the real numbers and percentages are related to deaths in nursing homes and long-term care centers (LTCs). What he has found is stunning.
According to Kerpen's findings, nursing homes and LTCs account for fully 52% of all deaths attributed to COVID-19 thus far. The chart below shows the percentages for the largest population states: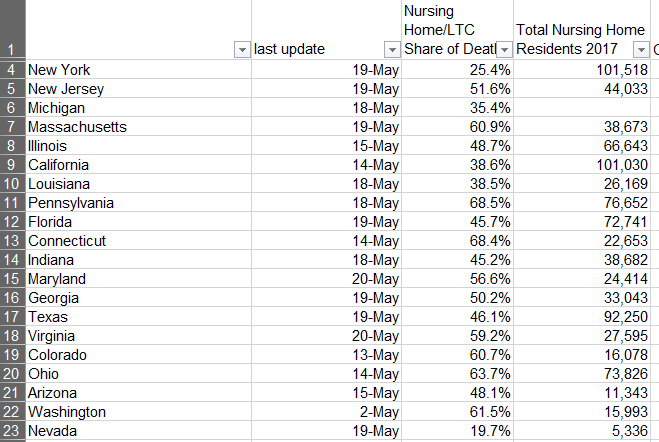 Michigan, with about a third of Texas's population, has seen more nursing home/LTC deaths than the entire number of deaths in Texas. Think about that.
Now, combine all of this with the recent finding that fully 2/3rds of the deaths in New York occurred among people who had been staying shut-in for weeks, and there is no longer any argument for the efficacy of stay-at-home orders. The simple fact of the matter is that if you want to make decisions based on data and science, you have to lift stay-at-home orders all over the country.
Thus, the latest in the long line of Democrat scams has collapsed.
The Coronapanic is over, and there is nothing the Democrats and their corrupt media toadies can do about it.
That is all.
Today's news moves at a faster pace than ever. Whatfinger.com is my go-to source for keeping up with all the latest events in real time.