This is what leadership looks like.
I decided not to cover this earlier in hopes Governor Abbott would decide to intervene, and sure enough, he just did.
Most are aware that a Dallas-area salon owner named Shelley Luther was sentenced to a week in prison yesterday by an abusive Dallas judge, after she defied Abbott's order that her business was "non-essential" and opened it up briefly last week. Police intervened, cited her and ordered her to appear in court.
During her hearing on Tuesday, the judge in the case, State District Court Judge Eric Moye, agreed with her that the Governor's order was technically unsupported by existing law. However, in a fit of pique after Luther emotionally told the judge she would not shut her salon down because she was trying to feed her children, the liberal circus clown – who was initially appointed to the bench by Texas's last Democrat Governor, Ann Richards, in 1993 –  sentenced her to serve in a Dallas jail in which there have already been more than 200 cases of Wuhan Virus diagnosed.
That all happened late Tuesday afternoon, and I went to bed thinking that surely Governor Abbott would get involved here and act to reverse this idiotic decision, especially given the fact that, come 8:00 Friday morning, he is allowing salons like Luther's to reopen all over the state.
Well, sure enough, at about 2:00 Wednesday, Governor Abbott issued this statement, which followed a previous statement issued by Attorney General Ken Paxton: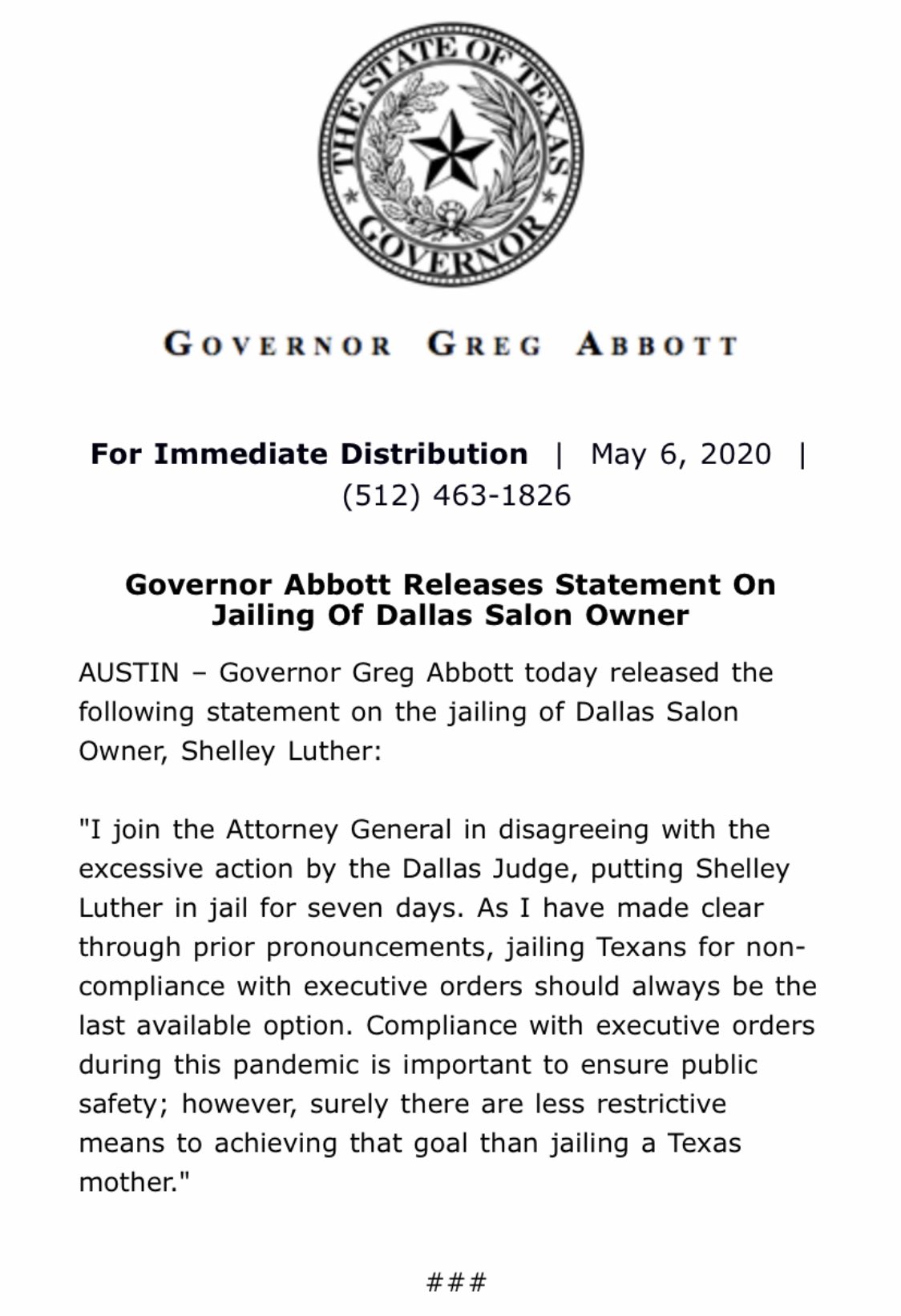 Paxton had earlier sent a letter to Judge Moye demanding that Luther be released from jail. As of this writing on Wednesday afternoon, Moye had not yet acted. If he has not relented before the end of the day, millions of angry Texans will expect further intervention by Abbott and Paxton.
Hopefully, Governor Abbott has learned a key lesson here: That even in the Red state of Texas, there are plenty of Democrat despots sitting around just waiting for an opportunity to abuse the citizenry if you open the door for such abuse. It was Abbott's order in March that opened that door. He should keep that reality in mind if we end up seeing a second round of this Chinese plague in the fall.
Stay Tuned.
That is all.
Today's news moves at a faster pace than ever. Whatfinger.com is my go-to source for keeping up with all the latest events in real time.