Today's Campaign Update, Part II
Going full-on Hitler is never a good look, Mr. Mayor. – Holy cow, it's hard to even know what to say about this latest tweet from New York City Mayor Bill de Blasio. Just take a look at it and then contemplate its implications in the context of the long, sorry history of political leaders who have previously decided it was time to start "rounding up the Jews" in their own cities or countries:
My message to the Jewish community, and all communities, is this simple: the time for warnings has passed. I have instructed the NYPD to proceed immediately to summons or even arrest those who gather in large groups. This is about stopping this disease and saving lives. Period.

— Mayor Bill de Blasio (@NYCMayor) April 29, 2020
If nothing else, the utter and complete lack of self-awareness on display here is stunning, even shocking.
Of course, the media will try to studiously ignore this since de Blasio is a Democrat. But try to imagine the uproar that would justifiably resonate throughout the nation's news media if such a tweet or statement targeting "the Jewish community" were to be issued by any Republican mayor, governor or member of congress. It would be epic.
And note that the use of the term "the Jewish community" betrays the fact that Mayor de Blasio views those of the Jewish faith to be somehow separate and apart from "normal" New York society.
This is LITERALLY HITLER, y'all.
Shocking. I don't even know what else to say other than that.
UPDATE: By contrast, here is the tweet the Mayor issued to Muslims in his city last week at the beginning of Ramadan: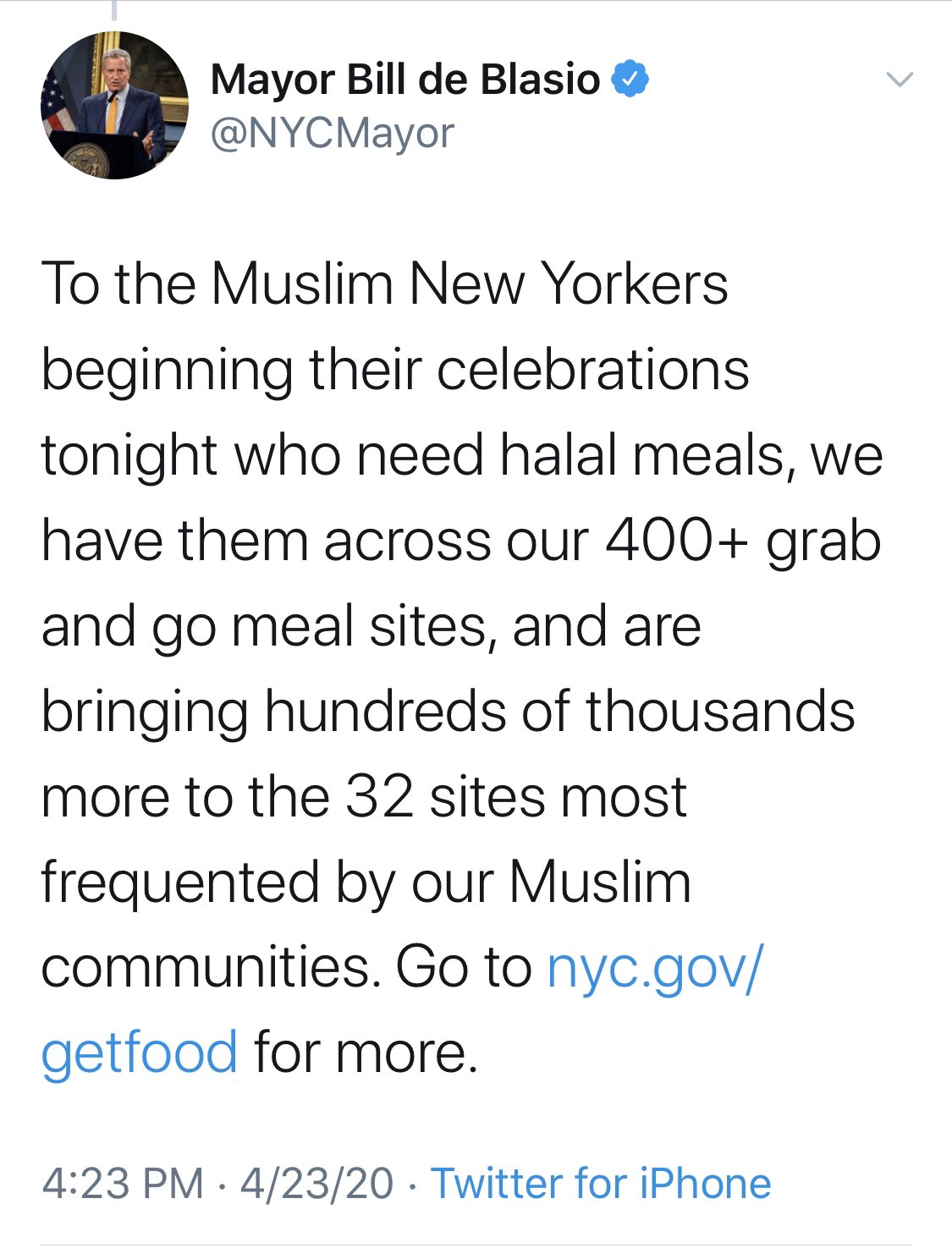 ummmm…doesn't that look to you as if he is actually encouraging Muslims to congregate in large groups?
Despicable. And shocking.
That is all.
Today's news moves at a faster pace than ever. Whatfinger.com is my go-to source for keeping up with all the latest events in real time.