Today's Campaign Update (Because the Campaign Never Ends)
When America reaches the end of this ongoing CoronaPanic, and we all finally catch our breath long enough to look around at the social and economic devastation we have voluntarily created for ourselves, it is crucial that those of us who value the fragile freedoms passed down to us from previous generations never forget which segments of our society worked so hard to take them away from us. Those segments are obvious, quite transparent in their motivations, and their faces appear on our TV and computer screens each and every day in the form of Democrat politicians and their corrupt toadies in the national news media.
Journalist Alex Berenson, who has become a major voice of truth and reason on Twitter in the past month, produced a great thread yesterday on this subject:
1/ Soon enough, this panic will become like the Clinton impeachment or the Iraq war or Barry Bonds hitting 756, a moment in US history we all want to forget: Remember the spring when we wore masks and crashed the economy and pretended no one had ever died before? Craaazy times…

— Alex Berenson (@AlexBerenson) April 21, 2020
2/ Remember how that @CNN anchor wrote about taking baths? We'll call it the coronaflu and mock our own panic and in a year or two, once the obvious economic damage has passed, we'll just shrug and do our best to get back to life…

3/ But we shouldn't. We all need to remember how we got here, how easily we were stampeded into panic, how we let the media keep us from letting our kids play with each other and drive us into our houses and give up our most essential liberties – in a matter of days…

4/ "Those who would give up essential Liberty, to purchase a little temporary Safety, deserve neither Liberty nor Safety." Those words come from Benjamin Franklin, more than 250 years ago, and they are true now as they were then…

5/ The United States is far from perfect. The Constitution is far from perfect. But it has served us well for a very, very long time, and the way we've forgotten it in the last month should shame us all.
[End]
That's a brilliant summation, and it's something we all should print out and tape up on our refrigerator doors so we can read it every time we reach in for a glass of water or some cheese to put on a sandwich. As we watch the price for U.S. crude oil drop into negative numbers for the first time in history yesterday, we need to reflect that that is nothing more than a leading indicator of the economic carnage that is taking place all over the country right now.
Leftist talking heads can blather all they want about the wonders of renewables and their Green New Deal fantasy, but the simple fact of the matter is that the engine of the American economy is fueled by oil and gas, and when we intentionally crash that engine, oil and gas are going to crash along with it. Given that the daily NYMEX price is set based on trading for a futures contract 30 days in advance, that negative oil price is telling you right where the U.S. economy is going to be sitting on May 21 unless something drastic changes.
If you doubt my contention about the glee Democrat politicians feel about this intentional crashing of the economy, just take a look at this tweet – later deleted – that Green New Deal poster child Alexandria Ocasio Cortez issued on Monday when she saw oil trading in negative territory: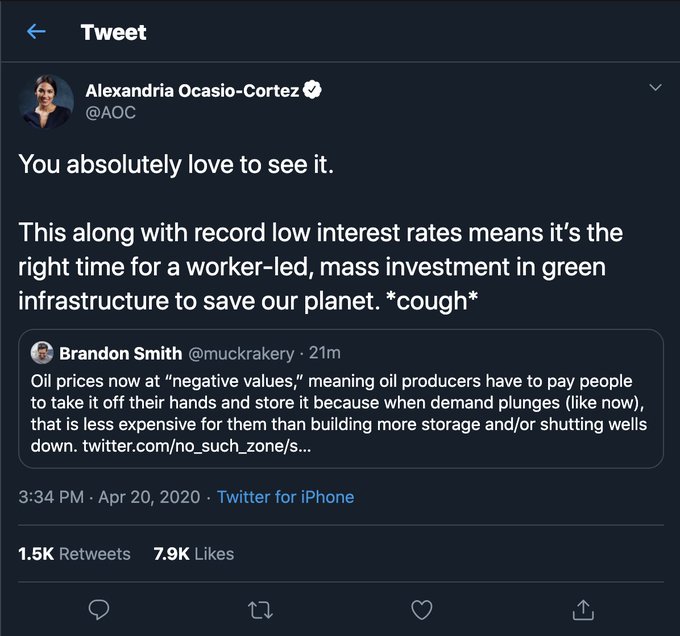 "You absolutely love to see it." That's another document we all need to print and hang in a prominent location, so we can remind ourselves of the collection of soulless ghouls who lead the Democrat Party today. Many like to claim that AOC is "outside the mainstream" of the Democrat Party, but let's remember that each and every one of the 25 or so Democrat presidential candidates in this cycle happily endorsed her Green New Deal. The truth is that AOC is the mainstream of the Democrat Party.
Given that every capital dollar spent by oil and gas companies creates 3 to 4 dollars in ancillary economic impacts, what AOC is celebrating is a situation that is going to put hundreds of thousands, if not millions of people out of work in the coming months, as oil and gas companies declare bankruptcy and many of the ancillary businesses who depend on them shut their doors. Only a soulless ghoul would feel like popping the cork on a bottle of champagne when she sees something like this taking place.
And realize what AOC just confirmed with that tweet: The situation in America you see laid out before you today is exactly the situation that leftwing radicals like her and her fellow Democrats in congress actively want to create in America their Green New Deal: Depressed car traffic, decimated airlines, a devastated tourism industry, empty hotels, abandoned shopping malls – on and on the economic decimation goes. Add to that a timid, complacent, sedentary and fearful population mostly locked in their homes growing fat and dying young from rampant heart disease, depression, diabetes and suicide.
But hey, the healthcare – if you can find some – will be "free" and our carbon emissions are way down, so isn't life wonderful? It's the socialist utopia come true!
Besides, all the leftist politicians like AOC and San Fran Nan are living large, happy in their giant walled-off homes with armed security protection, dining on designer ice cream stored in their dual, $20,000 SubZero units:
This ad just melted my face off pic.twitter.com/K3sSD7Q97M

— Benny (@bennyjohnson) April 20, 2020
If you let yourself forget all the rest of it, all the rest of the devastation these two depraved segments of our society have brought to you over the past couple of months, never forget this single, undeniable fact: These people want nothing more than to keep you cowering inside your homes all the way through November 3, simply so they can win an election. That is literally how their brains are wired.
If we allow ourselves to forget that simple reality, our country is well and truly doomed.
Never forget.
That is all.
Today's news moves at a faster pace than ever. Whatfinger.com is my go-to source for keeping up with all the latest events in real time.