The Evening Campaign Update (I Swear I Don't Make This Stuff Up)
I kid you not, New Jersey Governor Phil Murphy continued his campaign as an aspirational 3rd-world despot last night by having his state attorney's office deny the state's citizenry the right to take an in-car tour of a tulip farm. The man appears determined to wrest the title of the nation's most abusive governor away from Michigan's plastic-faced Gretchen Whitmer.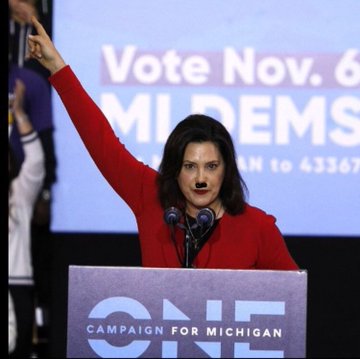 Apparently taking a cue from Whitmer's edict denying Michiganders the ability to purchase seeds to plant their own flowers, Murphy is now denying New Jersyans the right to even look at a field of flowers from their car. You seriously could never make this stuff up.
As reported by the guys over at The Conservative Treehouse, Dalton Farms, a business established in 1790, was allowing people to come drive through their 99-acre farm to view the beautiful, blooming tulips there while never leaving their car.  The farm owners took care to limit the number of cars who could be on the farm at any one time and, at the end of the tour, allowed the tourists to purchase a bouquet of the lovely flowers while observing social distancing rules.
There was no risk here, no danger to anyone, no reason whatsoever for the state to intervene: This was just a local business providing a few people a wonderful opportunity to have a pleasant day out in a way that completely conforms to all guidelines issued by the White House Coronavirus Task Force, the CDC and the NIH.
And yet, on Sunday evening, the owners of Dalton Farms posted the following notice:
This action by New Jersey's government is not just unjustifiable and despicable: It is simply un-American. It is the act of power-mad lunatics who have no respect for – or probably no real knowledge of – the rights of individual Americans.
When Gov. Murphy last week told Tucker Carlson that he "didn't have the bill of rights in mind" when he issued his Wuhan Virus-related edicts, he damn sure wasn't kidding.
It goes without saying, of course, that both Murphy and Whitmer are Democrats. What else would they possibly be?
That is all.
Today's news moves at a faster pace than ever. Whatfinger.com is my go-to source for keeping up with all the latest events in real time.