Today's Campaign Update (Because the Campaign Never Ends)
A friend had the following thought last night: "I wonder if we, a nation, will learn anything from this "pandemic"? In time of national crisis, politics and finger pointing should have given way to unity and nationality first."
The answer to the question in the first sentence is no, collectively, we will not learn any real lessons from this pandemic, mainly because the corrupt news media, working in concert with the Democrat Party, will not allow us to do so.
The response to that second sentence is yes, that should have taken place, but the corrupt news media, working in concert with the Democrat Party, could not allow it.
We all must understand that the Democrat Party simply could no longer exist for any length of time in any situation resembling national unity. The electability of Democrat candidates for office relies completely on the perpetuation of division and controversy, whether real or imagined. Literally every message they send during an election campaign is designed to divide the population up along racial, religious, cultural and economic lines.
This is why Nancy Pelosi's response to the Wuhan Virus crisis is not to work to help the nation recover and heal, but to launch yet another hoax investigation designed to evolve into an impeachment effort along about the first of September. You can set your clock to it – it's coming. Without the existence of constant division and crisis, whether real or made up out of whole cloth by human scum like Adam Schiff, the Democrat Party has no political platform.
This is fine for corrupt media operations like the New York Times, the Washington Post, CNN, CBS, ABC and NBC: They thrive on crisis and controversy, and given that about 98% of the people they employ are loyal Democrat activists, they are more than willing and happy to coordinate their efforts with the Democrat Party. These media operations work on a model of driving specific narratives, not on reporting the truth. The overarching theme of that narrative for the past four years has been that Donald Trump is the enemy and must be defeated.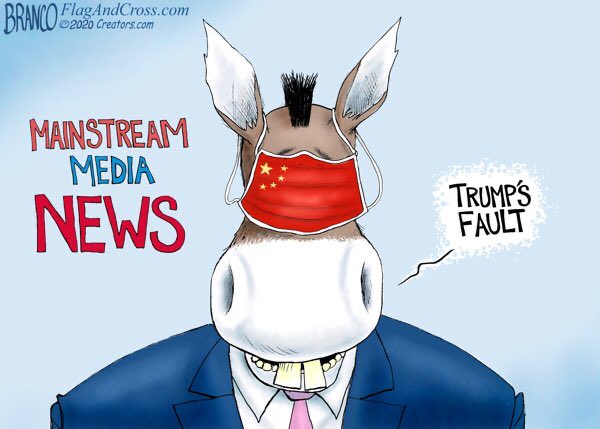 Thus, it did not matter what actions the Trump Administration took to address the Wuhan Virus pandemic: Whatever the President did was to be portrayed as not just wrong, but racist, un-American and insane. This is why the media was filled with stories and panel discussions telling us the Virus was no threat at all during late January and early February, as the Trump Administration was ramping up efforts to prevent the spread. It is why the President was roundly called a thug and a racist when he put the ban on incoming Chinese travel on January 31. It is why today, that media/Democrat narrative has been turned on its head in an effort to revise history and pretend the Administration was "too slow" in addressing the issue.
When anything the President and the entire executive branch of government does is portrayed as wrong and disloyal and racist by 98% of the nation's news media, how can there possibly be anything approaching "national unity?" It simply is not possible.
This is also why we, as a nation, can never truly learn the lessons we need to learn from this or any other crisis. Regardless of how positive the ultimate outcome of the Administration's strategic approach to fighting this Virus ends up being, the public will be brainwashed by the nation's corrupt media establishment to believe every action the evil Trump took was wrong.
To know the truth of this, all you need to do is watch how the press corps behaves at the daily Coronavirus Task Force briefings. With only rare exceptions, the questions being asked by these corrupt reporters are not designed to actually obtain real information to be communicated to the public: They are instead gotcha questions designed get the President to say something controversial in order to create a divisive story that will attract clicks to websites and generate blaring, above-the-fold headlines.
These reporters are not there to report: They are there to divide and to support a narrative that will keep the crisis going for as long as possible.
Thus, the coming effort by the President and his people to re-open the economy will inevitably be portrayed as "dangerous" and "premature" and "life-threatening" by these corrupt media outlets, regardless of what the plan actually happens to be. Do not doubt me on this: The overarching theme of the narrative to come will be that the evil Trump is "trading lives for money." Those exact words will be repeated thousands of times on the nation's airwaves in the coming months.
The other narrative that will inevitably be screamed by the media/Democrat propaganda complex will be "Trump wasted billions on building unused ventilators and medical supplies!!!!!!!"
No, really: After spending the last two months wailing that the states just do not have enough ventilators and PPE, these very same people will turn on a dime and try to punish the President and his people for putting the nation on a war-time footing to produce those things in such massive quantities that a huge portion of them will end up sitting in warehouses, waiting for the next public health crisis to come.
This is what these people do. It is who they are. They not only promote division and crisis in our country, they view doing those things as their actual duty. They truly do believe that, which is what makes them so dangerous to our nation's ultimate survival.
How can there be national unity, how can there be any lessons learned in such an environment?
There can't be. Which is why it will be more important than ever for us all to get out and vote on November 3, even if we have to wear facemasks and gloves to do it.
That is all.
Today's news moves at a faster pace than ever. Whatfinger.com is my go-to source for keeping up with all the latest events in real time.