Today's Campaign Update (Because the Campaign Never Ends)
When did Mini-Mike sell Bloomberg News to the ChiCom government? – Here are photos of two headlines running at Bloomberg.com right now: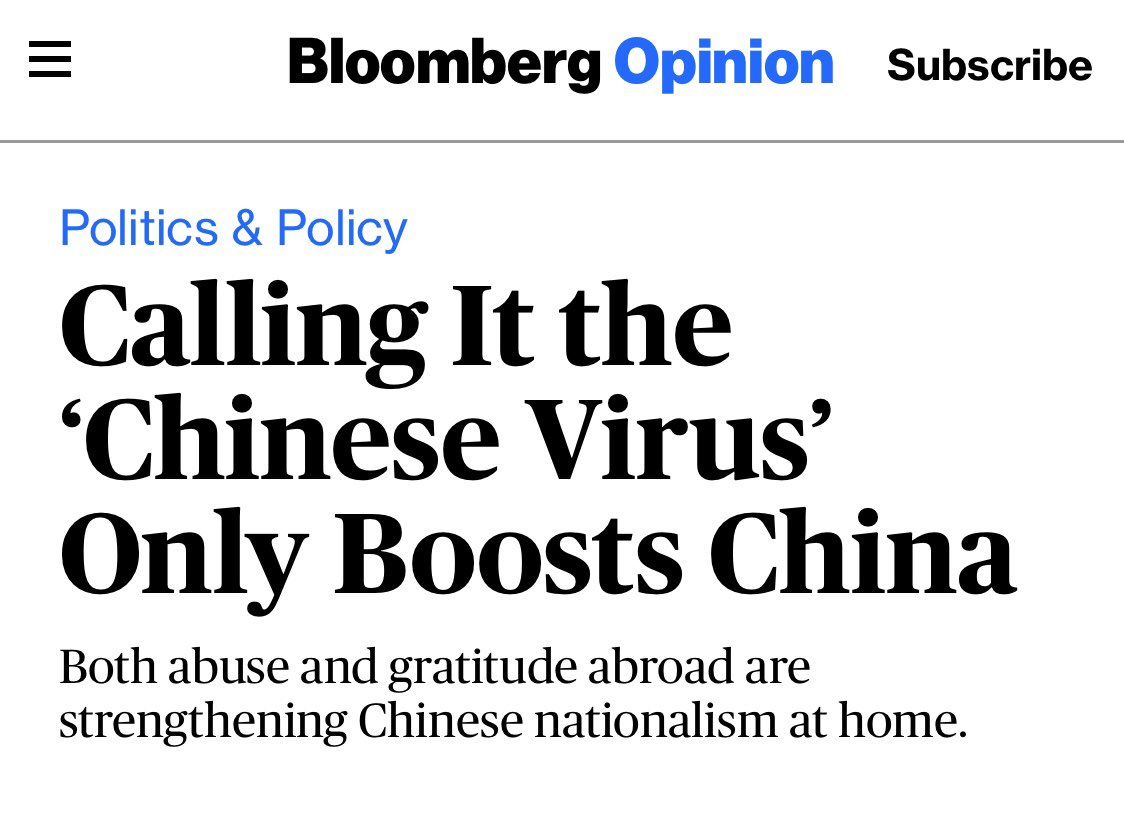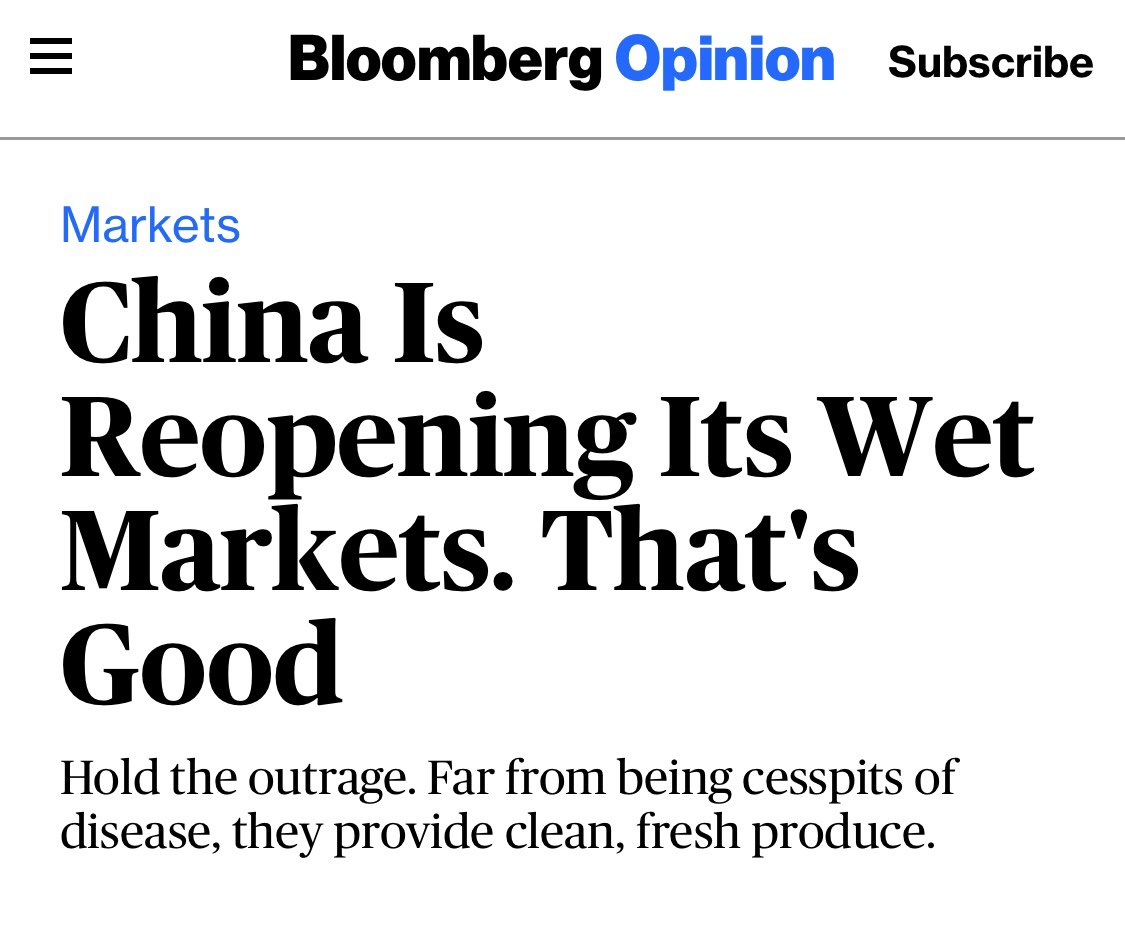 Shameful.
Yes, doctors and nurses deserve our gratitude and applause. – But not just the doctors and nurses who are fighting to save patients with coronavirus at what appears to be several dozen hospitals around the country that are actually somewhat overwhelmed with COVID-19 cases right now. We should also be concerned about the thousands of doctors and nurses who are seeing their salaries cut back, seeing their working hours docked or being outright laid off right now because thousands of hospitals, clinics and medical practices are basically vacant.
Your corrupt news media, in its ongoing zeal to keep the national panic it created going all the way through the November election, continues to focus pretty much all of its "reporting" on a few hospitals in New York City that happen to be operating at full or over-full capacity. But the reality is that, even in the other large cities around the country, there is only one or perhaps two hospital emergency rooms that are seeing real spikes in activity.
Many of our thousands of other medical facilities have seen their businesses destroyed by counterproductive orders for everyone in America to postpone regular doctor's appointments and elective surgeries while this pandemic endures. The stay-at-home order has also had the effect of dramatically reducing traffic-related accidents, workplace accidents  and the spreads of the flu, colds and other viral diseases that in most years keep medical facilities occupied and working with full staff.
Before the Wuhan Virus came along, our society had normalized these kinds of maladies and pathologies as just a part of life in a country with a thriving society and prosperous economy. Now that we have destroyed our nation's economy to fight a virus that was never going to be as deadly as the seasonal flu, we see that hey, if we all just volunteer to lose or homes and livelihoods, we won't have so many car wrecks! Isn't that great?
What this has been is a lesson in risks, rewards and tradeoffs. Our national strategy in addressing every other communicable disease to come along in modern times has been to mitigate the risks as best we can and develop effective ways to treat the sick and help them recover. That was exactly the strategy we deployed in 2009/10 with the H1N1 virus, which infected more than 1.4 BILLION people around the globe. Yet, we have shut down the global economy over the last two months to fight the Wuhan Virus, which remains 1,398,700,000 infections short of that number.
I know I'm starting to sound like a broken record on this, but let me remind you one more time that we have invoked this frankly insane strategy based on a statistical model used by Dr. Anthony Fauci that two weeks ago projected as many as 2 million U.S. deaths from Wuhan Virus by September, a week ago projected as many as 240,000, and as of Thursday projected 93,000. If they run that model today, that number will no doubt be dramatically lower still given that the actual observed results on the ground continue to run at less than 40% of what the model has predicted.
Fortunately, President Trump appears to be tiring of allowing Dr. Fauci and his model to destroy the American way of life. On Saturday, he endorsed the idea suggested by Dana Perino of creating a second coronavirus task force that would advise him how to put American back to work as quickly as possible:
Good idea Dana! https://t.co/Vx7yfwfpIU

— Donald J. Trump (@realDonaldTrump) April 4, 2020
The President also continued to tout the use of hydroxychloroquine to fight the Wuhan Virus, given its proven effectiveness all over the world. Despite Fauci's ongoing efforts to downplay the use of this safe, effective, cheap and well-known drug that won't make any of Dr. Fauci's "Big Pharma" buddies rich, the President announced during yesterday's Coronavirus Task Force update that the federal government was acquiring an initial 29 million doses of the malaria drug to distribute to the many states that are now requesting it.
All of this signals that the President will soon be making the move to start putting America back to work, and get our economy and society on the road to recovery from this media-induced episode of national panic and insanity. I continue to believe he will start the move in that direction after the end of this coming week.
When that time comes, he will need all of our support more than ever, because you can be sure that the outrage coming from the Democrat/Media Propaganda Complex will be the loudest it has ever been. The last month of national shutdown have been literal nirvana for them.
This is exactly the America envisioned by the Soviet-style "Green New Deal" that Alexandria Ocasio-Cortez and the Democrat Party rolled out last year: Less than zero economic growth; dramatically less car travel; dramatically less air travel; a dead tourism industry; the lights in Las Vegas turned off; Times Square a ghost town; Disney World dead and gone; beaches empty of everything but the seaweed that flows in with the tide; churches shut down on Palm Sunday; and the American people frightened and cowering in their homes as they wait for their tiny government checks to arrive.
If they can just find a way to shut down voices like yours and mine on the Internet, they would have exactly the America they have been working towards for their entire adult lives.
Donald Trump isn't going to let them consolidate all of this on a permanent basis, and they will all scream like the stuck pigs they really are when he moves in the next couple of weeks to roll it all back.
Be ready.
That is all.
Today's news moves at a faster pace than ever. Whatfinger.com is my go-to source for keeping up with all the latest events in real time.