Today's Campaign Update, Part III (Because the Campaign Never Ends)
The wheels of American justice do indeed turn slowly; but, as Sun Tzu would have said, they grind exceedingly fine.
In today's WINNING on the American justice front, we have the following taking place:
Flanked by a massive entourage, Jussie Smollett entered a Chicago courthouse Monday to face six new counts of making false reports to police for allegedly fabricating a hate crime. https://t.co/UejfM3lZcC

— CNN (@CNN) February 24, 2020
Six more criminal charges, and prosecutors apparently aren't finished yet. Isn't life grand?
But wait, there's more!
Take a look at this one…
Harvey Weinstein guilty: Jury convicts him of rape, criminal sexual act https://t.co/M3JP1mFB0S

— The Hollywood Reporter (@THR) February 24, 2020
From the Hollywood Reporter story:
A jury of 12 men and women has found former movie mogul Harvey Weinstein guilty on two of the five potential criminal charges he faced in his New York County trial.

Weinstein has been convicted of criminal sexual assault in the first degree, based on the testimony of former Project Runway production assistant Miriam Haley, and rape in the third degree, based on the testimony of one-time aspiring actress Jessica Mann.

The verdict was announced on Monday after the jury of seven men and five women spent five days deliberating on his fate.

Weinstein was remanded into custody against the protests of his lawyers, who cited his health. He looked ashen and unstable as he was surrounded by court officers who helped escort him out of the court room.

Weinstein will be sentenced on March 11. He's facing five to 25 years for the criminal sexual assault conviction and 18 months to four years for the third-degree rape conviction.
At a press availability following the verdict, Weinstein's lawyers stated that they intend to file an appeal. But the overwhelming likelihood is that this beast will be spending the remainder of his sorry existence in this life in prison. Cool.
But wait, there's even more!
It turns out that Mini-Mike has long been a very good buddy of the big, monstrous Democrat Party contributor:
Mike Bloomberg's long political association rapist Harvey Weinstein revealed https://t.co/9y3E25ZMUf

— Culttture (@culttture) February 24, 2020
From the Daily Mail piece:
The Bloomberg-Weinstein political relationship would continue for years, and would come to include a series of high-profile public events in Manhattan, as well as a joint push for a lucrative tax break that benefited the film industry and helped draw attention to the city.

Bloomberg is one of many famous figures who have come to regret their connections to Weinstein, who has been accused by women of rape and assault and is on trial in New York.

It is a tie that is particularly sensitive for Bloomberg, who has been accused by women of overseeing a hostile work environment and has been accused of making inappropriate comments – a topic Sen. Elizabeth Warren of Massachusetts hammered him over at Wednesday's Demoratic debate.

Once in office, Bloomberg teamed with Weinstein at events to promote New York City, his charity, and his own election efforts.

Weinstein made last-minute phone calls on behalf of Bloomberg's 2001 election when the then-Republican took City Hall, according to press accounts at the time.

He was behind the mayor again for his reelection in 2005, when the former filmmaking powerhouse reportedly made automated phone calls to boost the billionaire's campaign. (Bloomberg spent $85 million on that successful effort).

Weinstein helped lend Democratic credibility and Hollywood cache to the then-independent Bloomberg's reelection, speaking at a Democrats for Bloomberg event. 'I haven't heard this many Democrats saying nice things about me since I was one,' the mayor quipped at the time.

In other instances, the two teamed up in efforts meant to promote New York and the film industry, as they did in 2002 in a brash effort to lure one of Hollywood's biggest nights – the Oscars – to Manhattan. The idea began with a Weinstein pitch to get the entire show, then morphed into an effort by Bloomberg, Weinstein, and former New York Gov. George Pataki to bring part of the annual show to the city as a tribute to its glory days.
Oh, my. No wonder Mr. Excitement chose to skip his invited townhall scheduled to have been aired tonight on CNN.
And by the way, in case you are still buying the utter BS that Mini-Mike is 5'8″, know that Harvey Weinstein is 5'9″ when he is not pretending to need that walker. Note how he towers over Bloomberg here: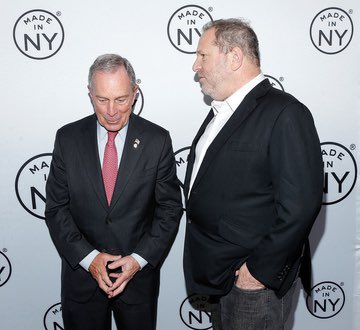 Believe it or not, that's still not all!
Yesterday, the Los Angeles Times ran a panicked piece that carried this headline:
Trump has flipped the 9th Circuit — and some new judges are causing a 'shock wave'
Yes, boys and girls, I swear I don't make this stuff up.
From the LA Times piece:
When President Trump ticks off his accomplishments since taking office, he frequently mentions his aggressive makeover of a key sector of the federal judiciary — the circuit courts of appeal, where he has appointed 51 judges to lifetime jobs in three years.

In few places has the effect been felt more powerfully than in the sprawling 9th Circuit, which covers California and eight other states. Because of Trump's success in filling vacancies, the San Francisco-based circuit, long dominated by Democratic appointees, has suddenly shifted to the right, with an even more pronounced tilt expected in the years ahead.

Trump has now named 10 judges to the 9th Circuit — more than one-third of its active judges — compared with seven appointed by President Obama over eight years.

"Trump has effectively flipped the circuit," said 9th Circuit Judge Milan D. Smith Jr., an appointee of President George W. Bush.
Oh, and there's this little tidbit in that piece for those of us who have wondered how things got so tilted to the far left on the 9th circuit to begin with:
The 9th Circuit court has been dominated by Democratic appointees for decades. In 1978, a federal law created 10 new judgeships on the court, allowing President Carter to fill them all. The liberal Carter appointees were followed by judges named by three Republican presidents and two Democrats.
The more you know…
That injustice took place 42 years ago, and it took President Donald Trump (I will never tire of typing those three glorious words) to correct it.
So, what does the flipping of the 9th Circuit mean in practical terms? Check this out:
Ninth Circuit Allows HHS Title X Regulations to Take Effect https://t.co/SeahmPKPr7 Big victory for Trump administration. Big loss for Planned Parenthood. Good illustration of how President Trump's appointments are transforming the Ninth Circuit.

— Ed Whelan (@EdWhelanEPPC) February 24, 2020
From the National Review article:
Title X of the Public Health Service Act authorizes the Department of Health and Human Services to make grants to support voluntary family planning but prohibits grant funds from being used in "programs where abortion is a method of family planning." In an important victory for the Trump administration—and a big defeat for Planned Parenthood—the Ninth Circuit ruled today (in California v. Azar) that the HHS's regulations implementing Title X are lawful.
The age of Obama-appointed district judges scattered across the country issuing nationwide injunctions for purely partisan reasons is ending.
That, my friends, is WINNING. Bigly.
That is all.
Today's news moves at a faster pace than ever. Whatfinger.com is my go-to source for keeping up with all the latest events in real time.