Today's Campaign Update, Part II
(Because The Campaign Never Ends)
Poor Chuck Schumer has the sads that he was not informed in advance of the U.S. military drone strike that took out Iranian terrorist leader Qassem Soleimani. – Well, tough. Obviously, neither Schumer, nor Nancy Pelosi nor any other Democrat could be informed in advance for the very same that Soleimani himself wasn't told: Because they cannot be trusted to support U.S. interests anywhere in the world.
It really has come to this. If an action is taken by President Donald Trump, Democrats automatically knee-jerk to the position that it is inherently bad and coordinate with their corrupt media toadies to try to undermine it. Barack Hussein Obama – to his credit – took out hundreds of terrorists with drone strikes during his 8 years in office. During all that time, neither Schumer nor San Fran Nan nor any other leading Democrat uttered a peep of protest about the unconstitutional War Powers Act or indeed, any criticism of their dear leader.
But here's Pelosi's reaction today to President Trump's authorized strike on the leading planner of Islamic terror on the face of the earth:
"The full Congress must be immediately briefed on this serious situation and on the next steps under consideration by the Administration, including the significant escalation of the deployment of additional troops to the region," Pelosi said.
Here's New Mexico Senator Tom Udall:
Senator Tom Udall, the author of a bipartisan amendment to the National Defense Authorization Act to prevent war with Iran without the consent of Congress, said in a statement that Mr. Trump "is bringing our nation to the brink of an illegal war with Iran without any congressional approval as required under the Constitution of the United States."

"Such a reckless escalation of hostilities is likely a violation of Congress' war making authority – as well as our basing agreement with Iraq – putting U.S. forces and citizens in danger and very possibly sinking us into another disastrous war in the Middle East that the American people are not asking for and do not support," Udall said. "Congress must step in immediately to reclaim its Constitutional war powers."
Where were they when Obama was ordering dozens of similar strikes on Iranian and ISIS and Al Qaeda targets from 2009 through 2016? Not a peep.
But it gets even better.
Watch Democrat Congressman Chris Murphy, who was briefly a candidate for the Democrat presidential nomination in 2019, do a complete 180 on the Trump response to Iran in a mere 48 hours. Here is what he tweeted after the Iran-led storming of the U.S. Embassy in Baghdad: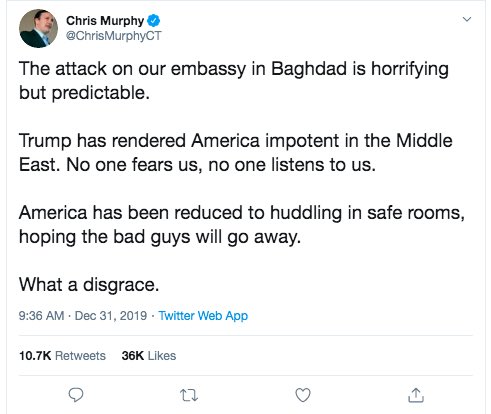 And here is what he said this morning, after the President took his decisive action: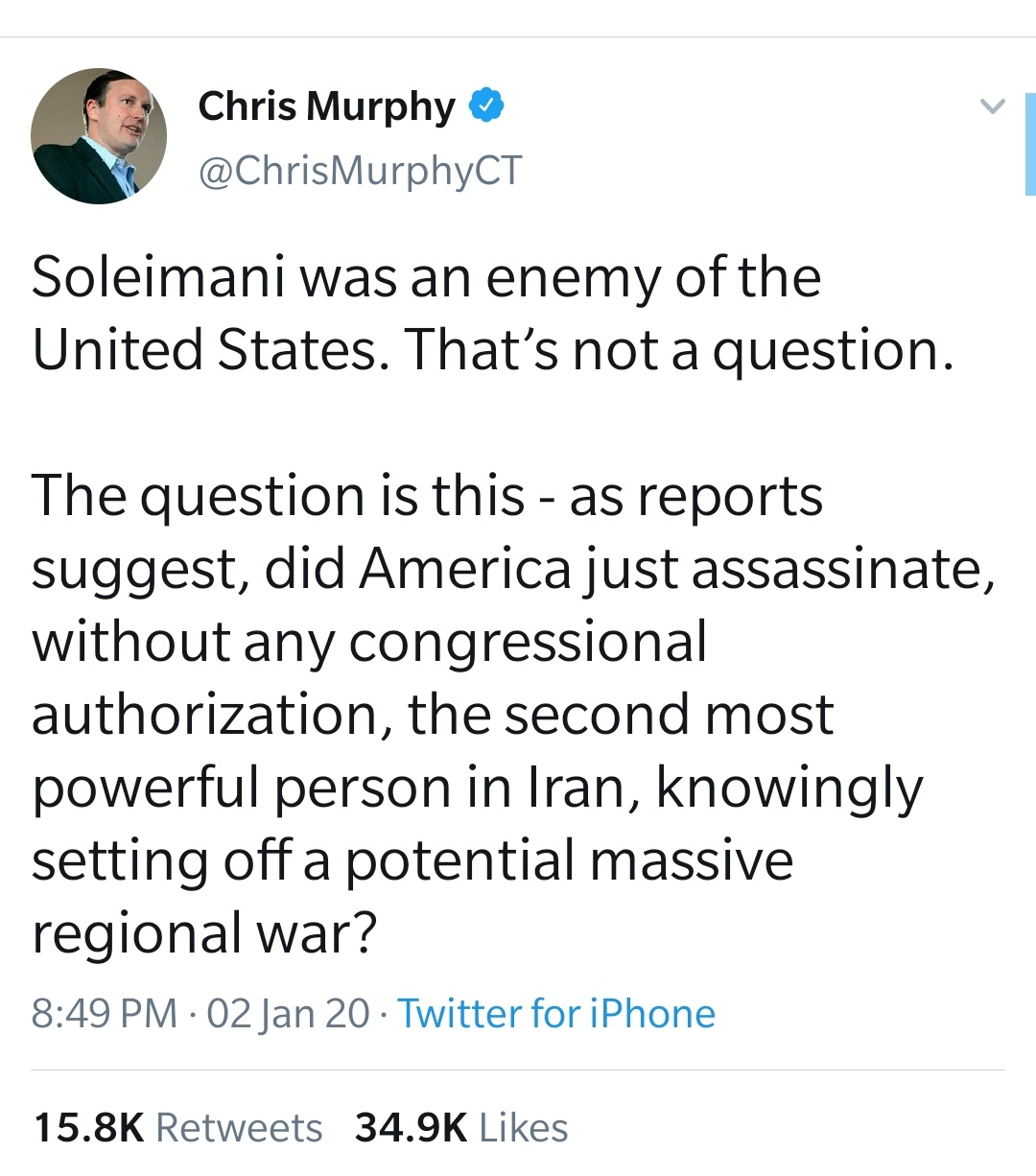 You just cannot make these raging hypocrites up.
For the record, no president – whether a Democrat or Republican – is required to seek congressional authorization for these limited military engagements. Nothing President Trump did this week violated any federal law or constitutional provision in any way, shape or form. These disloyal, seditious Democrats are angry this morning because they were not given an advance notice so that they could attempt to deny Trump a "win" by leaking the information to their toadies at the New York Times or CNN.
This is the clear reality our nation faces today: One of our major political parties no longer maintains any loyalty to our country's clear interests and well-being.
So, of course no Democrat leader was given advance notice of the drone strike that took out one of the most vicious leaders of Islamic terrorism on earth. Because they could not be trusted. It really is that simple.
That is all.
Today's news moves at a faster pace than ever. Whatfinger.com is my go-to source for keeping up with all the latest events in real time.