Today's Campaign Update, Part II
(Because The Campaign Never Ends)
Axios is reporting that morning that new polling shows President Donald Trump gaining ground in three key battleground states as this impeachment clown show plows along. The new polls, conducted by Firehouse Strategies, show the President gaining tremendous ground vs. Quid Pro Joe Biden in the three key states of Pennsylvania, Michigan and Wisconsin, which were decisive in his 2016 victory over the Pantsuit Princess.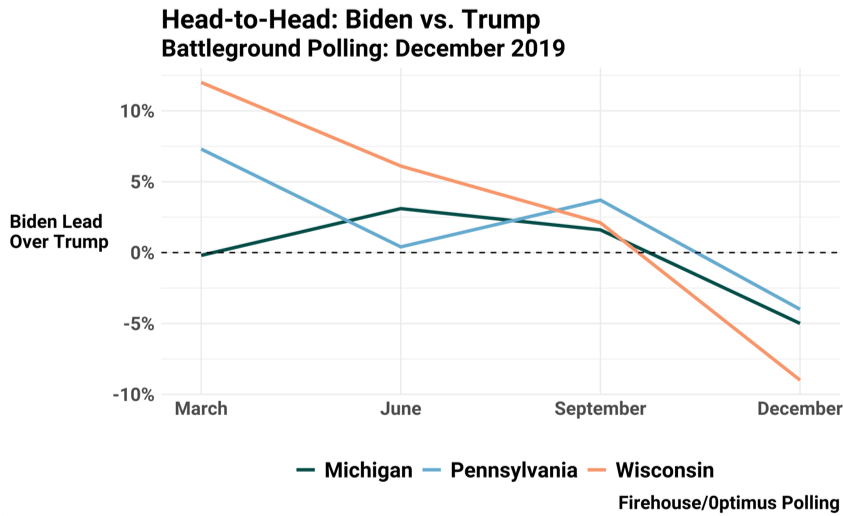 The President's biggest gains have taken place since September, when the Democrats and their media toadies kicked off their whole Ukraine scam as a pretense for impeaching Mr. Trump. In Pennsylvania, he has moved from 7 points down in September to leading by 4 in December; in Michigan, he has moved from down 2 to leading by 5; and in Wisconsin he has gone from minus 3 to plus 9, a whopping 12 point shift in just three months.
A December 3 report by Axios, which looked at a dozen October/November polls gauging voter support for impeachment, found it opposed in 8 key battleground states by a 51-44% margin. Not a good sign for the power-mad Democrats and their corrupt media organ grinder monkeys.
I'm not generally a fan of polls – especially the national horse-race polls – because of the obvious bias in the polling industry, a bias that regularly produces polls that over-sample Democrat voters. The simple fact of the matter is that most polls taken these days are compiled in order to create news stories and generate clicks to websites, not to legitimately gauge voter attitudes. National polls are also skewed by the overwhelmingly Democrat margins in California and New York, two states that have rendered themselves completely irrelevant in presidential elections due to their single-party status.
But polls taken repeatedly over time, or multiple polls taken in aggregate can be valuable in the assessment of overarching trends, as the polls cited by these two Axios reports do. The overarching trends in the key battleground states that will ultimately decide the 2020 vote in the Electoral College – the only vote that matters – are decidedly and unarguably bad for the power-mad Democrats.
Simply put, the Democrats are destroying themselves with this impeachment farce, and that is very good news for America.
That is all.
Today's news moves at a faster pace than ever. Whatfinger.com is my go-to source for keeping up with all the latest events in real time.