Today's Campaign Update, Part II
(Because The Campaign Never Ends)
[Note: Today's Campaign Update will be on a delayed morning schedule from November 30 through  December 4.]
Just a reminder: Do not put any hopes on Michael Horowitz doing anything to help bring the Coup Cabal to justice. – As we have repeatedly pointed out, Mr. Horowitz's job is to investigate and provide cover for the bureaucracy that pays his salary. His internal role at DOJ is to "investigate" alleged wrongdoing among its employees and then to provide rationale arguing why that wrongdoing was nothing more than violations of internal policies, a simple lack of candor, innocent mishandling of documents, etc.
He might make the occasional criminal referrals targeting low-level functionaries – the Peter Strzoks and Lisa Pages of the world – but if you're waiting for him to do the same where Jim Comey or Rod Rosenstein or Sally Yates are concerned, you are going to be highly disappointed when his long-awaited report on FISA abuse is released next week. So don't hold your breath anticipating any real effort to bring the real bad actors in all of this to anything resembling justice coming from a career apparatchik like Horowitz.
In fact, the media supporters of the coup cabal have been working overtime this week to prop up Horowitz and mask the reality that his latest report is going to be just another basic white-washing of rampant DOJ corruption during the Obama years. A great example of this coordinated effort between the DOJ butt-coverers and their media supporters came recently from the New York Times, who else?:
Justice Department Inspector General Michael Horowitz put together a chart of all the mistakes he found the FBI made in the process of obtaining warrants to wiretap former Trump campaign adviser Carter Page.

The list of "numerous" errors and omissions appears in a draft report containing the findings of Horowitz's year-and-a-half investigation examining the DOJ's and the FBI's compliance with legal requirements and policies in applications filed to the Foreign Intelligence Surveillance Court, according to the New York Times.
See, in the world of Michael Horowitz, even the most egregious abuse of the process or leaking of classified material or defrauding of the FISA courts is just a "mistake," an "error" or an innocent "omission," all to be explained away as quietly as possible in order to protect and preserve the institution. Why, he's even going to provide a nifty chart to illustrate it for all of you visual learners out there. The bad actors might or might not be fired as punishment, and the occasional miscreant like Andrew McCabe might be stripped of his pension as a response to findings in one of these reports, but if you're expecting Horowitz to provide any sort of justice in any real sense of that word, you are barking up the wrong tree.
As if to illustrate that point, the DOJ itself joined in the effort to prepare the public for this non-event report by issuing this public statement: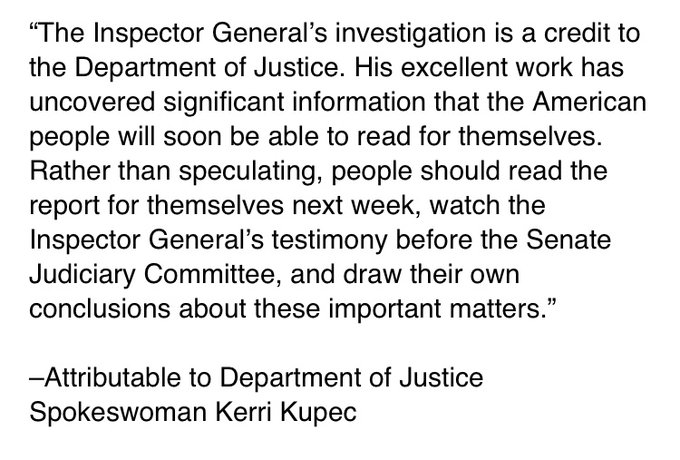 Appearing on Tick-Tock Hannity's show last night, do-nothing Senator Lindsey Graham essentially recited the talking points in that statement:
"Be wary of the Washington Post and the New York Times reporting on what is coming up with Horowitz. They have been trying overtime to spin this thing to diminish its effect, to downplay it," the South Carolina Republican said.

"I can tell you without any hesitation Attorney General Barr has every confidence in the world in Mr. Horowitz," Graham added. "He believes that he has done a good job, a professional job, and he appreciates the work and the effort he has put into disclosing abuse at the Department of Justice."
So basically, the message from the DOJ spokesperson du jour and Sen. Graham is to ignore all the media propoganda floating around, read the massive report for yourself (like that's ever going to happen with 99% of the American public) and make your own judgments.
And then what? Graham says he plans to ask pointed questions of Horowitz when he appears before the Senate Judiciary Committee on December 11, two days after the report is made fully public. Oh, golly, Lindsey, do tell! Do you also plan to point your finger at him and say "tsk-tsk, tut-tut?"
Um, and then what? Is Graham or anyone else in the U.S. Senate going to do anything to demand any real justice? Not really, because they don't have any power to do so, and probably no intention, either. They can write letters and do their own criminal referrals on the Comeys and Strzoks and McCabes and Pages and Bakers and all the other Cabal players, but as we have repeatedly seen, the professional snakes embeded at DOJ just toss them into the trash can and play the waiting game.
But what about William Barr and John Durham? What about their investigation? Well, as we've repeatedly noted, they are your only remaining hope of any real justice ever coming about on any of this. But here's the deal: William Barr might only have another 12 months at DOJ. If the 2020 election goes the wrong way, he will be out of a job faster than Rod Rosenstein can sign off on a fraudulent FISA application.
Meanwhile, the Michael Horowitz's of the world go on, remaining embeded within their safe, tidy, butt-covering jobs at the DOJ for as long as they want to hold them. William  Barr is a political appointee who serves at the pleasure of the President; Horowitz is a lifetime apparatchik who serves at his own pleasure and whose lone true function is the preservation of the institution that makes that possible.
For those few who do take the time to read it, Horowitz's report will no doubt contain a huge amount of very damning information about the real bad actors in the whole "Russia Collusion" fantasy play. But unless Barr and Durham decide to act on that information, it will all be long forgotten just a few months from now.
That's reality.
That is all.
Today's news moves at a faster pace than ever. Whatfinger.com is my go-to source for keeping up with all the latest events in real time.