Today's Campaign Update, Part II
(Because The Campaign Never Ends)
[Note: Today's Campaign Update will be on a delayed morning schedule from November 30 through  December 4.]
Wow. Newsweek is pretending to be all journalist-y and stuff now. – As reported here at the Campaign Update on Friday, a fake reporter for the on-life-support fake magazine Newsweek named Jessica Kwong beclowned herself and her corrupt editors by putting out a Thanksgiving morning piece in which she claimed President Trump planned to spend his day "Tweeting, golfing and more."
But just hours later it was revealed that the President in fact made a secret flight to Afghanistan to spend the day with the U.S. military personnel at Bagram Air Force base. In response to that revelation, Kwong sheepishly issued a tweet in which she claimed to have made "an honest mistake." Now, we all know that's a lot of stuff and nonsense – or as Joe Biden would call it, "a bunch of malarky" – because it was obviously an effort by Ms. Kwong to damage the President's reputation based on false assumptions about his character, something Newsweek and the rest of the corrupt news media outlets do every day.
In response to Kwong's self-immolation, President Trump himself issued this hilarious tweet:
I thought Newsweek was out of business? https://t.co/3ro4eSJloo

— Donald J. Trump (@realDonaldTrump) November 29, 2019
If this were CNN or the New York Times, you'd normally expect Ms. Kwong to be elevated to an editor's job or maybe even the editorial board itself for engaging in such shameful hackery and self-humiliation. After all, Paul Krugman and Brian Stelter still thrive despite their serial clownish hackery. But apparently the public outcry towards Newsweek was enough to force the miserable cretins who run that operation to pretend to have suddenly developed a set of journalistic efforts, given that they fired Ms. Kwong on Saturday.
In announcing the firing, Newsweek issued the following laughable statement: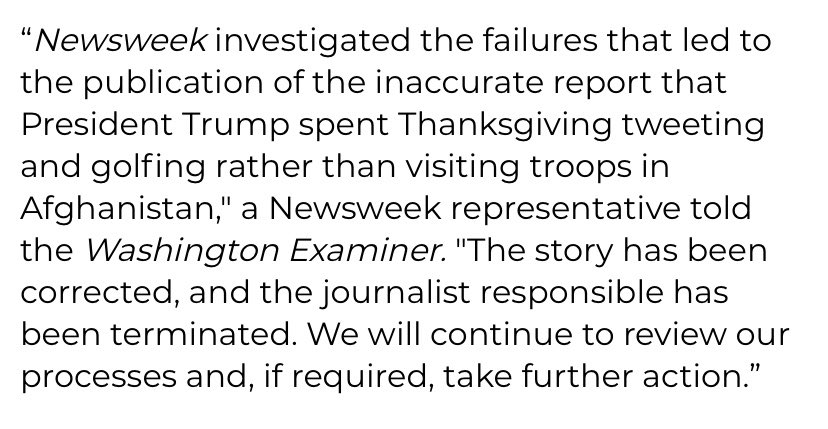 So, Ms. Kwong is long gone, but Newsweek will struggle on, hoping you will think they have all these, like, "processes" and stuff in place, or something, to prevent it all from happening over and over and over again in the future. Because journalism!
No one should feel sorry for Ms. Kwong. We will no doubt find out in the coming week that she has landed herself a job at some other fake, corrupt news outlet, because the Democrat/media/deep state Axis of Disinformation always rewards its loyal foot soldiers. Newsweek did what it did strictly for reasons of self-preservation, but that doesn't mean anyone at, say, Politico or Time will have to act accordingly.
Or hey, maybe she'll grab a job at Bloomberg, a "news" operation so corrupt that it unashamedly brags about the fact that it refuses to investigate any of the myriad Democrat presidential candidates, focusing all of its efforts on President Trump. That seems like an outfit where a clown-suited hack like Jessica Kwong will fit right in.
That is all.
Today's news moves at a faster pace than ever. Whatfinger.com is my go-to source for keeping up with all the latest events in real time.