Today's Campaign Update
(Because The Campaign Never Ends)
Tired of all this #WINNING yet? Are you kidding? – For the third time in the last six days of trading, all three major stock indexes – the Dow, the NASDAQ and the S&P 500 – closed at record highs on Monday. You may or may not care for President Donald Trump, but your 401(k) loves him and his economy.
Tucker Carlson was trending on Twitter when I got up and began my daily news search this morning, so I decided to check out why. What I found was a bombshell report that the Deep State toadies in our fake news media will studiously ignore. It's a story about how the warmonger lobby in Washington DC almost led our country into a completely unjustified escalation in Syria in April of last year, and how President Donald Trump barely avoided being railroaded into it. Here is a clip of that segment, followed by a transcript:
Tucker Carlson on the 2018 chemical attack in #Syria: "America almost attacked a country and killed thousands of people over an attack that may never have happened in the first place."

"We've been lied to. We've been manipulated. We knew it at the time." pic.twitter.com/hCd87sJ3Su

— Sarah Abdallah (@sahouraxo) November 26, 2019
For all of you who, like me, still like to read stuff, here's a transcript of Tucker's remarks:
In spite of repeated efforts to get them out, American troops remain deployed in parts of Syria. If Washington has its way, they will be there until you are old, or even longer. Forever.
But it could be worse. 19 months ago, Washington was demanding that the U.S. government topple the Assad government completely, must do it now. The justification for this was a supposed chemical weapons attack in the town of Duma. Now, no one in Washington had seen the attack. No American had seen it, nobody in congress could tell you what proof existed that the attack had actually taken place, or that Assad's government was behind it, rather than some other faction – and there were many – involved in the country's civil war.
But it didn't matter that there was literally no evidence: Everybody in Washington began agitating for regime change war immediately. Immediately, and especially on the left. Bill Kristol and Max Boot and everyone at MSNBC and CNN – they were completely for it. This show was not for it. We didn't deny the attack happened, we just told people to be skeptical.
[Plays clip from April 9, 2018]
Universal, bi-partisan agreement on anything is usually the first sign that something deeply unwise is about to happen, if only because there is nobody left to ask skeptical questions. And we should be skeptical of this, starting with the poison gas attack. All the geniuses tell us that Assad killed those children, but do they really know that?
Of course they don't really know that – they're making it up. They have no real idea what happened. And now the same people who brought you the dying American middle class, undefended American borders and endless, pointless wars you in countries you could not find on a map are telling the President he's got to depose Assad for reasons that are both unclear and demonstrably dishonest.
[End clip]
You've gotta depose Assad immediately. Wait a second, how did it work when we deposed the last four Arab leaders? And wait a second: Didn't the Assad government, as evil as it may be, protect all the Christians?
Shut up, they said. You've gotta do it now!
Well, fortunately President Trump limited his response to another wave of missile strikes rather than sending U.S. troops in to topple yet another government in the region. But now, it looks like even that response may have not been justified.
Last Spring, the official report of the Organization for the Prohibition of Chemical Weapons, which is the group that monitors chemical weapons, said the Duma attack was caused by two chlorine gas canisters that were dropped from an airplane. That would suggest the Assad government was responsible for the attack. Ok.
But then last May, a leaked internal document showed that one of the OPCW's top analysts disagreed with that conclusion. He thought the canisters were placed by hand, by someone on the ground. Which would make this a completely different event.
This week, WikiLeaks is publishing an email from a member of the OPCW's fact finding team. That email accuses the organization of altering investigators' original findings to make evidence of an attack look more conclusive than it actually was.
[Here is a link to the WikiLeaks OPCW Document in question.]
Sound familiar? Yeah, we've seen this movie before, with tragic consequences.
Yet another OPCW whistleblower has argued that on-the-ground evidence points against an attack happening at all.
So, in other words, America almost attacked another country, which would have killed untold thousands of people, over an "attack" that may never have happened in the first place. That powerful people may very well be lying about.
Under a different president – and whatever you think of Trump, this is true – under a different president, say, Hillary Clinton, being advised by the Obama foreign policy team – Samantha Power, and a lot of people like Samantha Power with long track records of unwise and indeed stupid decision making – under that administration we probably would have invaded.
[Segment turns to interview with Jonathan Steele, a chief foreign policy correspondent with The Guardian. It repeats the points Tucker just made.]
[End of transcript.]
This is a big deal. This is real news – news of a clear false flag effort by elements in the DC Swamp warmonger lobby to trick a United States president into launching yet another full-scale regime change war in yet another Middle Eastern nation.
Because it is real news, news that reveals even more of Washington's corrupt establishment, it will be ignored by the mainstream media, since they pretty much all serve as the megaphones for the DC Swamp.
Be glad Donald Trump was your President last April and remains in office today. Because if he wasn't, we'd have had another steady stream of young American men and women returning home from another God-forsaken Middle Eastern country in body bags for no reason whatsoever over the last 19 months, and no end in sight.
This, in fact, is why Donald Trump was elected in the first place. God bless him and keep him safe.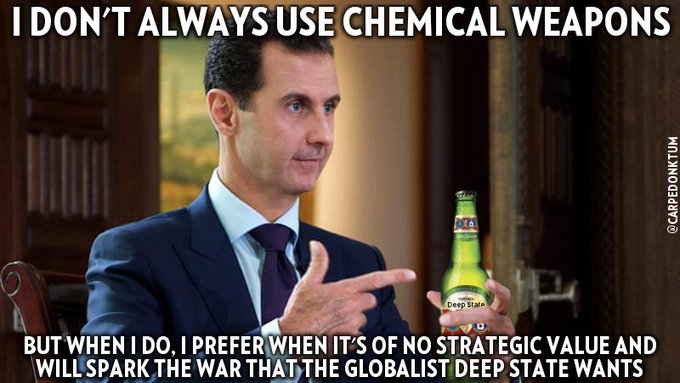 That is all.
Today's news moves at a faster pace than ever. Whatfinger.com is my go-to source for keeping up with all the latest events in real time.