Today's Campaign Update, Part III
(Because The Campaign Never Ends)
As we noted at Today's Campaign Update Sunday morning, Navy Secretary Richard Spencer and Seal Commander Collin Green were basically blackmailing President Trump. According to a Saturday report in the New York Times:
The secretary of the Navy and the admiral who leads the SEALs have threatened to resign or be fired if plans to expel a commando from the elite unit in a war crimes case are halted by President Trump, administration officials said Saturday.
The Navy is proceeding with the disciplinary plans against the commando, Chief Petty Officer Edward Gallagher, who counts Mr. Trump as one of his most vocal supporters. After reversing a demotion in recent days, the president suggested on Thursday that he would intervene again in the case, saying that the sailor should remain in the unit.

The threats by the Navy secretary, Richard V. Spencer, and the commander, Rear Adm. Collin Green, are a rare instance of pushback against Mr. Trump from members of the Defense Department. Defense Secretary Mark T. Esper and Gen. Mark Milley, the chairman of the Joint Chiefs of Staff, scrambled to come up with a face-saving compromise this past week in the hope that Mr. Trump could be persuaded to change his mind.
Late Sunday afternoon, Defense Secretary Mark Esper "requested" the resignation of SecNav Spencer. As reported by the Washington Post:
Defense Secretary Mark T. Esper asked for the resignation of Navy Secretary Richard V. Spencer on Sunday after losing confidence in him over his handling of the case of a Navy SEAL accused of war crimes in Iraq, the Pentagon said.
Esper asked for Spencer's resignation after learning that he had privately proposed to White House officials that if they did not interfere with proceedings against Gallagher, then Spencer would ensure that Gallagher was able to retire as a Navy SEAL, with his Trident insignia.
Spencer's private proposal to the White House — which he did not share with Esper over the course of several conversations about the matter — contradicted his public position on the Gallagher case, chief Pentagon spokesman Jonathan Hoffman said in a statement.
Esper said in the statement that he was "deeply troubled by this conduct."
"Deeply troubled," indeed.
This was basically the only viable solution to a situation in which the brass of one of America's armed services threatens the Commander-in-Chief. If the Times' report about Commander Green's behavior is also true, then he needs to go next, preferably before the day is over.
Spencer's acknowledgement of firing letter is exactly what we should have expected – self-serving and heavily-ladled with resistance BS: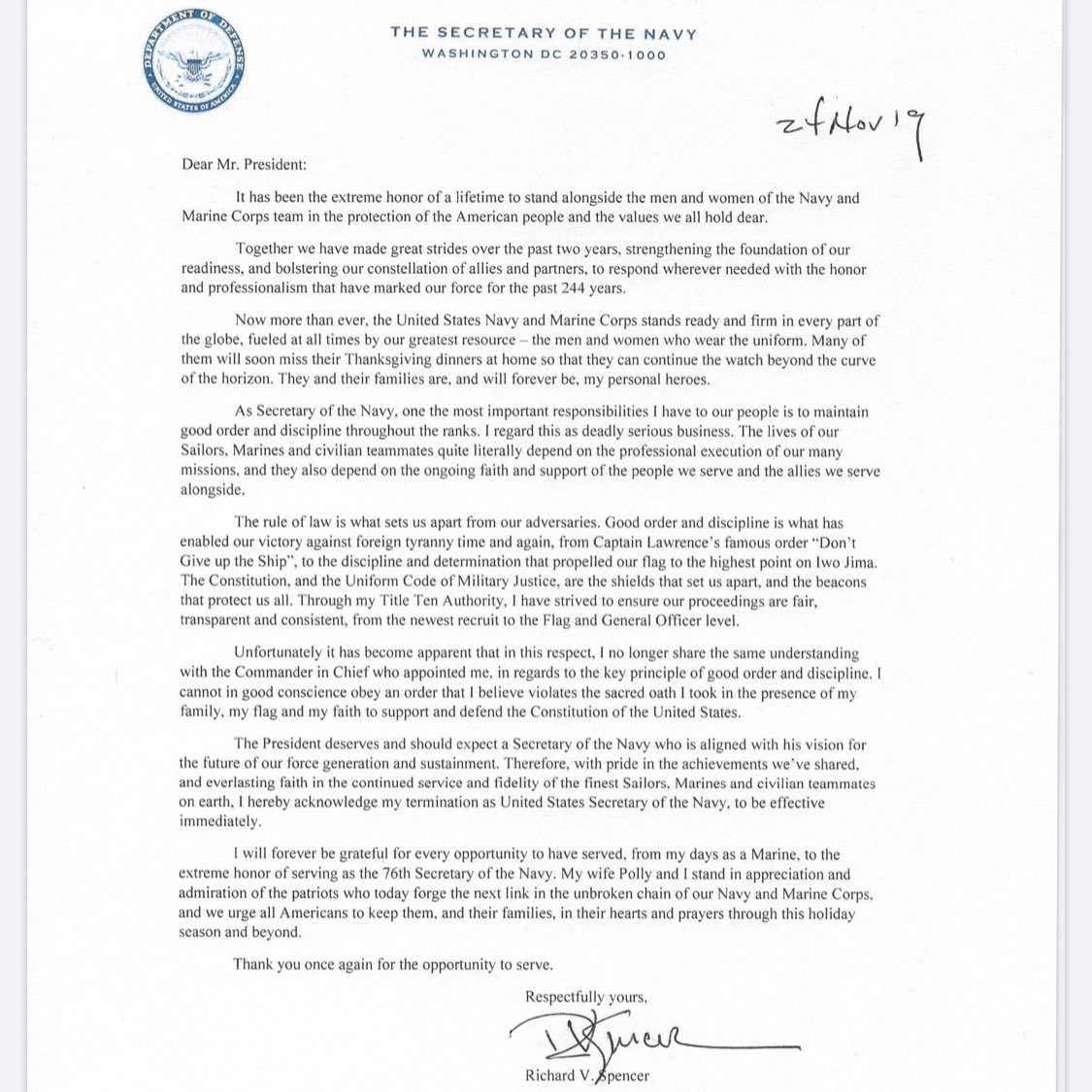 President Trump issued three tweets telling his side of this story:
I was not pleased with the way that Navy Seal Eddie Gallagher's trial was handled by the Navy. He was treated very badly but, despite this, was completely exonerated on all major charges. I then restored Eddie's rank. Likewise, large cost overruns from past administration's…..

— Donald J. Trump (@realDonaldTrump) November 24, 2019
….honors that he has earned, including his Trident Pin. Admiral and now Ambassador to Norway Ken Braithwaite will be nominated by me to be the new Secretary of the Navy. A man of great achievement and success, I know Ken will do an outstanding job!

— Donald J. Trump (@realDonaldTrump) November 24, 2019
That is all.
Today's news moves at a faster pace than ever. Whatfinger.com is my go-to source for keeping up with all the latest events in real time.