Today's Campaign Update
(Because The Campaign Never Ends)
Goodbye, Sheppie, we hardly knew ye.  –  Here is the only truly appropriate reaction to the news that the slimy Shep Smith has left Fox News: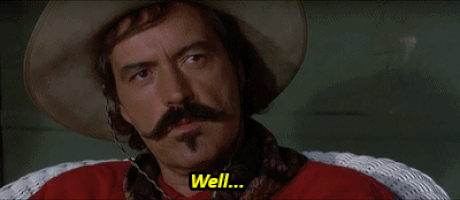 In all seriousness, does anyone really care that our TV screens will no longer be graced by this shrill, overwrought hack? In recent years, Smith's only role at Fox News was to come on air and cause half the cable channel's regular viewers to tune into OANN. The channel attempted to elevate his role a few years ago by making him the "anchor" for all breaking news stories, but that seemed to last about 6 months before the role mysteriously disappeared.
The truth is that the clown has carried on an uninterrupted 5-year audition for a job at CNN or MSNBC, using Fox's airwaves as his platform. Once his non-compete agreement with Fox has run its course – the time frame is not clear from published reports on the matter – we can expect him to come out with a highly-emotional book whose drama queen prose will resemble his frequent on-air rants, followed by the announcement of his new job "anchoring" some talking head show on one of those Democrat Party propaganda channels.
He'd fit right in with CNN's prime-time lineup, joining Fredo, Cooper Anderson and that other guy in haranguing travelers across the nation's airport lobbies with their leftwing nonsense. It's his destiny, in fact.
Speaking of Fox News, the New York Post puts the lie to that ridiculous impeachment poll that cable channel spent the last several days pushing. That poll, conducted by Braun Research, claimed to have found that fully 51% of the public now favors "impeachment and removal" of President Donald Trump. But, as the Post points out, that's mainly an artifact of an absurdly-biased polling sample:
Princeton, New Jersey, pollster Braun Research, which conducted the survey, noted 48% of its respondents were Democrats. But the actual breakdown of party-affiliation is 31% Democrat, 29% Republican and 38% independent, according to Gallup.

A poll weighted for party affiliation would have concluded that 44.9% favored impeachment and 44.4% opposed it, a Post analysis has concluded.
Oh. The more you know…
Thus, the President was correct about the Fox poll and Fox News in general when he responded to it on Twitter:
From the day I announced I was running for President, I have NEVER had a good @FoxNews Poll. Whoever their Pollster is, they suck. But @FoxNews is also much different than it used to be in the good old days. With people like Andrew Napolitano, who wanted to be a Supreme….

— Donald J. Trump (@realDonaldTrump) October 10, 2019
Yyyyyyyyyyyyyyyyyyyyyyyyyep.
That is all.
Today's news moves at a faster pace than ever. Whatfinger.com is my go-to source for keeping up with all the latest events in real time.