Today's Campaign Update
(Because The Campaign Never Ends)
Cow farts? What cow farts? – At the annual Steak Fry in Polk County, Iowa, Democrat presidential contenders helped cook up roughly 10,500 steaks and other cuts of beef for the attendees over the weekend. This conspicuous consumption of the by-products of cattle comes after those selfsame Democrats had spent six full months lecturing us all that we need to quit eating beef because the cow farts are destroying our environment.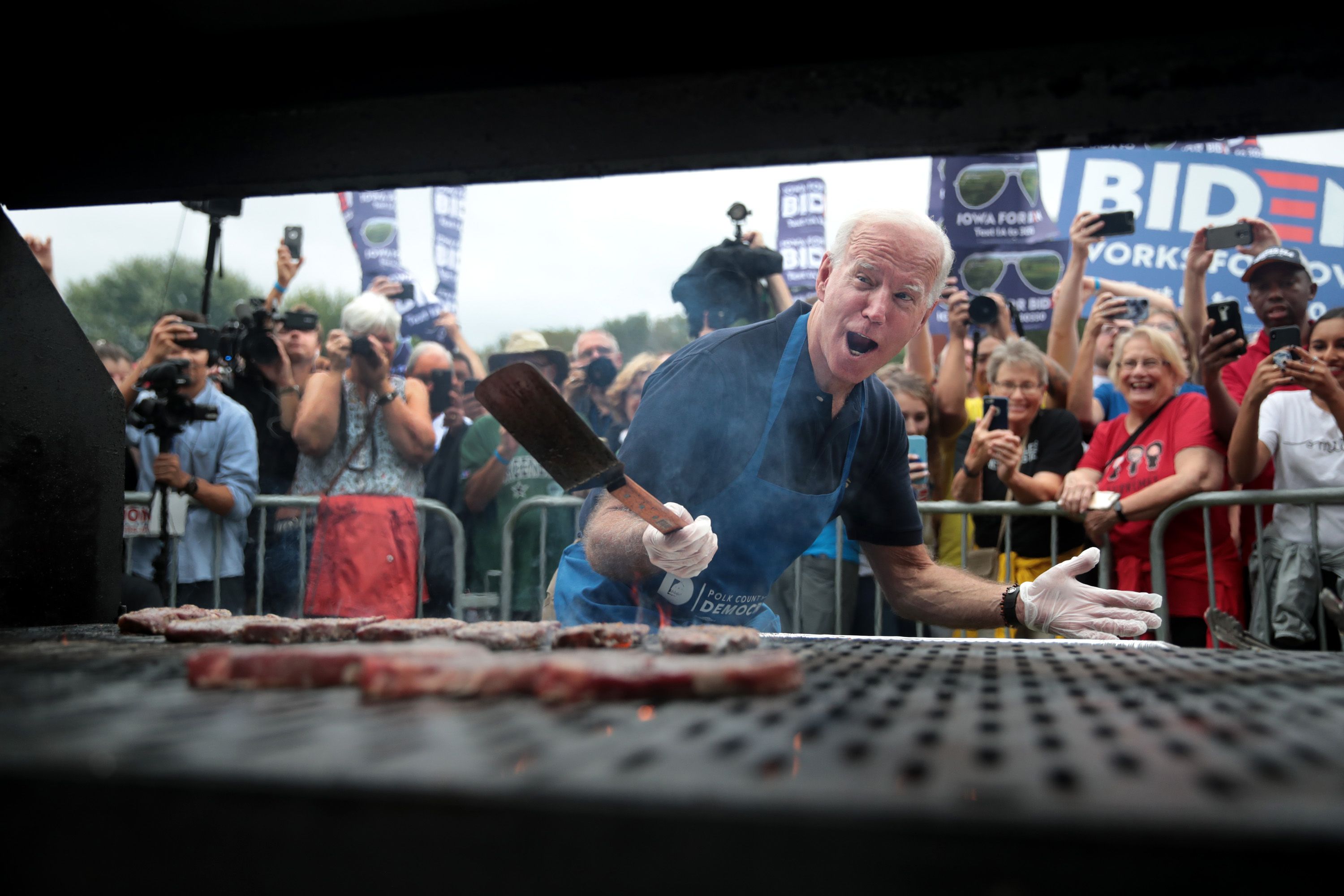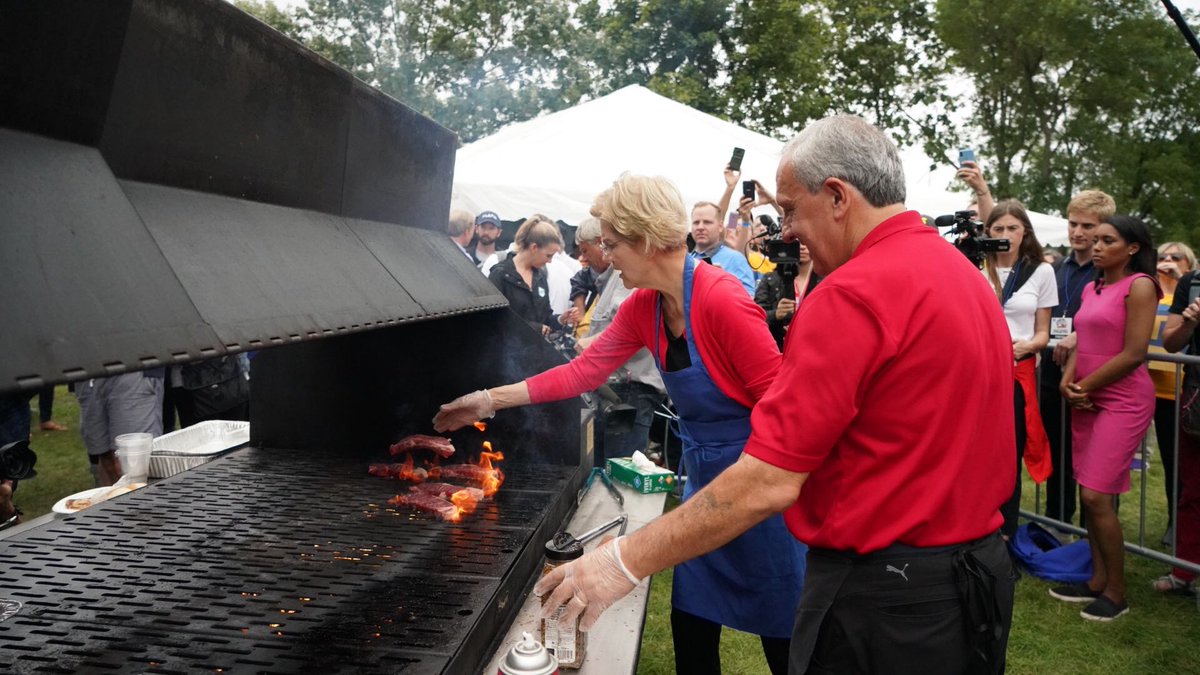 You seriously could never in a million years make these people up, folks.
The motives behind the "whistleblower" fake scandal are now becoming clear. – Some are speculating that this is a Democrat/media effort to protect Joe Biden from persistent allegations of wrongdoing in his dealings with Ukraine while serving as Vice President. Others are speculating that it's an effort by the Democrat/media complex to recover from the utter failure of their fake "Russia Collusion" narrative.
It is becoming increasingly clear that it is in fact both, and even more. It's also an effort by the Democrat/media complex to protect Hillary Clinton and her corrupt use of Ukraine spying efforts against the Trump Campaign in 2016.
Where Biden and Hillary are concerned, Rudy Giuliani laid it all out very clearly to a very uncomfortable John Roberts of Fox News on Sunday morning. Roberts did his best to obfuscate and shift focus on BidenClinton's  behalf, but Rudy got the message out in a very specific and brutal way regardless. Here's the clip – watch it at this link.
So, here are the bullet points on Rudy's comments:
– Ukrainian officials worked on Hillary Clinton's behalf to interfere in the 2016 U.S. elections and were in fact paid to do so;
– When the newly-elected Ukrainian president came into office, his administration began trying to get proof of his predecessor's interference efforts to the U.S. State Department and Justice Department, but those efforts were rebuffed for months by Obama holdovers;
– They finally decided to contact Giuliani last fall, and Rudy decided to take up the cause in large part because it would provide exculpatory evidence against the efforts by Special Counsel Robert Mueller and the Democrat/media complex to frame President Trump;
– Giuliani has been trying to get someone, anyone in the mainstream news media to report on the matter, but has met a stonewall of media corruption, including at Fox News;
– Meanwhile, Biden's corrupt acts vis a vis Ukraine are a matter of public record, and video even exists of Biden bragging about strong-arming the 2016 Ukraine government to fire the prosecutor who was investigating his son's firm for corruption. He was proud of it.
Now, while all that's going on, percolating just below the surface waiting to bubble up in the midst of the Democrats' presidential nominating race, the Mueller Report comes out and is a complete dud. This leaves San Fran Nan, Jabba The Nadler and Bug Eyes Schiff in the lurch, pulling the rug out from under their grand plans to impeach the President on obstruction of justice grounds.
What to do, what to do?
What is now becoming obvious is that Schiff or someone close to him in the Lawfare community came up with the idea of dummying up a new pretense for "obstruction." How do they do that? Well, the intelligence bureaucracy is still teeming with Obama holdovers eager to do the work of the Deep State. Just get one of them to file a complaint against President Trump under the intelligence community's whistleblower statute.
While all this scheming is going on, lo and behold, President Trump holds a call with Ukrainian President Volodymyr Zelensky in which the corrupt actions of Vice President Joe Biden becomes one of the topics that arise during a discussion about all the rampant corruption that took place under Zelensky's predecessor. Now, all you have to do is find someone in the intel community – preferably one of the array of senior folks who listened in on the call first-hand – to file a complaint. When none of those people heard anything to complain about, no problem – you just find some second-tier Obamaphile who heard some stuff about the call second-hand, and presto!, you have your "whistleblower."
Next, have Schiff, in his role as Chairman of the House Intelligence Committee, start filing subpoenas for documents, recordings and testimony that he knows he will never receive. He knows this because a) the intelligence community's whistleblower statute does not apply to the president of the United States, and b) such requests present all manner of separation of powers issues under the Constitution, as I explained in yesterday's Campaign Update. Thus, with the White House refusing for very valid reasons to cooperate, you send Bug Eyes and his deputies out to be interviewed every hour on the hour on CNN and MSNBC and Shep Smith at Fox, wailing about the President's "obstruction of congress."
Now, it's time to bring the thousands of Democrat media toadies into the game, complete with a set of talking points they all loyally parrot on TV, radio and in their print publications. Those talking points maintain that Biden did nothing wrong, that Hillary was never involved with the Ukraine, and the only person who ever did anything bad related to Ukraine since The Ukraine was invented is the Bad Orange Man in the White House.
So now we have a layer of media protection atop both Hillary and Crazy Uncle Joe, and Schiff running all over the place claiming a new "obstruction" scandal that supposedly gives the House grounds to impeach the President. All that over a phone call that was clearly a perfectly fine instance of the POTUS conducting U.S. foreign policy as envisioned in the Constitution. It's as brilliant as it is evil.
Now, there's nothing real to worry about here, given that the entire case against the President is made up out of whole cloth, exactly as the entire "Russia Collusion" fantasy was. The Democrats aren't doing any of this out of any real thought they might actually be able to impeach Donald Trump. They're simply using it as a distraction to protect two of their Party's most corrupt icons, and in hopes of damaging Trump's chances at re-election.
It is no accident that all of this arises just as the President's public approval ratings have again risen above those enjoyed by Barack Hussein Obama His Own Self at the same point during his first term in office. It is also no accident that it all comes up as the Trump economy refuses to cooperate with the Democrat/media's six-week-long effort to talk us into a recession. I mean, when you have Bloomberg publishing a piece titled, "Hold that Recession: U.S. Indicators are Trouncing Forecasts," you know that particular ship has run aground.
This latest elaborate bit of Democrat/media theater will likely have a similar lifespan before it has entirely imploded and run its course. It will fail just as all the prior fantasy plays against Trump have failed, because Trump did nothing wrong.
It's tiresome, but this is all these corrupt, morally-and-intellectually-bankrupt Democrats have. You would think they'd get tired of all the scheming and play-acting at some point, but no, it's only going to get worse as Election Day 2020 approaches.
This will never end until we stop electing Democrats. It really is that simple.
That is all.
Today's news moves at a faster pace than ever. Whatfinger.com is my go-to source for keeping up with all the latest events in real time.