Today's Campaign Update, Part II
(Because The Campaign Never Ends)
First, some absurdity.
NFL Quarterback, 1964:
NFL Quarterback, 2019:
No commentary necessary.
In case you missed it, San Fran Nan had another procedure during the August recess. Her eyebrows are now closer to her receding hairline than they are to her retinas: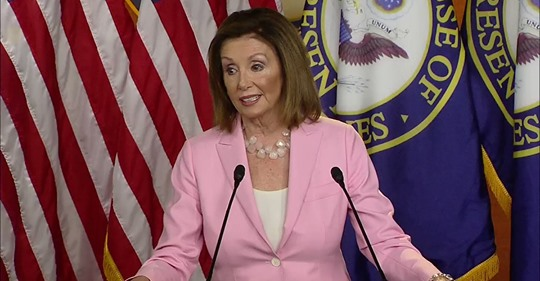 Also in case you missed it, watch as Joe Biden damn near loses his teeth while trying to answer a question at Thursday's debate:
joe biden's teeth are straight up falling out of his mouth #DemDebate pic.twitter.com/6B41py2gbL

— Christian Datoc (@TocRadio) September 13, 2019
Which raises the eternal question: Why won't these people ever retire? San Fran Nan is 79 years-old and still desperately clinging to her power. Biden is almost 77 and running a destined-to-miserable-failure race for the presidency. Both of these Democrat "leaders" often look and act like they barely know where they are at any given point in time.
And they're not really exceptional compared to many of their colleagues. Bernie Sanders is almost 78. Patrick Leahy is 79. House Majority Leader Steny Hoyer is 80. House Majority Whip James Clyburn is 79. Stolen valor Sen. Richard Blumenthal is 73. Dickie Durbin is 74. Dianne Feinstein is a whopping 86 and still clinging to the hope she'll be able to confiscate all your guns. Hillary Clinton is still plotting a behind the scenes at age 71 to find a way to steal the Democrat presidential nomination if there is a contested convention next year.
Hillary, by the way, is the same age as Uncle Cy Robertson:
What is it that keeps these fossils hanging around? Why won't they gracefully step aside and let the younger generation take over?  Is it the narcotic of political power? Is it the strange ability of "public servants" making about $170,000 per year to somehow accumulate hundreds of millions of dollars in wealth over the span of their careers? In the case of the Clintons, is it out of a sense of desperation as they try to find ways to avoid the wheels of justice catching up to them?
Whatever the motivation is, it's a strong one. I'm 63, in very good health, and I'd frankly be thrilled to death to just hang up my spurs completely, get a home on a Caribbean island, and sit on my lanai watching the waves and sipping rum punches for the rest of my days.
But these elderly folks appear anxious to spend 2/3rds of their time glad-handing and fundraising and continuing to work unending 16-hour days. You have to admire their energy, even if  they do spend it on their tireless efforts to destroy American society.
That is all.
Today's news moves at a faster pace than ever. Whatfinger.com is my go-to source for keeping up with all the latest events in real time.