Today's Campaign Update, Part II
(Because The Campaign Never Ends)
When the top line of a new poll is not the real story.–  I laughed out loud when I saw the topline numbers of the new Emerson College poll that was released this morning. My laughter was totally at the expense of Irish Bob O'Rourke, who has now dropped below the likes of Cory Booker, Tulsi Gabbard and Andrew Yang in the pecking order of this particular poll.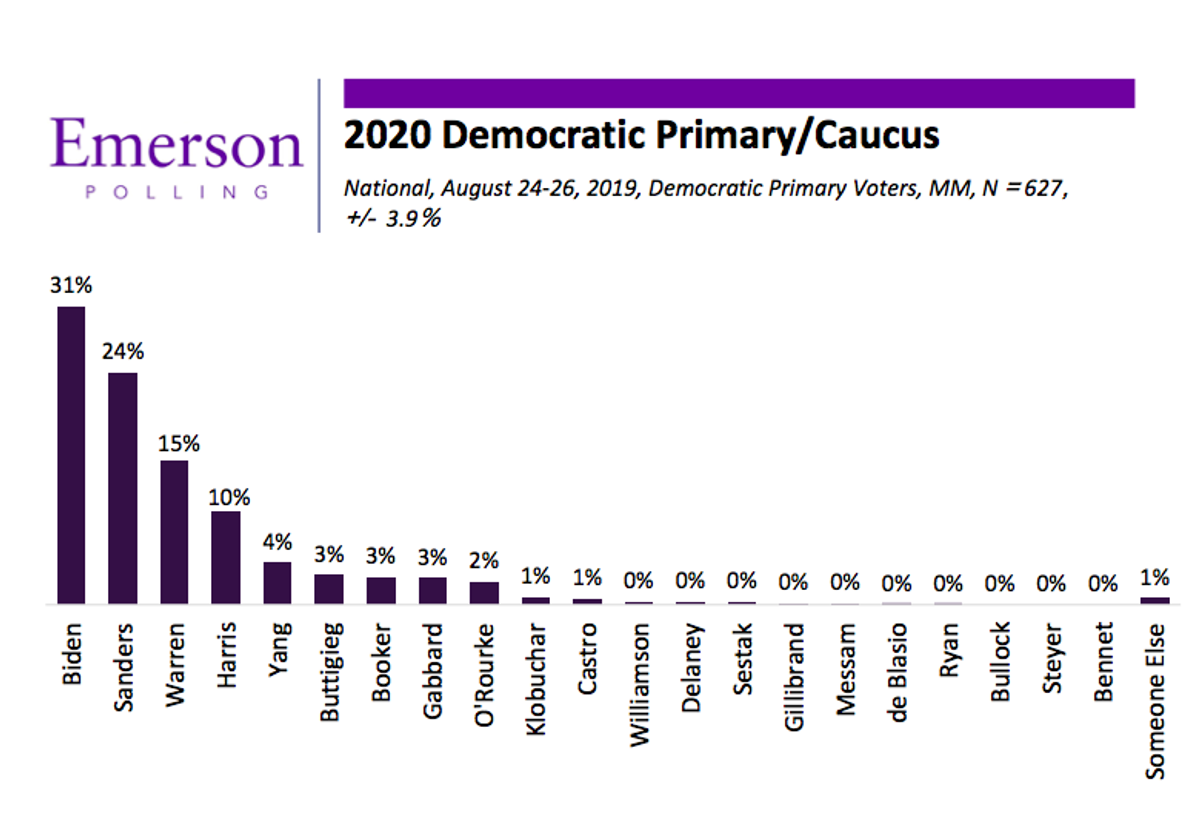 Mere words cannot express the amount of pleasure it gives this 7th-generation Texan to see this fraudulent circus clown falling down into 4th-tier status, relegated to competing with the likes of Amy Klobuchar and Julian Castro for the crumbs that fall from the vote-filled cookies being consumed by Crazy Uncle Joe and The Commie.
For purposes of illustrating that joy, here is what I looked like at about 11:00 CT this morning:
Hey, don't judge me! I had to sit through interminable hours of ads for this guy's failed senate campaign last year – I'm entitled to a minute or two of heavy gloating. So is Senator Ted Cruz, come to think of it.
Anyway, I initially thought this was the big story out of this otherwise unsurprising poll, and figured that I'd focus on that, along with Yang's fairly surprising 4% and Mayor Pete's continuing fade from relevance for this afternoon's Update.
But then I browsed through news reports about the poll, and came across this one at Business Insider:
Only 33% of Americans agree with an autopsy report that says Jeffrey Epstein died by suicide, according to a new poll.
The Emerson College poll also found that 34% of respondents said they believe he was murdered, falling in line with numerous conspiracy theories that have flourished since the disgraced financier's death.
So, three weeks of fake news media reports assuring us that Epstein's extremely convenient death was a simple suicide, after the autopsy came back in support of that finding, and after what we are supposed to believe was a full and complete investigation by the stalwart "rank and file" of the FBI, only one in three Americans are actually buying the official narrative here.
Business Insider, as an arm of Yahoo News, naturally blames it all on "conspiracy theories" being promoted by those nasty people on social media, and to be honest, there have been a lot of alternative theories thrown into the public mix about Epstein's demise. Still this 33% belief in the official narrative represents an extraordinary failure by those who have invested so much time and effort in its promotion.
The reasons for that have little to do with the promotion of "conspiracy theories," though. In fact, the biggest problem that the FBI and its fake media toadies have here comes in the form of the actual facts about the case that have been made public.
There are just too many odd coincidences that took place related to the security measures for the government's most high-profile prisoner to be believed by anyone capable of critical thought processes. This is, after all, the same federal law enforcement complex who the fake news media has been assuring us is pretty much infallible since it became publicly known that they attempted to fix the 2016 elections.
But now, that same fake news media expects you all to believe that, in a case involving a life-long pedophile billionaire who happened to be running buddies with all manner of prominent leftist political figures and celebrities, why, that infallible federal law enforcement complex was just as bumbling and clownishly-incompetent as can be! Just your ordinary, everyday confluence of incompetence and bad luck, folks! Nothing to see here! Go on about your business! um, please?
As is pretty much always the case, Americans are not as stupid as the fake media believes them to be. After all, if they were that stupid, Irish Bob O'Rourke would be a U.S. Senator now, Stacey Abrams would be Governor of Georgia, and Al Gore would be a former President instead of the second incarnation of P.T. Barnum.
What we are seeing here is sort of a 56 years-later replay of the aftermath of the John F. Kennedy assassination. Because there was no Internet or social media back in 1963, it took a lot longer to happen, but once all the disturbing facts surrounding that killing of a U.S. president slowly made their way into the public domain, public belief in the official narrative, which had been initially fairly high, plummeted.
That skepticism about the official findings that Lee Harvey Oswald was the lone assassin lingers into modern times. In a poll published in October, 2017, FiveThirtyEight found that just 33% of Americans buy into the Oswald-as-lone-nut theory.
The reality is that the 1 in 3 Americans who still buy into the official stories related to Epstein and Oswald believe them mainly because they, like Fox Mulder, want to believe. Many Americans just cannot accept the reality that their government would intentionally lie to them, yet there is no longer any doubt at all that the Warren Commission's report was filled with hundreds if not thousands of outright lies about what happened in Dallas when JFK was killed. The government withheld all sorts of evidence in that case and lied about so much more.
So, if most of the public is skeptical about what we are being told happened to Jeffrey Epstein, they have very valid reasons for feeling that way, and our fake news media has played an enormous role in creating that lingering lack of trust.
That is all.
Today's news moves at a faster pace than ever. Whatfinger.com is my go-to source for keeping up with all the latest events in real time.