Today's Campaign Update
(Because The Campaign Never Ends)
[Editor's Note: The Campaign Update will be silent from July 11 through July 23 because Dave needs some down time.]
The world mourns the loss of a leftist hero. – Americans all over…well…somewhere were saddened on Monday when Democrat presidential non-contender Eric Swalwell, who famously promised on Twitter to nuke recalcitrant citizens (see below) who refused to surrender their guns to his planned army of jack-booted thugs, announced he was ending his campaign. Swalwell had run a valiant, disciplined and focused campaign, one that saw him rise all the way up to next-to-last place in the race, reaching as high as .000001% in the polls before the first debates two weeks ago.
Sadly, this turned to to be the point of Peak Swalwell.
After what critics unfairly labeled as a "laughable," "cartoonish," and "is this guy really serious?" debate performance saw his poll standing fall to .00000001% in the polls taken afterwards, Swalwell reassessed his chances. Realizing that not even appearing on the same stage with the likes of Kirsten Gillibrand and John Hickenlooper had helped his standing with potential voters, Swalwell decided to throw in the towel (if only he could have been on-stage with Beto O'Rourke – then he'd have appeared almost normal). The decision point apparently came when he saw that his popularity had fallen even below that of the despicable and buffoonish Bill DeBlasio.
So back to congress he will go, where he can once again take up the gauntlet as CNN's second-favorite liar about the Mueller Report, right behind his fellow California congressman, Adam Schiff.
"We have to be honest about our own candidacy's viability," Swalwell told reporters at a press conference Monday. "Today ends our presidential campaign, but it is the beginning of an opportunity in Congress with a new perspective shaped by the lives that have touched me and my campaign over the past few months."
Neither of the two residents of Dubuque, Iowa whose lives apparently touched Swalwell were available for comment. Both were too busy cooking up a new batch of meth.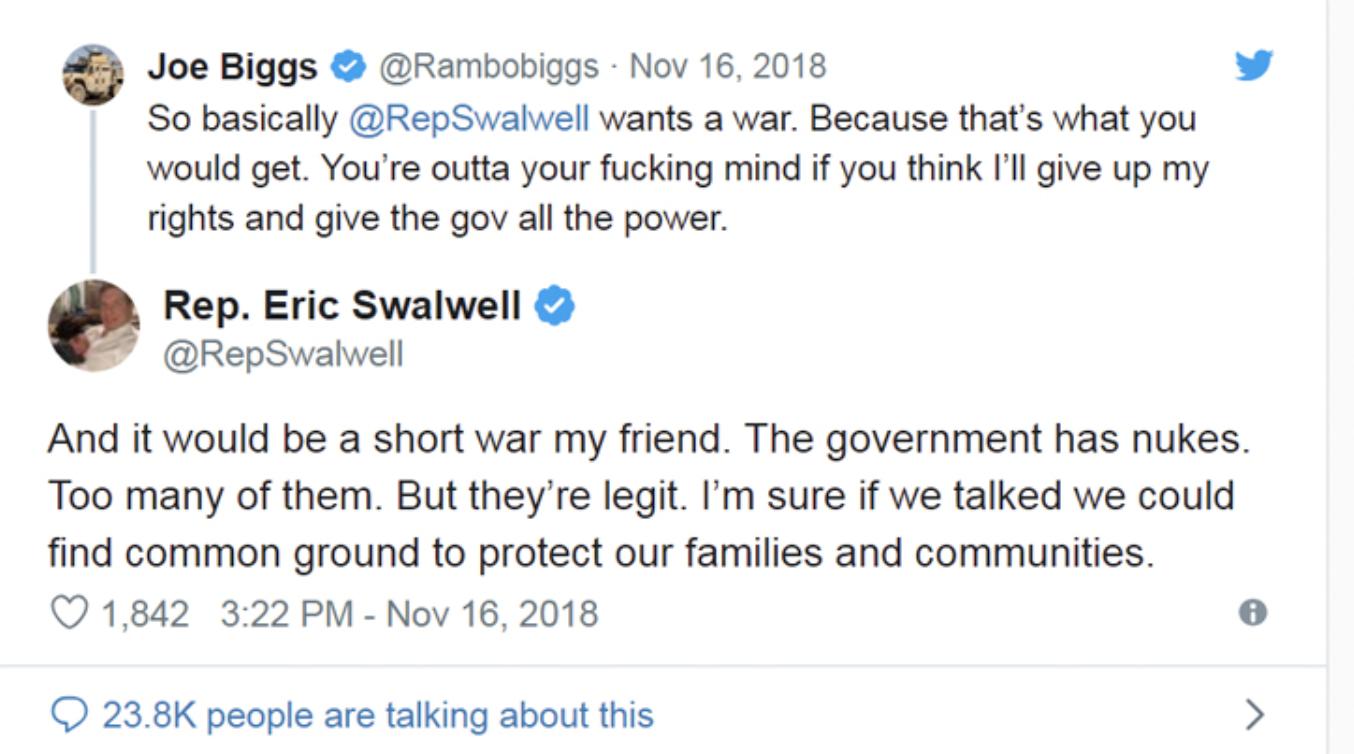 We barely knew you @ericswalwell, may your campaign live on forever in our hearts. pic.twitter.com/25U8XtGjow

— Carpe Donktum? (@CarpeDonktum) July 9, 2019
But never fear, for Tom Steyer is here! – Yes, friends, just when things look their darkest, a new self-serving light appears on the horizon. Self-styled "environmental" activist Tom Steyer – hey, did you know he amassed his fortune investing in coal? – plans to jump into the race today.
Oh, joy!
You may remember Steyer. He's the guy who famously spent tens of millions of his own money in 2017-2018 on a series of TV ads promoting the impeachment of President Donald Trump. He is so personally repugnant on television that the ads actually caused the President to go up in the polls.
Oh, so he's just like Eric Swalwell, but with a lot of money?  Yes, that guy.
Steyer is a one-trick pony, a pony whose one trick is exactly the same as Washington state Governor Jay Inslee, another sort-of-candidate who is polling at .000000001% in the presidential horse race. So Steyer apparently plans to swoop into the race, scoop up Swalwell's .000000001% support and fight it out with Inslee over how to destroy the U.S. economy to fight the bogeyman "Climate Change." The "winner" would presumably then have .00000002% support and be on a bullet to overtake DeBlasio for next-to-last place.
After that, he would obviously target Gillibrand and her .00000003% support, and be off to the races.
No telling how many millions Steyer is willing to part with in order to achieve his goals, but a fool and his money are soon parted, and Steyer has billions to part with. So, it's probably a lot.
If they didn't actually exist (which I'm assuming they actually do, though I have no real proof), the greatest fiction writers in world history could never come close to making these Democrats up.
That is all.
Follow me on Twitter at @GDBlackmon
Today's news moves at a faster pace than ever. Whatfinger.com is my go-to source for keeping up with all the latest events in real time.