Today's Campaign Update
(Because The Campaign Never Ends)
I did not watch last night's Democrat debate, aka, Fauxcahontas Fest. Life is just too damn short to put myself through that nonsense. Plus, my blood pressure's been a little elevated lately, and there's no use monkeying around with that, right? Right.
But we can still draw plenty of conclusions from the festivities just from perusing the news coverage of the event this morning. Let's go through some of them now:
Beto O'Rourke made an ass of himself, and we have photographic proof. – Irish Bob broke out in Spanish in a non-answer to a question posed to him early in the debate, and the look on Cory Booker's face while he was doing it is priceless: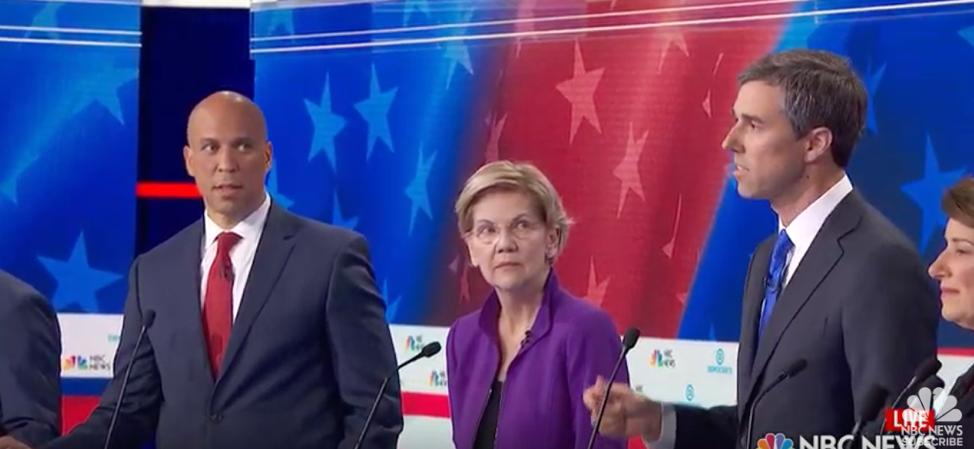 Fauxcahontas is standing there trying to figure out how to say all of that in Cherokee. Klobuchar's looking for a notebook to throw at him. But I digress.
The best part was when the lights went out. Some enterprising NBC technician apparently decided that the paltry audience for this debate needed a break from all the larceny and nitwittery taking place, and doused the lights just as Chuck Todd and the guy sitting next to him… wait, that was a woman? Rachel Maddow? So hard to tell … were about to take their turn asking questions. President Donald Trump did the nation a service and sent out a tweet with a clip of that segment this morning:
Thank you @MSNBC, real professionals! @chucktodd @maddow pic.twitter.com/7ZCkcUQ4yA

— Donald J. Trump (@realDonaldTrump) June 27, 2019
Everybody lied about everything. Well, what did you expect? These are all Democrats. Of course they all lied about everything. If Democrats started telling the truth they'd never win another election.
Lieawatha did not get the most camera time. According to the New York Times (cough) that title when to the always verbose and dramatic Cory Booker. This isn't all that surprising, really. Booker can filibuster with the best of them. Irish Bob got the second most time, but nobody understood anything he was saying, and all the arm-waving meant nobody was listening anyway.
Little Big Mouth Always Running, meanwhile, came in third place in the minutes race, 90 seconds behind Booker. Down at the bottom of the list were two outright Marxists, Bill Deblasio and Jay Inslee, both of whom need to pack things up, go back home and focus on ruining New York City and the state of Washington, which is their core competency.
Julian Castro, an actual Hispanic, apparently felt he needed to his punch fellow Texan and fake Hispanic in the gut last night in order to stand out. He repeatedly interrupted Irish Bob, and at one point also broke out into Spanish just to show the audience what a real Mexican American sounds like. Not sure it got him anywhere, but hey, when you're polling at less than 1% you start to take desperate measures.
They all had favorite boogeymen. Because of course they did – they're Democrats. Boogeymen are their stock in trade. Most notable boogeymen of the evening were: Climate Change, Mitch McConnell, and of course, Donald Trump. *sigh*
Tulsi Gabbard had a good night, but it probably won't matter much. Here's what I wrote about Gabbard and this debate on June 15, after the lineups for the two nights were announced:
You know who really got screwed by that draw? Tulsi Gabbard, who needs people to be watching in order to notice that she's the only person on that stage who will be saying what she actually thinks, rather than reciting talking points written for her by other people, as all the others will be doing. Trust me, that's not an accident, either, given that the Obama people who run the DNC detest Rep. Gabbard.
Well, Gabbard did have a good night, as evidenced by this chart showing which candidate was the most-Googled during the debate in each state: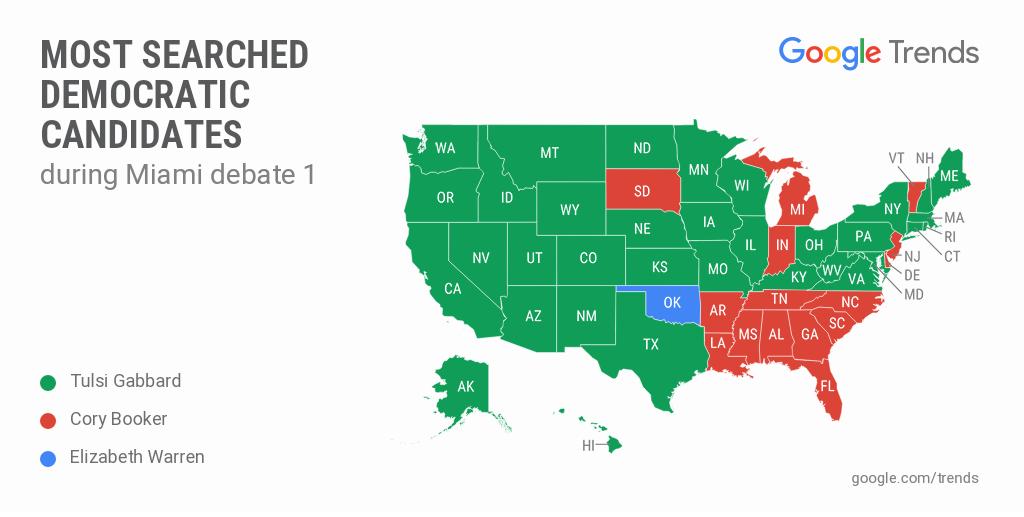 Gabbard also overwhelmingly won the Drudge Report insta-poll following the debate, coming in at almost 40%:
Unfortunately for the congresswoman from Hawaii, initial estimates are that just 9 million viewers were tuned into last night's festivities (See? Life is just too short for most of you, too). That compares to the more than 30 million who regularly tuned in to watch the early Republican debates featuring Donald Trump in 2015.
So, Tulsi is likely to get a little bump in the polls out of this debate, but it will be difficult for her money-starved campaign to capitalize on it. Still, she remains the only actually interesting person in the entire field, simply because, like Donald Trump in 2015, she stands out as the only authentic person on the stage. If nothing else, she certainly elevated her prospects for being selected as a vice-presidential running mate.
Now, let's talk a little bit about Fauxcahontas, because she is doing something interesting that I only see a few picking up on this morning. She is actually picking spots to channel the policies of … wait for it…Donald J. Trump.
No, seriously, think about it: She's been running around the country lately talking about the need to break up the big social media giants, focusing especially on Facebook and Google. Who else has been talking in those terms? Your President.
Last night, she talked at length about the need to bring jobs back to America. President Trump has spent the last two-and-a-half years not just talking about that very thing, but making it happen. Bigly.
Whether you like the fake Indian or not – and honestly, how could any sentient being actually like her – you do have to recognize the clever nature of this approach. Expect her to start triangulating to adopt more successful Trump policies into her repertoire as the campaign goes on.
Optics matter. Irish Bob deciding to pander to Hispanics by breaking into Spanish at random was really poor optics, as are his constant head-bobbing and arm-waving. He is well and truly done after this debate, and should just run back home to Texas and challenge John Cornyn for the senate.
Though she had a good night overall, Warren really missed the boat with her spot on center stage by choosing to wear a dull purple jacket. It's shallow, and maybe sexist, but one of the reasons why Gabbard stood out so clearly on that stage last night was because she wore bright red. The human eye is attracted to bright colors. If you want to call me sexist for saying that, then you're a moron and I don't have time for you.
So, judging from the media coverage of the debate this morning, here are the winners and losers:
Winners:
Donald Trump
Tulsi Gabbard
Fauxcahontas
Mitch McConnell (who got more air time last night than half of the contestants)
Cory Booker
Losers:
Irish Bob
Bill DeBlasio
Jay Inslee
Amy Klobuchar
Meh:
Everyone else.
I won't be watching tonight's second debate, either, but I will certainly provide another un-watched summary of events tomorrow morning.
That is all.
Follow me on Twitter at @GDBlackmon
Today's news moves at a faster pace than ever. Whatfinger.com is my go-to source for keeping up with all the latest events in real time.