Today's Campaign Update
(Because The Campaign Never Ends)
What, you mean I have to keep doing my job? Why didn't someone tell me? – Pete Buttigieg got an unpleasant reminder late last week, when he found out he had to actually return to South Bend, Indiana, the town of 100,000 – you know, about the number of people who try to get tickets to the average Trump rally – where he still happens to be mayor.
There, he found a small group of Black Lives Matter protesters, courtesy of George Soros, who were expressing anger over a recent police shooting of a black man in the city, a shooting that the officer's body camera mysteriously failed to record.  Imagine that. Mayor Pete managed to offend these protesters immediately by reading from a prepared script as he addressed them.  I kid you not: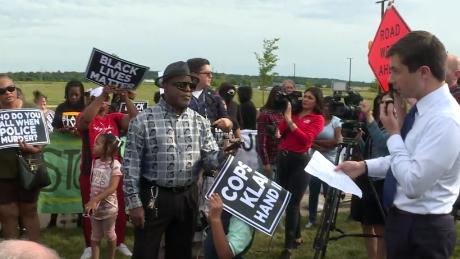 Boy, that's a great look, huh? He looks like a 15 year-old high school sophomore participating in his first debate class. One mystery here is why does he need that hand-held mike? There were only about 20 people there – he can't speak loudly enough to be heard without amplification?
Horrible optics that should get some campaign aides fired aside, the weekend was a lost one for Mayor Pete, one in which he had to cancel several scheduled presidential campaign events to return home and pretend to be doing the job he's been ignoring since March. As luck would have it, a mass shooting broke out while he was in town, one that the preponderance of our fake news media completely ignored in service to their favorite Democrat "rising star."
From the AP report linked above:
Violence flared again in South Bend early Sunday when a shooting at a pub left a Michigan man dead. Police identified the man as Brandon Williams, 27, of Niles, Michigan. Another 10 people suffered gunshot injuries in South Bend Sunday, the St. Joseph County Metro Homicide Unit said. Five of the wounded remained in hospital in stable condition later Sunday. County Sheriff William Redmond said his officers assisted South Bend police in controlling a crowd of more than 100 "upset and angry citizens" who came from the pub to the hospital where the wounded were taken. It was not immediately clear what prompted the shooting.
That's a total of 11 people shot, one killed, in a town of 100,000 in a single bar in a single day. Boy, that Mayor Pete is doing one whale of a job, huh?
Our intrepid public semi-servant then held a town hall on the police shooting Sunday evening, and that event went totally downhill almost before it began. After the mayor and police chief seemed to blame the victims of the bar shooting for getting shot, one woman had had enough:
"I don't understand how you expect anyone to talk about respect in an oppressed society," she told the city leaders. "What is respect in an oppressed society? How can you blame the victims of last night in an oppressed society?"
Another woman told a reporter from the LA Times present for the town hall this:
"You might as well just withdraw your name from the presidential race," the woman sitting next to me murmurs. "His presidential campaign is over… I believe that today ended his campaign."
The same reporter had tweeted the following a few minutes after the town hall had begun:
"Very, very hostile town hall for Pete Buttigieg over a police shooting in South Bend. The crowd gets upset and angry when a representative for Al Sharpton is the first to take the mic for questions from the crowd. This thing is teetering on the edge of chaos."
Now, the picture our fake news media has given us of Mayor Pete is one of a totally wonderful Mayor whose city runs like a well-oiled machine. Everybody loves Mayor Pete, and all is sweetness and light in his city. Yesterday, we saw a different reality of South Bend, one of a smallish city torn by racial strife, a city whose Black citizens feel ignored and abused by local officials.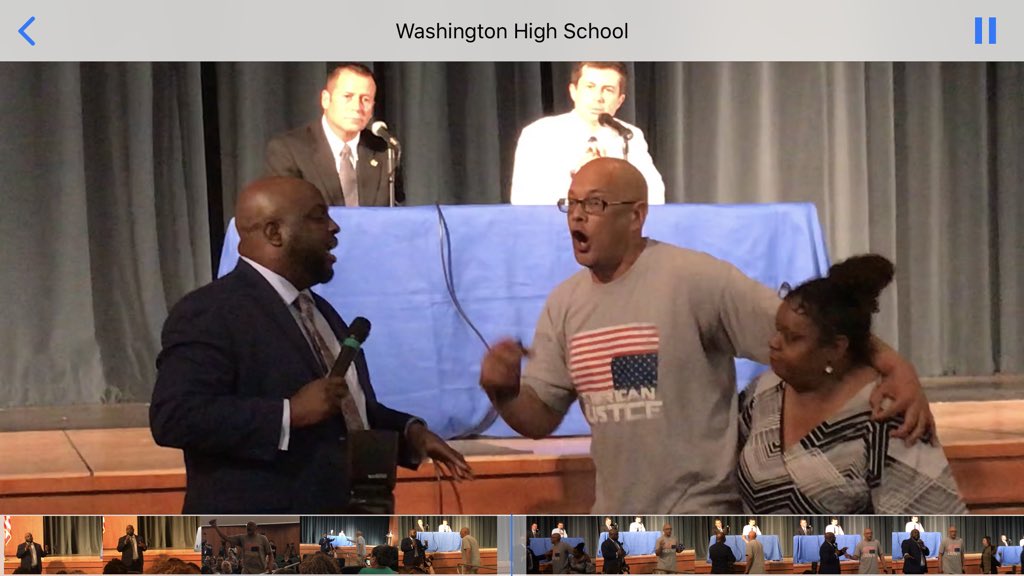 Although the media has done its best to hide it from us, we also saw a different side of Buttigieg himself. Instead of the self-assured talking points parrot who so slickly fields questions from friendly reporters on television, we saw a squeamish, halting man-child who must resort to reading from a script when confronted by unfriendly protesters. We saw a kid who can't manage a town whose entire population would fit into Darrell K. Royal Texas Memorial Stadium in Austin, but who is now asking us to put him in charge of a nation of 330 million.
At the end of the town hall, Mayor Pete promised the angry crowd that "This is the beginning of a conversation that will continue."
You get the feeling that they've all heard that one before, and aren't real happy about the follow-up, or lack thereof. Anyone willing to take a flyer on having the same outcome for the entire country is in need of some special counseling.
That is all.
Follow me on Twitter at @GDBlackmon
Today's news moves at a faster pace than ever. Whatfinger.com is my go-to source for keeping up with all the latest events in real time.