The Campaign Update Week in Review
(Because The Campaign Never Ends)
No more Twitter Week in Review, I'm afraid. For whatever reason, WordPress doesn't seem to be able to handle that many photos in a single post anymore. Weird. So until I figure that bit of technical nonsense out, we'll have to review the week the old-fashioned way, with mostly words. Man, it's like we're back in the 20th century here.
So, here is your Week in Review, retro-style:
The week began with fake Republican Justin Amash from Michigan, joining his fellow Michigander Rashida Tlaib in calling for President Trump's impeachment. Like Tlaib, Amash has no clue what the exact grounds for impeachment would be, but he did know his business interests in China were suffering from the President's trade policies, and by golly, that was enough for him. In response to Amash's craven act, House Minority Leader Kevin McCarthy encouraged Amash to just go ahead and switch parties. Good advice.
While 25 despicable candidates for the Democrat nomination were out around the country giving students false hopes that their massive college loans would be forgiven if only they voted for them – that isn't gonna happen unless we want to crash the national banking system – Austin billionaire investor Robert F. Smith took matters into his own hands. In the midst of his commencement address at Morehouse College, Smith informed the graduating class that he would personally be paying off their loans, an incredibly generous gesture that will cost him an estimated $57 million.
I would say hey, maybe Smith should run for the Democrat nomination, but 1) I don't know the man's politics, and 2) no one that intelligent could possibly attract the votes of the deranged Democrat voter base.
By Monday, it had become apparent that Irish Bob O'Rourke's "re-boot" of his moribund campaign had already run aground, and polls issued throughout the week showed his numbers had dropped from a fairly consistent 5-6% support a few weeks ago down to a consistent 2-3% now. Apparently, even his wife and dog are now planning to vote for Mayor Pete instead.  Oof.
Hey, remember Eric Swalwell, and how he was also running for the Democrat nomination? Given that he consistently hits 0% in the polls, not many people do. But he is running, though no one is really sure why. On Monday the Washington Free Beacon did the Washington Post's job, reporting that the 38 year-old California nitwit has failed to pay down his own student loans, which total up to as much as $100,000. Hey, maybe that's why he's running – so he can forgive himself. It makes more sense than anything else.
Speaking of Democrats mysteriously in the race, ex-Colorado Governor John Hickenlooper told an interviewer this week that "Withdrawing the U.S. from global engagement makes us less safe." The only trouble is, no one is doing that. So he wins this week's non sequitur award.
It was the week that the deep state rats really started scurrying for cover, with Usual Suspects like James Comey, John Brennan, James Clapper and Loretta Lynch very publicly arguing with and pointing fingers at each other in a desperate attempt to avoid becoming the subjects of grand jury subpoenas and indictments. Cartoonist A.F. Branco captured it all perfectly here: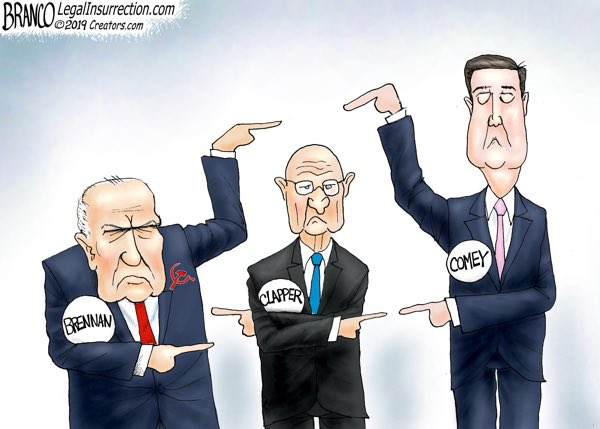 When President Trump re-tweeted that hilariously perfect cartoon, both Brennan and Comey got a very public case of the vapors, which they of course took to their Twitter feeds. Doesn't everybody?
By Tuesday, the cacophony coming from House Democrats demanding impeachment had reached high enough decibel levels that even doddering old Nancy Pelosi could hear it, so she called a special 'impeachment meeting' with all of them on Wednesday morning. Emerging from that meeting, she accused President Trump of executing a "cover-up", and then immediately traveled to the White House for a long-scheduled meeting with the President and Chuck Schumer on infrastructure. Trump then abruptly cancelled that meeting due to Pelosi's having just accused him of felonious behavior, starting a public pissing contest between the two that lasted the rest of the week.
Our fake news media blamed Trump for everything, because of course they did.
Another week passed without Robert Mueller or anyone else appearing to testify before Jaba The Nadler's House Kangaroo Court Committee, formerly known as the Judiciary Committee. Upon learning of Mueller's latest refusal to show, CNN reporter Manu Raj took to Twitter – because of course he did – to inform his half-dozen loyal readers that "Special Counsel Robert Mueller's team has expressed reticence to him testifying publicly in front of the House Judiciary Committee, according to sources familiar with the matter. His team has expressed that he does not want to appear political."
Everyone in Washington and out here in Flyover Country was left to wonder exactly who Robert Mueller's "team" consists of, given that Mueller is now nothing more than an employee at the Department of Justice. Everyone was also left to wonder when exactly it was that Mueller – who conducted a 20-month Witch Hunt and then, failing to find a crime of any kind, issued a 424 page report specifically designed to damage a sitting POTUS politically – suddenly became concerned about appearing to be political. No answers were forthcoming, although whenever they do come, we can be sure they will be posted on Twitter.
Rock singer David Lee Roth is getting his own Las Vegas residency, because the nation simply cannot get enough of a 70 year-old guy singing "Hot for Teacher."
Researchers at the University of Iceland violated the ClimateScam narrative this week by noting that that glaciers in both Iceland and Greenland had expanded dramatically over the last 12 months and would continue to expand in coming years. They will no doubt soon be looking for other employment, because the narrative must be honored in today's academic world.
The Washington Examiner did the Washington Post's job and discovered this week that Mayor Pete's dad was a dedicated Marxist who regularly read the Communist Manifesto to his son over the dinner table. Just your normal, every day Democrat politician's family, right? Right.
Washington state Governor Jay Inslee – who is also running for the 2020 Democrat nomination, because of course he is – signed a bill making it legal to compost human bodies in that state. Have you figured out yet that the Democrat Party is a death cult? Because I have.
In the best talking head clip of the week, Louisiana Senator John Kennedy goes off on John Brennan and Iran:
WATCH: Sen. John Kennedy Goes Off on John Brennan and Iran https://t.co/VqWHRVoxEH pic.twitter.com/LmYFRkdUgX

— David Blackmon (@GDBlackmon) May 22, 2019
It isn't getting anything else productive done, but the U.S. Senate this week managed to confirm the 41st circuit court nominee by President Trump, far and away a record for any president at this point in his first term.
The Creepy Porn Lawyer received even more indictments this week, this time for bilking his porn star client out of $300,000. He now faces up to 410 years in the federal pen. See? There is still justice in America.
Mayor Pete got his Fox News townhall Monday evening, complete with an audience stacked with his supporters and softball questions from a fawning Chris Wallace. Fox's ratings soared.
Irish Bob O'Rourke got himself a townhall Tuesday night on CNN, causing CNN's ratings to tank another 30%. O'Rourke then said he sure would like to get him one of those Fox News deals with Chris Wallace, prompting President Trump to issue a tweet asking what in the hell is going on at Fox News?  Good question.
The big bomb of the week dropped on Thursday, as President Trump sent a memo over to William Barr authorizing the AG to begin the process of declassifying documents related to the Obama Administration's efforts to spy on the Trump campaign, fix the 2016 elections for the Pantsuit Princess, execute a coup on a sitting U.S. president and basically destroy our republic. When asked by one dim bulb reporter what exactly he would be declassifying, the President responded "Everything. We're declassifying everything."
Deep State panic ensued.
Bug-eyed Adam Schiff was so panicked that he called the President's effort towards full transparency in government a "cover-up" and "un-American." I'm old enough to remember when cover-ups consisted of efforts to hide crucial information from the public. Times change, I suppose.
British Prime Minister Theresa May resigned a few hours after the President sent that memo to William Barr. Even though her intelligence agencies were intimately involved in the effort to construct the fake Steele Dossier and frame members of the Trump campaign throughout 2016, and that May has literally begged Trump not to declassify certain documents, we are to believe the confluence of these events is strictly coincidental. Because, narrative or something.
On Friday, Jabba The Nadler seemed to almost pass out at a press conference with New York Mayor Bill DeBlasio – another guy who is mysteriously running for the Democrat nomination. Trying to destroy a nation of 330 million people is stressful work.
Also on Friday, old Clinton hack Naomi Wolf was humiliated on live radio in London when the host informed her that the entire basis for the book she is promoting is based on her lack of understanding of a British legal term. Her publisher announced on Saturday that it was pulling the book for "re-editing." Ms. Wolf is one of the rarest of rare Democrats in that she is not running for the party's nomination in 2020.
Finally, the week ended with MSNBC nitwit host Nicolle Wallace asking Irish Bob O'Rourke the question that is on every fake journalist's mind: ""Play media critic: What can we do better" to cover his campaign. An obviously flustered O'Rourke had no answer, saying that "it is what it is."
Why yes, it certainly is.
That is all.
Follow me on Twitter at @GDBlackmon
Today's news moves at a faster pace than ever. Whatfinger.com is my go-to source for keeping up with all the latest events in real time.