Today's Campaign Update, Part II
(Because The Campaign Never Ends)
When a "surge" is actually a durge. – As is always the case with the DC punditry these days, they're wrong.
Over the past week, poll-watching pundits like Karl Rove and pretty much all the others have been marveling about Joe Biden's "pop" or "surge" or whatever word you want to put to it – in the polls. Talking about him in a way that is clearly designed to make you think he is a virtual shoe-in to be the Democrat nominee in 2020, and a real, strong challenger to the re-election of President Donald Trump. The only problem with all of this is that it just isn't happening. Take a look at this: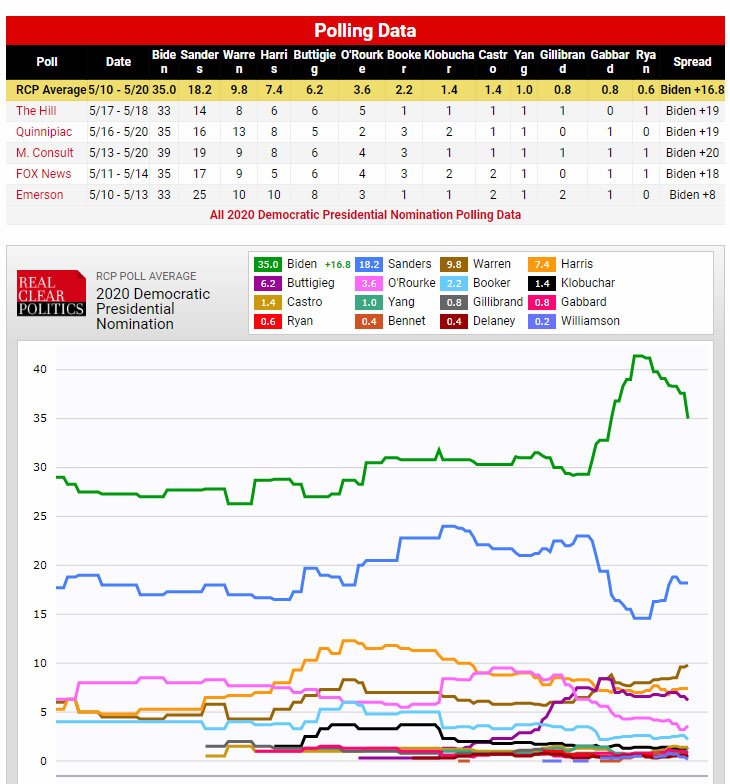 See that green line? That's Joe Biden. It's his average in the RealClearPolitics average of polls. See which way it has been heading over the past 10 days? Clue: it isn't up. It isn't a "pop." It's not a "surge."
What that line actually represents is the inevitable: Biden's precipitous plunge back earthwards as all the people in the Democrat voter base get a good gander at him and listen to the idiocy that pops out of his mouth and remember exactly who Joe Biden really is.
Who Joe Biden is, is a clown. A human gaffe machine. A guy who has no respect for the personal space of women and children. A guy who can't keep his creepy hands to himself at public events. A guy who has been mucking around in the DC Swamp for 46 years; a guy who has a record as long as your arm and none of it is good.
That's who Joe Biden is.
And so, the numbers plunge, and they will keep plunging until that gap between his green line and one of the other candidates' line is gone. I figure that will happen along about October 1 or so, maybe sooner depending on how Biden performs in the early debates.
How fast is Biden falling? Good question. See that poll by The Hill, where Biden's sitting at 33? Two weeks ago, right after his formal campaign kickoff, he was sitting at 46. That's the most severe drop in any of them thus far, mainly because that 46 number is the highest Biden has achieved in any of the myriad polls.
In any event, you are best advised not to believe the media buzz that Biden's the most likely Democrat nominee, for a variety of reasons.
His inherent goofiness as a human being is just one of them. His advanced age, which shows more and more every day, is another. But the main reason is the fact that the Democrats are awarding delegates in their primaries on a modified-proportional basis in all states this time, rather than a winner-take-all basis.
Any candidate winning at least 15% of the vote in a state primary will receive a share of the delegates. If only one candidate reaches that level, then it becomes winner-take-all. If no candidates receive 15% – which is entirely possible in some states with such a large field – then "the minimum to receive delegates will be 50% of the vote received by the front-runner.  For example, if candidate A wins with 10% of the vote, delegates will be allocated proportionately to anyone that receives 5% or more."
With 25 candidates in the race and counting, this system is setting up a free-for-all in which it is very likely that the Democrats will show up to their national convention next summer without a clear nominee, and maybe without any candidate even coming close to that threshold.
What does that mean? A brokered convention, at which you could even end up with a nominee who did not run in the primaries.
Hey, which prominent, extremely ambitious Democrats are not announced candidates, but are rumored to be working towards that exact possibility as we speak?
What do you think Hillary Clinton is doing with her spare time?
I'm just sayin'.
That is all.
Follow me on Twitter at @GDBlackmon
Today's news moves at a faster pace than ever. Whatfinger.com is my go-to source for keeping up with all the latest events in real time.