Today's Campaign Update, Part II
(Because The Campaign Never Ends)
The New York Times went full-on Nazi propaganda over the weekend when the cartoon below, depicting Israeli Prime Minister Benjamin Netanyahu as a dog being walked by a blind, yarmulke-wearing Donald Trump, was published in its international edition's op/ed pages:
The cartoon is despicably reminiscent of the Nazi propaganda about Jews published during the 1920s and 1930s, which often depicted Jews as sub-human "mongrels," a term also favored by the Democrat Party-created Ku Klux Klan. Here's an example from a Nazi publication called Der Sturmer:
After fiddling around for about 24 hours as it received forceful blowback from the public for publishing the atrocious cartoon, the Times staff issued a mealy-mouthed "apology" which referred to the cartoon as "offensive" and blamed its publication on an "error of judgment."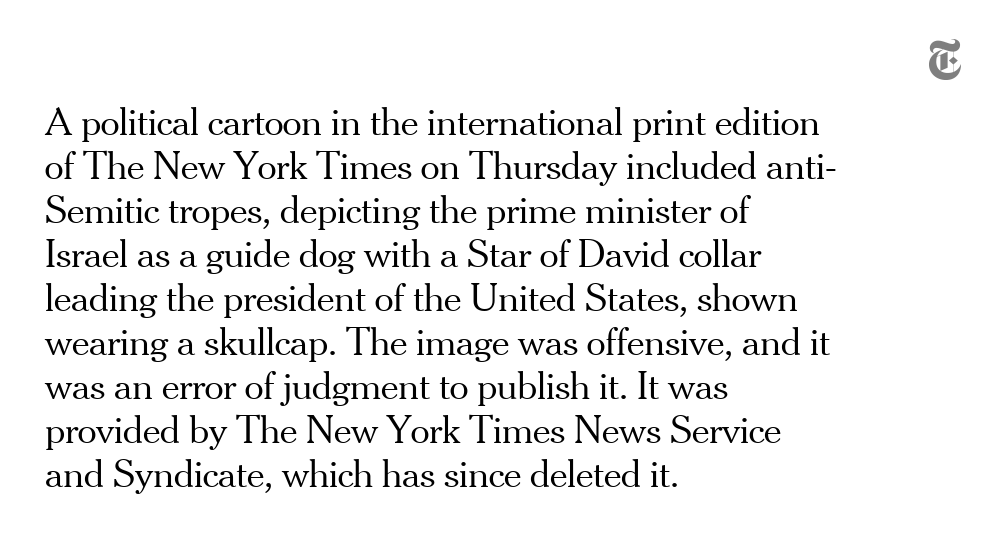 Let's understand something about this "error of judgment": Cartoons don't just suddenly materialize in the op/ed pages of the New York Times based on an "error of judgment" made by one or two people. That's if the Times's own propaganda about itself is to be believed. The Times loves to brag about how anything that appears within its pages has to be "checked and re-checked" over and over again by a long line of checkers before it goes to publication.
Despite all the layoffs of recent years, the New York Times remains a big, corporate organization with multiple layers of staffing and management. Before this disgustingly bigoted cartoon went to print, it most likely had to gain pre-approval by at least half a dozen people with high rankings within that organization.
Thus, the truth about this incident is that it didn't result from a judgment error at all: It resulted from a presence of leftist bias that permeates every level within the newspaper's organization. The real problem at the New York Times – and pretty much every other major news outlet in this country – is not a lack of judgment, but a lack of diversity of thought.
The simple fact of the matter is that everyone in the line of decision-making for the Times's op/ed page is a leftist activist, and as we have seen among the leftist Democrat congressional caucus, antisemitism is running rampant among the American political left. This despicable cartoon was able to go to print because there was no one within the Times's chain of command who doesn't march in lock step politically with the Ilhan Omars and Alexandria Ocasio-Cortezes and Rashida Talibs of the world.
This wasn't an "error of judgment." This was an inevitable outcome of the organization's politically-myopic hiring practices.
Harvard Law Professor Alan Dershowitz nailed this matter with a pair of Saturday tweets:
The anti Semitic cartoon published by the @nytimes is a symptom of a deeper problem on the left. It's acceptable to many on the left to employ anti Semitic tropes as long as they're directed against Israel. Anti Zionism is becoming an acceptable cover for anti Semitism

— Alan Dershowitz (@AlanDersh) April 28, 2019
The @nytimes owes its readers more than an apology. We are to entitled to an investigation and explanation: how did the anti Semitic cartoon get published? Who approved it? What steps are being taken to prevent a recurrence? https://t.co/BXfA1iLt30

— Alan Dershowitz (@AlanDersh) April 28, 2019
Dershowitz is right to demand an internal investigation by the Times management, but he won't get it, at least not in any honest form. Because an honest investigation would inevitably reveal the real that the company's management – and its myopic hiring practices – is in fact the cause of the problem.
That is all.
Follow me on Twitter at @GDBlackmon
Today's news moves at a faster pace than ever. Whatfinger.com is my go-to source for keeping up with all the latest events in real time.