Today's Campaign Update, Part II
(Because The Campaign Never Ends)
He'd have been better off being endorsed by the Boston Bombers. – Talk about your unwanted praise – within a few hours of the posting of his Twitter video announcing his candidacy, Joe Biden received an endorsement from possibly the last guy he'd ever want to get: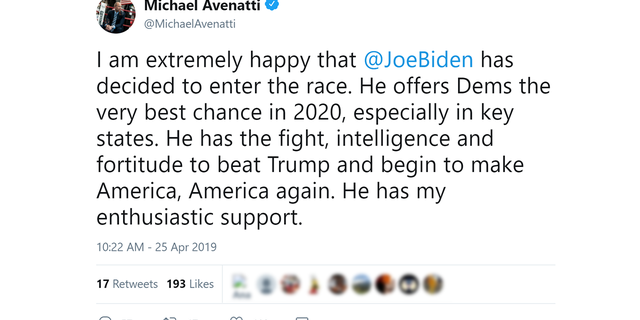 That's right: The Creepy Porn Lawyer has bestowed his formal approval of the candidacy of Creepy Uncle Joe. Hooboy, that's damn near as good as securing the treasured David Duke endorsement, huh? It's a safe bet Avenatti won't be receiving a thank you note from Biden for his generous gesture.
Avenatti is no doubt thinking about what might have been for his own self. Let's all remember that it was just a few months ago that both MSNBC and CNN were offering the Creepy Porn Lawyer hour upon hour of free air time each week, and insufferable nitwits like CNN's Brian Stelter and MSNBC's Chris Matthews openly touting the Porn Shyster for the 2020 Democrat presidential nomination.
But that was all before his wife – or was it his girlfriend, I forget which – accused him of being an abuser and took him to court for unpaid alimony/child support, and before the U.S. Department of Justice indicted him for all sorts of criminal activity. But hey, unlike Paul Manafort, he's at least out on bail and able to bestow his glowing imprimatur on the actual Democrat front-runner.
Attaboy, Joe, you really got it going now!
Wait: Thomas Friedman endorsed what??? – Ok, you're going to need to be sitting down for this one.
Thomas Friedman is a long-time columnist for the New York Times, the official mouth-organ of the Democrat Party. This is a newspaper that has for the last three years consistently ridiculed Donald Trump for his promotion of the building of a wall to help contain the invasion taking place at our nation's southern border with Mexico.
The effite, moneyed liberal snobs who by and large make up the remaining subscriber base for the Times take their cues on all issues from the newspaper, because it makes them feel all smart and stuff to spout quotes to their dinner party guests from Friedman, Paul Krugman and other reliably leftwing columnists the Times employs. Given that, it would be wonderful to be a fly on the wall in this afternoon's meeting of the paper's editorial staff, after Friedman appeared on CNN and basically endorsed the Trump wall in an interview with Wolf Blitzer:
https://youtu.be/qCxuHHzeDog
Friedman had recently visited the border to see the ongoing crisis first-hand. He told Blitzer that the experience left him shocked and convinced that a wall was needed.  Not just any wall, mind you, but one with a "big, smart and compassionate gate", whatever in the hell that means.
"A big gate, a smart gate and a compassionate gate, I said," Friedman said. "Wolf, I'm as radically pro-immigration as they come. But it is pretty clear to me that unless we can assure a significant number of Americans that we can control our border, we're never going to have the proper immigration flow I think we need, we desire and that we actually have a moral responsibility given our history as a nation of immigrants and a refuge for people fleeing persecution."
Being a writer for the New York Times, Friedman naturally blamed the President for the current refusal by Nancy Pelosi to even negotiate on the issue, because of course he did, using current liberal bogeyman Stephen Miller as a very predictable foil:
"I think the only way is a compromise on this," he said." The tragedy and that's why my column — I think Trump is wasting this crisis. A crisis is a terrible thing to waste. We have a president who actually, when you think about it, Wolf, he has the chops with his base. If he were to sit down, call Nancy Pelosi and say, 'We're going up to Camp David. You bring your immigration team, I'll bring mine. I'll leave Stephen Miller at home and we will actually sort out a compromise here."
Man, what are all those liberal, rich, Upper Eastside snobs going to be saying to their guests on this issue now? This is not what they expect from the New York Times, not what they expect at all.
Hilarious.
That is all.
Follow me on Twitter at @GDBlackmon
Today's news moves at a faster pace than ever. Whatfinger.com is my go-to source for keeping up with all the latest events in real time.