Today's Campaign Update
(Because The Campaign Never Ends)
This is becoming a habit. – Barely a week after straying off the social justice warrior reservation with an errant tweet, our favorite leftist has-been entertainer from the 1960s, Cher, got herself into a bit of a pickle on Twitter once again on Tuesday. After someone in her entourage apparently forgot to lock up the LSD pantry, Cher went on the attack, but her target wasn't President Donald Trump – instead, she went after The Commie and his desire to give the Boston Bombers and other terrorists and felons their voting rights back:
Cher deleted this tweet. pic.twitter.com/cZtWD4C87Y

— #ThePersistence (@ScottPresler) April 23, 2019
Naturally, this brief burst of common sense got Cher into hot water with Twitter's SJW-based outrage mob, who went after the mostly-plastic entertainer like flies on a steaming pile of cow dung. Cher's response was to delete her offending tweet, because of course it was, but what she did next was absolutely priceless, and sadly typical of behavior in the SJW crowd she inhabits.
In order to atone for her horrible transgression against leftist dogma, Cher issued the following incoherent message:
????????BRAVO RACIST
WHITE PPL WHO CALL POLICE
TO SAY THEY SEE BLACK PPL
ACTING STRANGE,DOING SUSPICIOUS THINGS…LIKE
MAN DOING A PUBLIC GARDENING PROJECT,MEN WAITING FOR A FRIEND BEFORE ORDERING AT STARBUCKS.ETC,ETC,ETC. WILL BE CHARGED WITH A CRIME‼️ABOUT F-N TIME

— Cher (@cher) April 23, 2019
There's that word "PPL" again. What is a "PPL"??? And what does this message from Cher even mean, other than that it pushes several buttons that make the typical mindless enraged Democrat voter feel all warm and fuzzy inside. You know, buttons like "RACIST WHITE PPL" and "STARBUCKS" and of course, "F-N". Also, the little clapping hands emojies are worth 10 points apiece in mindless enraged Democrat voter land.
So, Cher was able to get her leftist idiot card back very quickly, and we should all be very happy about that since the thought of actually being on the same side of an issue as this raging nitwit was utterly horrifying.
But that all leads to this question: What in the hell brought this all about? Well, here's a video of The Commie advocating for the restoration of voting rights for our society's most heinous criminals, while they are still in prison…I swear I do not make this stuff up:
Let's be honest here: The Commie knows where the most reliable Democrat votes reside – well, other than in cemeteries, of course – which is in our nation's prisons, and he's going after them. Sanders is 77 years-old and this is his last shot at destroying our country, so he doesn't want to leave any potential despicable stone unturned. This is really not complicated at all.
Let's also understand that, according to this week's Granite State Poll, The Commie is far and away the Democrat Party front-runner in the state of New Hampshire, where that CNN townhall was staged. In the nation's first primary state, this is a very popular guy among the demented Democrat voter base, coming in ahead of Creepy Uncle Joe by a 30% to 18% margin.
Who else is very popular in New Hampshire? Why, Pete Buttigieg (15% in the poll), who you saw in that video clip also endorsing restoration of criminals' voting rights, once they have served their prison time. But hey, Mayor Pete is just 39, so he, unlike the Commie, can be more patient in his own efforts to destroy the country. So he's playing the "long game" when it comes to securing votes from the lowest scum in our society.
Kamala Harris, who sits way back in 5th place in that Granite State poll, also weighed in in favor of wanting to mine the nation's convicted felon population for votes. Irish Bob O'Rourke, who comes in a pathetic 7th place in the poll with just 3% support, wasn't there. Presumably he was too busy riding skate boards or waving his arms while shouting at some crowd of poor saps in some roadside cafe in South Carolina. What a disjointed, meaningless disaster his campaign is turning out to be.
So, here's the thing about Cher: Granted, she's a raging nitwit; granted, she is easy to make fun of; but is she really any less-credible than the lunatics who occupied that CNN stage?
Not really, no. And Joe Biden, a guy who has been wrong about literally every issue our country has faced over the past 45 years, hasn't even gotten into the race yet. But when he does, he'll assume the role of front-runner for the nomination.
If this primary season doesn't scare you to death, you're not paying enough attention.
That is all.
Addendum: A couple of hours after I posted this Campaign Update, Cher decided to hit back at the Outrage Mob with this exchange with a supporter of Bernie Sanders.: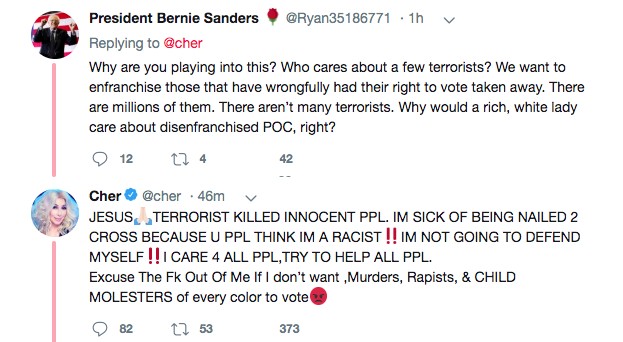 Good for her. We'll see how long it takes for her to delete this one.
Follow me on Twitter at @GDBlackmon
Today's news moves at a faster pace than ever. Whatfinger.com is my go-to source for keeping up with all the latest events in real time.