Today's Campaign Update
(Because The Campaign Never Ends)
Three weeks ago, on March 8, I pointed out that Attorney General Jeff Sessions had dropped a little bomb into the mix, one that hardly anyone in the fake news media managed to notice, when he told Fox News's Shannon Bream that:
"I have appointed a person outside of Washington, many years in the Department of Justice (DOJ), to look at all the allegations that the House Judiciary Committee members sent to us; and we're conducting that investigation." 
At that time, the Attorney General gave no indication as to the identity of this "person outside of Washington," but it was reasonable to conclude that said person was investigating the myriad very credible allegations that various members of the anti-Trump cabal within the FBI and Department of Justice had violated the FISA law during and after the 2016 presidential campaign.
Lo and behold, in the midst of a growing cacophony of demands by Republican members of congress that Sessions appoint a second special counsel to investigate the FISA abuse scandal, on Thursday Sessions sent a letter to congress in which he unveiled the name of that non-Washington person:  U.S. Attorney John W. Huber, who is based in Salt Lake City, Utah.
Even better, the AG reminded congress that, in a letter way back last November 13, Assistant AG Stephen Boyd had already notified the legislative branch that Mr. Huber's investigation was well underway: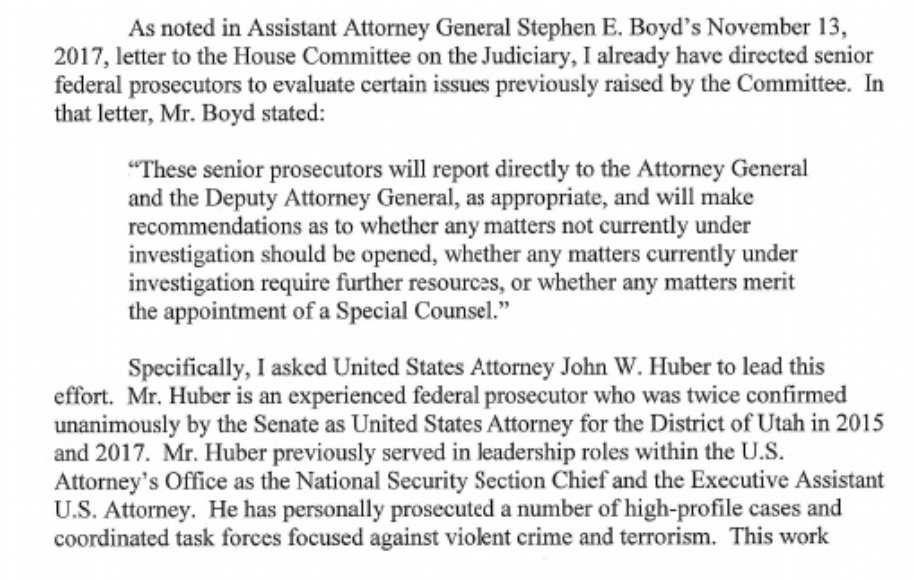 Uh, well, all the Republicans in congress apparently failed to read that one.  No one in the fake news media gave it any notice, either.  But there it is, in black and white.
Oh, but it gets even better.  In his letter yesterday, Sessions also let it be known that Huber has been conducting his investigation in cooperation with…wait for it…Inspector General Michael Horowitz.  Another bomb dropped.
Hey, it gets even better than that.  It is probably not a coincidence that the Sessions letter to congress comes on the same day that fired ex-Deputy FBI Director and key anti-Trump cabal member Andrew McCabe created a legal defense fund for himself.   (Let's all note the irony of a career federal employee who has somehow cobbled together a net worth of more than $11 million while making a government salary asking the little people to pay his high-powered lawyers for him.)
Nor is it likely a coincidence that McCabe's move comes on the day after a Minneapolis FBI agent, Terry Albury, was indicted for – guess what? – criminal leaking to the news media, the same crime McCabe committed and lied at least four times about to the Inspector General and the Office of Professional Responsibility.  But of course, most of the fake news media completely missed this part of the story, and all the connections detailed above.
Instead, the Usual Suspects in America's grand pantheon of fake media outlets are portraying the Thursday Sessions letter to congress as if Sessions is basically refusing to do anything, complete with quotes from angry Republicans who also aren't connecting these dots condemning the AG for refusing to appoint another Special Counsel.
The reality, as is generally the case with our fake news media, is exactly the opposite.  As I pointed out when Sessions dropped his bomb on March 8, you have to look at all of this from the AG's point of view.  After all, he has an ongoing investigation that has been underway for months, since at least last November and probably well before then.  Why would he interrupt all that work that's already been done by appointing some new guy to come in, take weeks or months to get organized, and then go over all the same ground that's already been covered by Mr. Huber and his staff, working as they are in conjunction with IG Horowitz and his staff of 470 people?
Given the manner in which the law has been abused against Republicans over the years, Sessions most likely has a proper disdain for the special counsel law in general, and is reluctant to use it unless it becomes absolutely necessary.  Robert Mueller's conduct in his assignment thus far has only given thinking Americans much more cause to regard the law as the American Prosecutorial Abuse Act that it is.  Why create another monster using that law when you already have an investigation that has been underway for months, one that may very well already have a grand jury convened and be preparing to issue indictments when the IG's report from his own investigation is made public?
If you want to politicize the process – as Rod Rosenstein did – then you appoint a Special Counsel and let him spend months and years abusing people's rights in the pursuit of an array of irrelevant process crimes and indictments of foreign nationals who will never be brought to trial.  But if you want to bring people to justice for real crimes against this country, AG Sessions obviously believes the best way to do it is within the confines and processes of the justice system as it was set up in the U.S. constitution.
Some are speculating that what Sessions really has Huber and Horowitz doing is laying the groundwork for the appointment of a second special counsel after the Horowitz report has been released.  I don't agree with that, for the reasons laid out above.  Working together, Huber and Horowitz have every power possessed by a special counsel:  Given that, why would the AG reinvent the wheel just at the cusp of issuing indictments and perp-walking the wrongdoers?  Makes no sense to me.
What does make logical sense is that Sessions believes his Justice Department is capable of actually doing its mandated job.  It's sort of amazing that people who call themselves conservatives object to that approach.
Just another day in Jeff Sessions don't need no stinking second special counsel America.
That is all.
Follow me on Twitter at @GDBlackmon
Today's news moves at a faster pace than ever. Whatfinger.com is my go-to source for keeping up with all the latest events in real time.